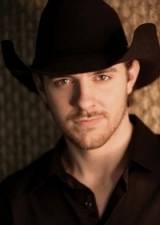 The last time I interviewed Chris Young, he was getting ready to take on the Regional auditions for Nashville Star 4. A mere five months later, on May 2, 2006, he became America's reigning Nashville Star! Since then, he has enjoyed many career milestones. He confirms, "There have been a lot of 'firsts' this year, which has been a really cool thing!" In October, Chris released his self-titled album; it's "the first CD that I didn't have to sell out of my trunk." He was invited to perform on the prestigious Grand Ole Opry stage several times this year, and he was a guest on The Tonight Show With Jay Leno. His current single "Drinkin' Me Lonely" continues to work its way up the charts. Did I mention that he just returned from a week-long cruise in the Caribbean?

Chris' career has sure taken an exhilarating turn as of late. He tells me, "The biggest thing for me at this point is just wanting to say 'Thank You' to everybody, because I'm not here without people listening to my music. The fact that I was on a show where three million people were voting, and I ended up winning – that's insane! That's huge for me!"



Chris' laid back approach
paid off big time on Nashville Star!
That show was, of course, Nashville Star. For anyone who has ever thought about trying out for, what it is like participating in a live competition, and standing on the stage each week anticipating your name being called – Chris offers his insight: "You know what? It wasn't bad! Everyone thinks, Oh, my gosh! You must have been so nervous!" He laughs and then continues, "But, you know? Pretty much after you've performed, either you did or you didn't [make it to the next round] – because they'd already voted. So, I wanted to hear my name called, but it's one of those things you really can't be nervous about." Was there a point during the show's run when he knew he could win the show? "No. I knew it was always a possibility from getting on the show, I really did. I wasn't ever just like, 'I don't think I'm going to win.' But at the same time, you have to get up there and really show who you are as an artist. I just wanted to make sure I did that." He adds, "You never know what people think or how they're going to vote with a reality show like that. But, it was something I was keeping my fingers crossed for."
May 2, 2006 - the winning moment...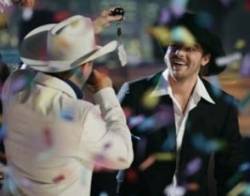 John Rich gives Chris the keys to his new truck!
Week 5 during the competition was Originals Night, where remaining artists performed one of their self-penned tunes. Each contestant also met with songwriters Chris Lindsey and Aimee Mayo for a critiquing session. I asked Chris about that experience. "It was a good meeting! They were there to really critique songs, and they actually really liked mine; I didn't get a huge critique out of them. So I guess that made me feel a little bit better about my song choice for the night!"

That "song choice" also became the kickoff single from Chris' first major label album. [NOTE: He has previously released two studio albums and a Christmas project independently.] "That was [RCA's] decision, which was a cool thing for me!" He continues, "That was very validating as a songwriter, because I didn't force their releasing any specific song. Obviously, they knew I wanted it to be the first single" – but not for the reasons that you might expect. Chris shares, "There's a huge promotion staff and a bunch of other people who have to work this record and talk about how great it is. And, I didn't want them doing that if they didn't think it was the best song to go out for the first single." The new album released in October, ranking #3 (just behind heavyweights Alan Jackson and George Strait!!) in first-week sales. I wanted to know where Chris was when he received the exciting news. "Actually, I don't know! I think I was on the bus; we were in between states. I do know that we framed it! Yeah, we got a copy of that issue of Billboard magazine, cut it out, and framed it!"

Shortly after its release to radio, a video was filmed for "Drinkin' Me Lonely." Warren Sonoda was the mastermind director behind the treatment for the clip. Chris says, "I talked to him and was really interested in his take and concept for the video. I really liked what he wanted to do with the video, and we ended up going with him as the director on it." All in all, Chris raves, "We're very happy with it! Warren is such a great guy to work with and brought a lot of life to the video!"
Chris is all smiles these days!
Chris' album has received plenty rave reviews – not that he has read any of them. "The only review anyone ever sent me was a bad one!" Chuckling, he continues, "You're always going to get those, and someone sent it to me, saying 'You're going to laugh at this!'" I'm guessing he harbors no hard feelings for said party. "Hey, you know what? That's what I love about music – it's subjective. You take the good with the bad, and I love it everyday!"
[NOTE: My review for his self-titled album can be found in the
STAR Views: Kristina Cornell
section on this site. And by the way Chris, I gave your album a GOOD review!]
Critics and fans alike agree that "Flowers" is another strong cut off Chris' album. It was written by one of Nashville's best writers, Billy Yates, who has penned "Choices" and "I Don't Need Your Rocking Chair" (both for George Jones) and numerous other hits. So, I asked Chris how he came to record it. "A friend had given me a copy of one of Billy's albums; they told me, 'You should listen to it, since you're friends with him.' So, I listened to the whole thing, and when I got to 'Flowers,' I was just blown away! I've always told Billy, 'If I ever get a deal, I'm going to record that song.' It made me feel really good to be able to record it!"
Now that Chris' single "Drinkin' Me Lonely" is heard on the radio, alongside heavyweights like George, Alan, and others, what's the next goal he'd like to accomplish? "To have it on the top of the charts?" He says, "You know, you always want your single to go higher. We're doing a lot of radio things and a lot of shows; we're just pretty much dedicated to getting more people to call in and request the single and more radio stations to play it."
Of all the exciting opportunities Chris has partaken in this year, he deems his debut on the Grand Ole Opry as the most special moment. "We've done so much stuff this year that a lot of new artists don't get to do. And, I am very humbled by that fact. But, the biggest deal was getting to play the Opry for the first time and have my grandfather there with me. That was a big night for me!"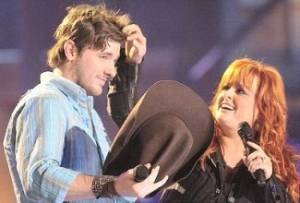 Chris proves he has hair under that hat!
Fame hasn't changed this country boy...
Check out that signature dimple!
We've all heard stories about people becoming "too big for their britches." Though the likelihood of that happening with Chris is, well, NOT likely! His many loyal supporting fans who have followed his musical journey for the last four or so years will not be surprised to hear him say, "No, I don't think I've changed." He divulges, "I think people are always worried that you're going to buy into success and think that you're more important than you were before. I'm always going to be the same guy. I still eat at Taco Bell, and I will always do that. That's just who I am." Indeed. Just for kicks – and to prove he's just the same down home country boy he's always been, here's how he responded when I asked why he almost never takes off his hat. "Because I like my hat?" He clarifies that it has nothing to do with having or not having hair, "No, it's not that. I've got hair! I just like wearing a hat! I'm always wearing a hat; even at home, I'm wearing a ballcap all the time."

With Christmas (also his favorite holiday "because I actually get to be home!") fast approaching, I wanted to know if Chris would be taking time off from the road. He says, "I'm home for Christmas day and I think, the day after that. That's about it." Looks like the powers that be aren't giving Chris much of a break – or at least, that's what I thought. "Well no, it's me! I want to make sure I'm out there as much as I can be." That's because, no matter where he is in his career, Chris will always make sure he keeps his fans happy. "I definitely do not take them for granted." He continues, "A lot of people don't get to be at that level and have that many people excited about their music. So, it's really cool for me. It's a great feeling!"
Speaking of fans, it's no secret that Chris Young has a large fan following. When I spread the word that I'd be interviewing him and asked for questions from fans, they poured in by the dozens - resulting in this comprehensive Q & A. Happy reading:
Fans gather around Chris after the IFCO Show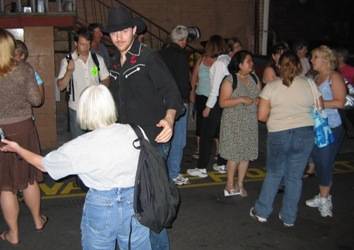 during the 2006 CMA Music Fest/Fan Fair week
Tori from FL asks: If you could choose to do a duet with any artist – male or female – who would you pick? I can so see you doing a song with Trace Adkins!
Chris: Has Trace ever done a duet with anybody? I don't think he has! Mine would be George Strait – but I'd have to beat off like 150 other artists!

Lee from Little Rock, AR: I just wanted to ask what are your 2007 plans so far, in terms of touring? Any opening acts on a big tour? Keep up the great work!
Chris: I can't say anything yet about that, so we'll just leave that open! Just through the end of this year, after the Nashville Star Tour was over, we've done a lot of dates and been for 14 different states in the past couple months. So, we will be staying busy again next year for sure! We'll be all over the place!

Lon from Washington, D.C.: Is there a new song with a tribute to the military in your future? Also, would you be interested in doing a USO tour for the troops overseas?
Chris: Obviously, I haven't gotten a chance – as much as established artists have – to communicate my respect and humble thanks for the military which they truly deserve. I'm a very big of the people overseas doing what they're doing. I'm not a political person, so I don't come out a lot to tell people, "Yeah! Support the military!" But, I really am supportive of them. We've done a lot of stuff for different Army bases before I got signed – we over and played for the Fort Bliss in El Paso a couple times, I've played in Fort Sill in Oklahoma – so that is something I hope to do as an artist. The USO tour is always a possibility.

Toni from Falkville, AL writes: I want to know what Chris has enjoyed the most since winning Nashville Star?
Chris: When we're out playing show and we've got a crowd singing my songs back to me, that's probably the thing I've enjoyed the most.

Do you have a favorite track off your self-titled album?
Chris: No, I don't. I mean, I really like "Flowers," "Drinkin' Me Lonely," "You're Gonna Love Me," "Beer and Gasoline" "Lay It On Me" – I could just go on and on! We're really happy about everything that's on the record!

Kari from South Dakota: Have you considered recording any of Keith Whitley's songs as a "tribute" of sorts?
Chris: That's always in the back of your mind when you really, really like an artist. It would be hard for me to sing one of his songs and think that I would do as good of a job he did, because he's a hero of mine. It might happen down the road, but it just depends.
Jennifer from IL writes: Hi Chris! How was your CMA Awards experience? You and Dot both looked wonderful and I really hope Dot got to meet George Strait.
Chris: Dot did NOT get to meet George Strait. We could see him; he walked right next to her, and she freaked! She just froze up, and I said, "What's wrong?" She whispered, "George Strait's right there!" I'm really glad she got to go with me, though; it was fun! As far as the CMA experience, not having to pay for my ticket this year was great!

Denise from St. Petersburg, FL wants to know: What is the most unusual thing a fan has given to you at a concert? Underwear is NOT unusual anymore so you have to name something else!
Chris: I can't answer that, and I'll tell you why. Because the moment I do, the fan who gave me that will remember, and I will never hear the end of it! So, I'm going to politely decline to answer that question. [NOTE: Chris did acknowledge that "we've gotten some crazy stuff!"]

Kristi in Georgia: I would like to know what you enjoy most about your crazy fans.
Chris: The fact that they are crazy, and they'll absolutely go nuts when I do something. You know, I love that! I mean, if we release a single or I come to do a show, everyone's just fired up about it! It gets me fired up to do a show or to keep doing my music!