By: Estella Pan
The headline quote on Kristina Cornell's official MySpace page is simply "...be happy." And, she has plenty of reason to be happy these days! She was added to Lofton Creek Records' artist roster, has walked the orange carpet at the Academy of Country Music (ACM) Awards, had her own booth at this summer's CMA Music Festival/Fan Fair, and got to meet one of her musical heroes, Trisha Yearwood. On top of it all, she released her debut album to stores!

Many move to Nashville dreaming of signing a record deal, seeking longevity in the music business. This was not Kristina's goal, initially. She says, "I knew I wanted to be a writer. When we moved to Nashville, it was not for me to pursue music. My dad took and early retirement, I moved down here with my parents. It seemed like a golden opportunity for me to pursue my writing, and I got a publishing deal right out of the gate." It was through her writing that she met her first agent, "who cast me in all kinds of commercials and videos." [NOTE: Kristina has appeared in music videos made by Vince Gill, Travis Tritt, Lari White, Terri Clark, Lee Roy Parnell, and others.] Fellow writers and musicians convinced Kristina to take her shot at becoming a recording artist. "I have performed my whole life. It wasn't that I wanted to be the next Reba; it was just kind of all I knew. But, when I was writing and doing my own demos, they were always saying, 'You sound so different from anybody else. Your style's different. Why don't you think about doing the artist thing yourself?'" Once she decided to go for it, things seemed to fall into place quickly. "I was about three years in pursuit of it when I got my record deal. So, it really was kind of fast for me."
Upon meeting Kristina in person, one of the things you'll notice is her strong sense of self. "That is the benefit of not being eighteen. I think when you're younger and trying to make a career happen, you do a lot more of what other people tell you what they think you should do. I don't think when I was eighteen, I actually knew what I wanted, you know?" On the other hand, "Not that you can't have people advising you – good management is great! And, your record label has a lot of experience so you would hope that you could take some knowledge from them. It's never bad to have counsel, but at the same time, you've got to know what you want and go get it. I've lived enough life where you can't convince me that I'm anybody but who I am."

On the set of "Little Red Balloon"
Kristina lets her listeners know who she is through her songs; she shares writing credits on the majority of the songs on her album. "Lofton Creek Records was very, very gracious to me, to let me have as much creative control as they did, on my first project. And, I got to keep all my publishing on it. My producer, Dave Gibson, is a fantastic writer. Remember the Gibson-Miller Band? He's written some country classics, and we co-wrote five of the six songs that I have on the album." One song Kristina wishes she had written is her debut single, "Little Red Balloon." This tearjerker ballad talks about coping with and healing after losing loved ones. "That was the very first song Dave pitched to me for the album. Before I had a deal, we were working on a demo to get ready to pitch. I don't know how other artists do it, but the way we had it set up is everybody submits material to Dave. He weeds through to see what's going to be good for me. Then, he presents them to me." Upon hearing it, Kristina knew she had to record it! "I listened to it, and just cried! I still have my father, but it hit me so hard how this song would affect people who have lost loved ones. The song made my album and ended up being my first single." She shares the story of the inception of this song: "Dave, his wife Daisy Dern, and Steve Seskin wrote it six years ago. It was written out of 9/11, and there were 3,000 children at Central Park releasing their red balloons to their parents they lost in the Trade Center. Seeing that was very heart wrenching, and Daisy said they had to write that song."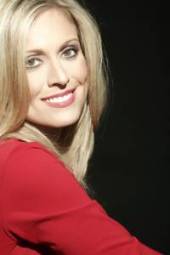 Not all songs on Kristina's album include heavy themes. She also knows a thing or two about having fun – and that is the exact sentiment for her current single, "It's a Girl Thing," also the title track to her debut album. She divulges, "This is the honest-to-goodness truth: the first lyric of the song says, We can spend seven hours shopping at the mall/Have the greatest time together doing nothing at all. About a year and a half ago, my best friend and I blew off work. We just said, 'Forget this; we're going to the mall!' So, we went, and we were there for seven hours – no joke, not an exaggeration! Then, I was driving home that day and thinking, You know, how cool is that? We can spend seven hours shopping at the mall together…" and then it hit me. I was like, 'Hey, wait a second!' Between me and her, that is the complete subject matter of 'It's a Girl Thing.'" Kristina brought in two writers – Dave and Christopher Roberts – on board for the song "to make sure I had a guy's perspective on it." She adds, "Dave is actually the one who came up with the line in the chorus, Men don't understand/It's a girl thing. He told me, 'I'm admitting it – we have no clue!' Dave and Chris were very supportive of the song."

Every song on Kristina's will appeal to and can be enjoyed by people of all ages, and she's proud of that fact. "I have a few rules on my albums: I don't sing men-bashing songs – I love men, and I'm not going to dog them! I don't sing cheating songs, I don't sing drinking songs. I think my songs are what people are going through on a daily basis – we have to get up, feed our children, clean our house, go to work. They're real life situations. There are some love songs on there; we've all experienced love and the loss of love." Kristina makes special mention of her favorite song from the album. "It's called 'When the Dam Breaks.' Dave and I co-wrote the song about a woman who has pent up her dreams and feelings. She's never quite been gratified emotionally. The chorus, When the dam breaks and those tears start to fall/That old heartache that has her back against the wall/It's flowing like a river, and it's more than she can take/This could be the day that the dam breaks. I've got plenty of friends who are living their lives just like that." It's important to Kristina to touch real-life issues in her songs, and feedback on this particular song is especially encouraging. "It's actually becoming the fast favorite of a lot people around town, so we'll see what happens with that one." Perhaps, this song will become her third single? "That would not hurt my feelings!"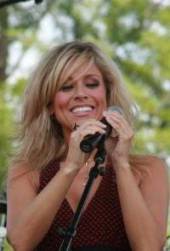 Absolute euphoria!
Now that It's a Girl Thing is available for everyone to purchase (and you should get your own copy, by the way, because it is a fantastic album!), did Kristina visit her local music store to see her album displayed on the shelves? "You know what? A really good friend of mine called to congratulate me and he said, 'So, did you go out and buy it?' and I said, 'No... I guess I should, huh?'" She muses, "I've got so many copies myself, I didn't even think about it! Isn't that hilarious?" Letting lose a hearty laugh, she adds, "I should at least take a picture, right? I haven't even gone to the store to see if it's actually there yet."

Reflecting on the past year, Kristina is grateful for every moment. "I feel like God created me to be heard. I love singing; it is absolutely euphoria when I step on stage! It's unbelievable; it's an adrenaline rush, and the greatest feeling in the world!" She adds, "Also, when I check my e-mail, and there's a story that comes in from a little girl who lost her dad and I've given her some way to cope with her grief through 'Little Red Balloon,' nothing feels better than that. That's one of the highest highs I"ve experienced so far is watching three and a half minutes of my music touch somebody's life and impact them that way." Kristina values her fans' feedback, and she shows her appreciation to them by taking time to read messages and comments sent to her MySpace page. "Sometimes, it's 2 o'clock in the morning when everything else has finally stopped, there's nobody else I can write with, and if I called the record label, no one would be in. There's nothing else I absolutely could be doing except sleeping – and it's like, You know what? It's time for those people! Without them, I wouldn't have a career. That's what I signed up for – to be in communication with fans – and I like that. I want those lines of communication to be open forever." She adds, "I think people feel like they can talk to me, that I"m approachable and they can actually come up and have a conversation with me." The only one thing that matters is to know and see the impact her songs has on the lives of her fans. "Listen, if my music is that important to me that I'm going to write autobiographical songs – we've covered that my songs are all about touching people in one way or another. If I'm going to put my heart into my songs that much, then I want to hear what it's actually doing."

By the looks of it, Kristina is doing quite well – here's wishing her continued success!