Here are some things people are saying about my work:
**RECORDING ARTISTS**


Lane Brody (Records Records, Nashville): This is so great! This is beautiful! You will start to pave the way of the future! You could end up being at the baby stages of the next ground-breaking way business is going to get done. What you're doing and what people your age are doing are going to make the changes. You're going to be talking and networking with each other, creating new businesses and ideas, ways for things to happen. I'm so happy to see what you're doing! Keep on doing it! Keep on doing it - that's all I gotta say!






Joe Carder (singer/songwriter, Nashville): You nailed it and told my history as if you've known me all my life. What a terrific writer you are. I have never been so interested in hearing about my life, but you told a great story! Most important is that not too many people have given me credit for all my hard years of work and your article brought those years back to me. THANK YOU!!! You're a Pro and it shows in all your acomplishments. Keep up the great work!!!





Tammy Cochran (Shanachie Records, Nashville): Hey there Super woman Estella!! YOU ARE A LIFE SAVER!!!! Do you EVER stop working????? You make me tired trying to keep up with you!!! You have been a blessing. I am thankful for your friendship everyday!!! YOU ROCK!!!





Glenn Cummings (Gulf Coast Records, Florida): You Rock!!!!!!!!!!! You Rock!!!!!!!!!!!! You Rock!!!!!!!!!!!!!!!!!! Thanks for the great, incredible, wonderful, review. Thanks for your support and I'm sure that our prayers will be answered. You're the Best, Girlfriend. Thanks for everything!!







Trey Fanjoy, video director (Picture Vision Pictures, Nashville): How sweet! Thanks for doing such a great piece on me - very appreciated. You did a wonderful job; it really is swell!! The site looks great - congrats!!




Teresa Farris (The Edge Group, Nashville): Thanks so much for the great review!!!! You nailed me perfectly. You are a sweet person and I appreciate you so much! I hope you know that. Love you very much!!!!






Shawn King (Lofton Creek Records, Nashville): CONGRATULATIONS, Estella!! I know what it's like to be a single woman trying to launch something on your own – it takes a lot of guts and hard work! My hat is off to you, for sure!! [NOTE: Shawn is happily married to Larry King and has just released her fabulous debut album called In My Own Backyard!!]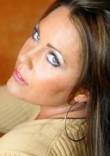 Kelly Lang (Destiny Row Records, Nashville): I am very very impressed with your site - what a brilliant idea!!!! You have blown me away. I also wanted to thank you for listening to my CD, and especially for the wonderful comments you had to say about it. Reading your review was very exciting to me and I appreciated it. You are wonderful! Love, Kelly Lang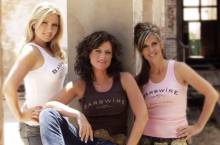 (l to r): Dalene, Karol Ann, and Biz of Lantana
Biz Haddock of Lantana (BGM Records, Nashville): I enjoyed chatting with you!! You are a great businesswoman and will always do very well! Look forward to speaking with you again in the future!

Karol Ann DeLong of Lantana (BGM Records, Nashville): Biz has told us all about you and how awesome you are! Thanks for all the coverage!

Dalene Richelle of Lantana (BGM Records, Nashville): Hope you are doing well, we are very excited about everything that's happening now. We sure appreciate your support!!



Megan Mullins (Broken Bow Records, Nashville): Thank you for taking the time to interview me and doing such a great article!! Yours was the first one of all the articles on me that, when my sister read it, she went, "Yup, that's my sister! That's Megan!" Thanks for your continued support - see you soon!!!!





Annie Roboff (Songwriter, Nashville. Annie co-wrote "This Kiss" and other hits!!): Estella, I think the interview is fantastic! Thanks so much...great work!





Tresa Street (A.M.I. Records, Gallatin, TN): Hey Estella, Thanks so much for the great review!! You're a sweetheart! I checked out your website. Everything about it is totally YOU and I love that. You're such a sweet and sincere person with a tremendous passion for people and the music. You ROCK and I'm very proud to call you my friend! I wish you great success in everything you do. Reach for the STARs and go get 'em, Girl!! Love, Tresa ;-)





Adam D. Tucker (Higgins Music Group, West Virginia): Great job. I'm very happy with the interview article. It's very down to earth and truthful as heck. Thanks again for a wonderful job. I believe you have a very bright future in what ever you decide to do.






Billy Yates (M.O.D. Records, Nashville): Estella, Thanks so much for taking the time to talk to me and thanks for being so prepared with the questions! The article looks great. Thanks for a great job in writing it! I really do appreciate all the help I get!!!! Please keep in touch!





**FROM THE MEDIA**
Terri Thompson, President of the Chris Young Fan Club (Arkansas): Love the Chris Young interview!! I know he is such an easy artist to talk to and work with, but he still amazes me. Having worked several years with him now, I still learned a few new things about him in your interview! Thanks for adding Chris to your website. Keep up the good work!

Martha Moore, representing Todd Fritsch and Lantana (so much MOORE media, Nashville): Estella... I love the energy, colors, and photos! I appreciate your due diligence for accurancy in your articles. And thanks for including Todd and Lantana on your site. We are honored to be your friends! You are a GEM! Hurry up and move to Nashville! Your buddy, Martha Moore

Glenn Switzer (Fresh Design + Film, Nashville, Tennessee): Thank you!! That is a great article on Ashley Gearing. I think you really captured who she is and what she is all about. Great work! Talk to you soon!!! glenn

Jenifer Herrington, formerly representing Jason Aldean, Lila McCann, Craig Morgan, AND Megan Mullins (Broken Bow Records, Nashville): CONGRATULATIONS and good luck with the site - it looks great!!!! Thanks for all of your support with our artists, girl!! We appreciate it and I know the fans love it!

Doug Moseley, representing The Forbes Brothers (Michigan): Wow. All we can say is thank you for your help, support and for this review. It has meant a great deal to everyone in the band to have you out pushing for it. To receive a review like this from someone with your knowledge and experience means more than you can imagine. The Forbes Brothers will keep plugging on and hearing a review like this will make the road much easier. Thanks for everything. Having a true friend in the music business is rare and very welcome.

Robert Keister, representing Rustie Blue (Center Stage Productions, Lancaster, Ohio): Thanks a million for doing an interview with Rustie; your support is greatly appreciated! I really enjoyed reading the interview. The photos you used were a great choice!! Your interviews are so interesting, I found myself reading several while I was at STAR Country!. Great job!!
**MISCELLANEOUS**Becky Harris (Chris Young's mother):
Estella, Chris got to read your article before he left for the Wildhorse this morning. Thank you - you did a great job!! And, thank you for being so understanding. He had been up for over 24 hours when he talked to you and he was really, really sleepy. Looking forward to seeing you again soon.
Beverly Lambert (Miranda Lambert's mother/fan club president):
What an incredible article!! Her fans will be so delighted to see it; they will love you! Thanks again for all your hard work!!!! (I know it's hard to transcribe those words and it takes an unbelievable amount of time - you did a great job.) -Bev
Luke Lambert (Miranda Lambert's brother):
Your site is great! Thank you for supporting Miranda!!!!
Andrea Wellsfry (Brittany Wells' mother):
I am so very impressed!!!!! You have have done an amazing job on your site. Thanks so much for including Brittany!
Peggy (friend):
Our Lord be Magnified for the choices you make in your life and the way in which you strengthen the Body of Christ...I LOVE that about you!
Scott D. (friend):
Great site E-girl! Very impressive, I'll keep it marked on my computer.
Karen (friend and longtime CountryAngel's Network auction patron):
Girl, you blow my mind!!!! It's someone as sweet as you that can turn YOUR birthday into someone else's celebration!!!
Sue Bauman (staff writer/photographer for http://countrymusic.about.com):
Hey Estella! AWESOME ARTICLE (on Big & Rich)!!! You are a fantastic writer! I'm in awe!!!! Your articles are so in-depth and I LOVE THEM!!! Someday, if the writing gods smile down on me, I'll be half as good as you. I'm most comfortable behind the camera. :)
Caroline (friend):
One of the things I like best about your interviewing is that you ask questions that the fans would ask - and you get the artist to open up and "spill it."
Kimberly (friend and Bucky Covington fan):
I have read a lot of articles about Bucky, but yours was the best!! It is so awesome!!!! You are so good at what you do! :) I loved that you got Rocky on the phone too!! That guy is such a nut!! And thank you for asking him my questions! :) Jackie will also be glad that you asked about the hat...she loves that hat!!