By: Estella Pan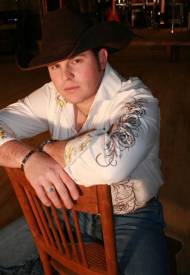 Joining me in the media room during CRS-38, Todd Fritsch shares his excitement "to get some new music out there. It's been a pretty good while." Indeed, it's been two years since the release of his self-titled album. Not that he ever stopped working... quite the contrary, in fact! Todd maintains that "if my plate is not full, I don't feel right." Just this year alone, he has broken attendance records at the Houston Livestock Rodeo, entertained the troops at Holloman AFB, and performed with the Fort Bend Symphony Orchestra (he was the first country artist to do so). He's already shared the stage with Lee Ann Womack, Joe Nichols, Cross Canadian Ragweed and is slated to open for Ronnie Milsap this month. Todd will also once again be at this year's CMA Music Festival performing on the Riverfront Stage. No matter how busy he is, however, he always makes time for his other love: ranching.

Todd says he came to record "What's Wrong With Me" by way of his producer and good friend, Doug DeForest. That's the first single off the new album and it's been released to radio. "The song was written by Andre Boudreau. He is a friend of Doug's, originally from Canada and now lives in Arkansas. Doug demoed it and thought it was a great song, so he mp3'd it to me. Right away, I felt like it was something I needed to record. It's fresh and maybe not as traditional of a song that you've seen from me. But, it's really catchy, and I was just so excited to get something different out there from me."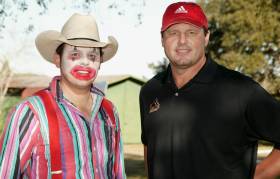 Todd clowning around with Roger Clemens
Todd waiting to film the dunking booth sequence
Todd was able to show the have-a-good-time kind of guy that he is during the filming for his "What's Wrong With Me" video. "If you've got a party, I want to come to it – that's the kind of guy I am!" I guess you could say that he brought the party with him to his video shoot. "Easily, I get the George Strait comparison. I'm a cowboy from Texas, and I like swing music," he admits. "But, I wanted people to know that I'm not Mr. Serious Cowboy. I like to have fun. I like to do crazy things to make people laugh, and this video was just perfect for that!" In the video, you'll see entertaining bits, including Todd falling off a miniature a donkey (one that takes off, which prompts Todd to go chasing after it!), sitting on the plank above the water of an old-fashioned fair dunking booth, among other PRICELESS comedic antics. So, you want to know if Todd did all the stunts himself? You bet! He confirms, "Everything, yeah!" He also recruited a couple famous faces to join in on the fun; one of them was Houston Astros' Roger Clemens. "We made the call to Roger, who said he'd love to come out and do my video. He was a really nice, downhome, country guy – he brought his kids out to the shoot."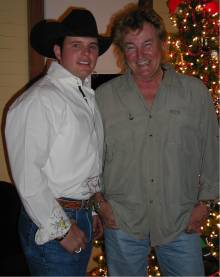 Todd with Eddy Raven
Country hitmaker, Eddy Raven, also made a cameo appearance in the video. "Eddy has really been a mentor to me. I got hooked up with him when I recorded 'I Got Mexico' on my last album, and he's been a friend ever since. So, I was up here in Nashville a few months ago and told him I'd be shooting my video soon. He said, 'Man, if you need anything just call me.'" Todd didn't have to think twice about that offer. "I took him up on that! I called him up, flew Eddy and his wife on down to Austin, Texas, and it was good to go! He's a great guy!" Eddy also lends his voice to "Tequila Tells," a duet with Todd that is included on the new album.
[NOTE: You can catch the full-length clip for "What's Wrong With Me" on Todd's myspace page at http://www.myspace.com/toddfritsch.]
The new album drops into stores on April 17. There are seventeen songs on it, seven of which Todd had a hand in writing. I wanted to know if there was special meaning behind his choosing
Sawdust
for the title of the project. "Definitely!" He shares, "I'm a big fan of old Texas dancehalls and what country music was built upon. Sawdust on the dance floor is what it's all about, so it was real easy for me to lean toward having
Sawdust
as the title." Here is Todd's musical rundown of the new album: "It has some real traditional songs on there, uptempo bar songs from 'No Part Of' to 'Honky Tonk Talk.' We've got honky-tonk and swing songs and also just some really funny songs like "What's Wrong With Me." And, we've got some ballads and gospel-type songs, like 'The Rock' and 'A Walk to Remember.' I'm a really big ballad fan. I would cut ten ballads if you let me!" Another song on the album is "First Date For the Last Time," a song that was also featured on his self-titled album. Todd has a good reason to include it with the new set of songs. "The feedback for that song has been really positive. We get a lot of requests for them in our live shows, people have it played for their weddings. It's a song that I'm really proud of." He continues, "I hope this new album reaches more people so they can really get to see the side of me who wrote that song."
Something that sets Todd apart from many singers and songwriters in the industry is the fact that he completely invests himself and his emotions into the songs he listens to. This also directly affects how he decides which songs to record. "How I know a song is really special to me is when it gets me to tear up. If I hear a song that's so powerful it hits me that hard in the heart, that's the one I'm going to record." He gives a specific example of how it works. "The first time I heard the demo of 'The Rock,' I just cried! 'I Don't Live Here Anymore' was a song I felt that strongly about. I'm that passionate about my music that it needs to be that way."
[NOTE: "I Don't Live Here Anymore" is included on Todd's self-titled album released in 2005.]
This isn't limited to just his own songs, however. Todd shares, "The first time I heard Brad Paisley's 'Little Moments,' it just tore me up!"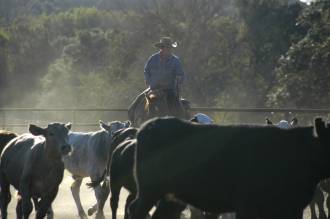 Tending cattle is one of Todd's many duties at the ranch.
Tackling anywhere from 150 to 175 live shows a year all over the world would likely make someone hang up their boots and catch up on their sleep during their days off. But not Todd. Anytime he gets a few days off from the road he always heads back home to his ranch. It might be a completely different lifestyle compared to his music career but it still requires the same mindset – that being, to simply get things done. "When I'm home, I'm driving a feed truck or fixing fences; I'm not a singer anymore. It's really tough, but I'm still involved in it." And, his duties on the ranch are plenty. "I've got my own cattle and my own cow dogs. I've got my own horses I've trained, and the whole bit! I'm gone a lot, so [my family] all fill in the gaps in. But, when I'm home, I pull my weight." Commenting on the challenges of balancing both lifestyles, Todd confesses, "It really is difficult, but I'm a guy that likes to take on a lot of things. My family – my dad, mom and, brothers – everybody helps out 120%."

For now, Todd's concentration is on promoting Sawdust and performing in front of as many new audiences as possible. His calendar is booked clear through the end of the year, with new dates being added regularly. Perhaps some of those venues will have sawdust on the dance floor. How fitting to celebrate his new music in the very setting he had in mind when he went in to record it.
Of the songs you wrote that are included on Sawdust, do you have a favorite?
Todd: If I had to pick one, my favorite would be a song called "All That's Left is You." It's an old swing/Sinatra type song. I've been a big fan of that type of music for a very long time, and couldn't find one like that. So, Doug [DeForest], Joe Barnhill, and myself all wrote that song together. That's a really special song for me. I've listened to that style of music for a long time, but never have gotten the chance to sing it much less record it. I love the fact that it's something that you can put on and get on the dance floor and dance to all night. To me, that's what country music is all about and I'll be one of the first to tell you: This is how I like it, this is exactly who I am. If you don't like my music, too bad; I'll find somebody else that does.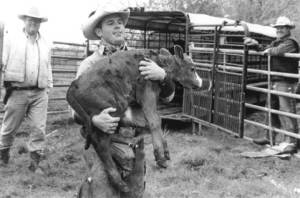 Todd pulls his weight at the ranch!
People not familiar with the ranching lifestyle may not understand how much work actually goes into keeping a ranch farm going on a daily basis. What's a typical day like out on the ranch?
Todd: It really varies from day to day. My brother takes care of all the feeding. We'll feed 2,000 head a day. So, I try to help out and relieve him of that when I am home. Then, I'll saddle up and go check on my own cattle – I pen and sort them, and treat the ones that are sick. In the evening, it could be anything ranging from plowing to cutting hay to fixing fences and welding. When you're a ranch hand, you're a jack of all trades. And, I'm the guy on our ranch who's one of the most versatile guys. It doesn't matter what it is, I just get it done. I enjoy it all!