By: Estella Pan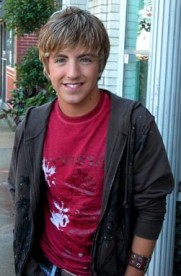 Billy Gilman blew the world away at the age of eleven with his big voice and subsequent debut album, One Voice. Now eighteen, this Rhode Island native has released his sixth career album. He phoned in, and we had ourselves an enjoyable conversation covering various topics of interest. Of course, our interview wouldn't be complete without discussing music, and Billy gave me the full scoop on his latest album, career beginnings, as well as a word or two about future plans!

First things first. Now that he's eighteen, I asked how he chose to celebrate the big milestone a few months ago. "You know what? I went out to dinner!" Billy chuckles, "I went to dinner with a couple friends, family, and that was it." He adds, "You don't know how much of a treat that is, because I'm always going – there's never a day when I'm not doing something career-wise. So, to sit, relax, and laugh, that was the best!"
As far as music goes, Billy's decision to become a recording artist came very early in his life. "The first time I realized I wanted to be a singer, I was three years old, watching a television special. This woman came on the television screen. Her name was Pam Tillis. Before that, being one or two years old, I didn't comprehend music. But, that was the first time I comprehended melody, lyrics, and all that." He continues, "Pam was singing one of her songs, and I looked over at my parents and said, 'I'm going to sing a duet with her one day!'" From that point on, Billy informs me that "I taped all of Pam's appearances and bought her cassettes. When I was six or seven, I would see her in concert every chance she came to a local fair or theater. I'd have my mother on the phone by nine in the morning [the day tickets went on sale], because I wanted front row seats!" During a few of those concerts, he also got to meet Pam. "I met her a couple times [before I became a recording artist], and she'd give me advice and confidence to stick with [singing]. Then, throughout the years, we formed a friendship." In the meantime, Billy was in pursuit of his own record deal, and "after years of learning how to sing and creating my voice, I signed with Sony." He continues, "Pam was signed with Sony as well. When she was going to be inducted as a member of the Opry, that was the night I was making my debut on the Opry stage. So, it was a memorable night for both of us!" Fast forwarding a few years would find Billy working on his latest release. "When I went to work on this new CD, there was one song that's very old-style, and it reminded me of her and I at the Opry. I said, 'You know what? I hear this song as a duet, and I hear Pam Tillis singing with me on it. And, if she ever said yes to do it, it would make everything so full circle! Well, I never thought she'd do it, because she's so busy." But, as fate would have it, a mere fifteen years later, that little wish Billy made about singing a duet with Pam came true. "Yes, she's on my record!" An ecstatic Billy recaps the moment he received news that his ultimate idol had agreed to appear as guest vocalist on his album: "When she said 'yes,' I thought, That's it! It's so cool to have friends like that who'd come on over and sing a duet with me in the studio! I just thought that was so neat!"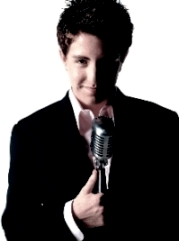 Besides "Almost Over Getting Over You," his new album includes "some rocking country – there's one you'd swear Kenny Chesney would sing. There's some pop country, like the Rascal Flatts style – that's what the first single is like, it's very mainstream. Well, then I said, 'We're leaving out one style of country music – the standards, old-style! I want to do some!' His only stipulation? He laughs, "I wanted originals!" One of those songs presents itself in the form of "Let Me Remind You Again." And apparently, Billy's rendition of the ballad has many listeners fooled! "I have so many people ask, 'Now, you have to tell me, who is the original singer of 'Let Me Remind You Again'?' Well, my answer is, of course, 'Me. Now.' He adds, "People have actually gotten into an argument with me because they're sure someone else sang it so long ago!" All the more proof that he accomplished what he set out to do! "I'm like, 'Yes! That's my prerogative!'"

"Southern Star' is the first single from the album, and according to Billy, "It's about growing up and experiencing all the things that an 18-year-old boy would experience – that you couldn't experience at eleven years old." Yet another reminder that the wide-eyed, big-voiced 11-year-old Billy Gilman has been transformed into a goal-oriented teenager who is focused on attaining longevity in the music business. Back in the day, one of the obstacles in his career was song choice. "It's easier to find material now, because that door is now open. When [we were working on] my first record, it was so tough to find material suited for me, because [songs] were about love, drinking, things of that nature. So, a lot of songs had to be specifically written and specially crafted for me." He adds, "Now, that door is open. Not that I want to be singing about drinking and all that, but a lot of this new record is about growing up, because that's what is happening to me. My first single really exemplifies that."
Classic Christmas was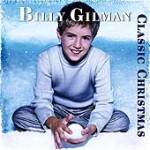 released in 2000.
With the holiday season around the corner, Billy is looking to record a few holiday classics. "I did a Christmas album before with my old voice. Now, I'm going back to record, not a whole album, but just a few songs for radio." Song choices are between "Warm and Fuzzy" (one of the original tunes that was featured on Billy's Classic Christmas album), "Have Yourself a Merry Little Christmas," or "I'll Be Home For Christmas." Does he have any preferences? "My pick is 'I'll Be Home For Christmas,' because it rings true to me and a lot of people in the world. This world has gotten so busy that some people aren't be home for the holidays." He continues, "How they wanted me to record those songs was country-pop – the Shania Twain, Rascal Flatts way of doing it." Though he enjoys the songs of named artists, Billy wanted a different approach and sound for his songs. "I told them, 'You know what would make me stand out even more is if I'd record them in the way Bing Crosby would have done it if he had recorded a duet with Patsy Cline.' I told them I wanted to do those songs with no ProTools. I want it so earthy and so real like what happens when you're watching a concert. That's what I did on the new album, and that's what is making people realize that I'm a serious artist, because it's a very risky thing to do." He explains, "Everything is so pitch-perfect these days that if you hear something that is so vulnerable and so personable to a listener's ear, it stands out. It's like "Me and My Gang" by Rascal Flatts. It's so perfect, the voices are perfect, the instruments are coming in just where they need to be; everything is so perfect that it's almost unrelateable." On the other hand, "When you hear someone who's gone in and done the song in one take – like LeAnn Rimes' new single, 'Some People' – she was telling me it was done in one take. And, you'll hear little cracks in her voice here and there; she cried in it. That is so real and that's what makes the lasting impact." The drawback, at least as of late, is that to keep it real is to be outnumbered. "It's very hard to get your music publicized, because to a producer's ear, it might not measure up to something that's so produced perfectly. But to a radio listener's ear, they don't know that. When they hear a crack or something, they'll go 'Oh wow, they're real people; they make mistakes!'"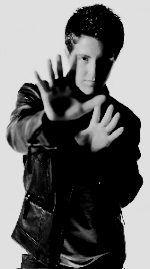 There was a time not so long ago when Billy was unsure of his musical future; when puberty came around, it hit him really hard. "When I was going through my voice change, my doctors told me, 'If you speak, you could damage your voice forever.' I guess talking and whispering is worse than, literally, screaming like a rock singer." Billy assures me that is all a thing of the past! "Oh yes, the voice change is done. Thankfully, that bump is out of the way! It may get lower and richer, but nothing where I'd have to completely stop singing again." During the lengthy period of silence, he did pick up a few life lessons. "When I was younger, I really took a lot for granted, I really did! When you have such a big career within four months – that's all it took for my single to go #1 and it stayed there for eight weeks. It was incredible and it got to where I almost expected it." The whirlwind lifestyle took its toll, so much so that after his recovery, he's doing things a little differently. That is, after starting back at square one. "I had to relearn how to speak correctly. Who would think you could speak the wrong way?! I had to relearn how to sing, because I had a whole new voice. It took a long year to master all that, and it was tough because of how fragile [my voice] was. It's not as fragile now." Billy says things are much better these days. "I learned how hard it is for an artist to come back. LeAnn [Rimes] was just telling me, 'I never knew how tough it was until I went down to the lowest I could go and had to just rebuild my career.'" All in all, "I've learned to pace myself and to be very practical. I don't want a million dollars; I want a Top 20 record."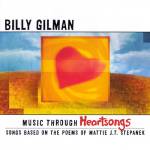 Music isn't the only thing on Billy's plate. He also devotes much of his time to working with the Muscular Dystrophy Association (MDA). "In 2002, I was on the Larry King Live show and you were either on for the full hour or the half hour. Well, I was on for the half-hour and there was a young poet on the second half." [NOTE: Billy is referring to the late Mattie J.T. Stepanek who succumbed to Muscular Dystrophy at the age of fifteen.] "He wrote these poems called Heartsongs, and [his message was that] 'Everyone has a Heartsong. You just have to find it, live with it, and you'll be a peaceful soul if you live by these Heartsongs.'" Listening to that interview, Billy turned to his mother and exclaimed, "'He's eleven years old, how does he know that?!' He had no cue cards. He just said what he felt and you could tell he was saying what he felt!" As a side note, he divulges, "Now, at eleven years old, I might not have had cue cards, but I was prepped before any interviews I did." Picking up with his story: "Then, he was asked who was his inspiration, and he said, 'Jimmy Carter.' I was thinking, My gosh, this kid is unbelievable! I told myself then, 'I've got to get his books! I want to put his poems to music; these are just too unbelievable to not be heard!'" A couple years down the line, Billy got the okay from Mattie to put out an album inspired by poems in his Heartsongs series. "We went into the studio and really, Mattie had a whole idea of what he wanted each song to sound like. Not only was he sophisticated in his writing, but he was very music savvy, which was really neat to know!" One thing led to another and pretty soon, Billy found himself being asked to serve as the new Youth Chairman for the organization. "I had appeared on the Jerry Lewis Labor Day Weekend Telethon once. I saw what a family [the organization] was, how hard they worked for nothing, that I said, 'Man, I want to get more involved!' And then, again, to come full circle – for them to ask me to become Youth Chairman, I said, 'Of course!' and I'm on my fourth year with them." You're probably wondering what exactly someone holding the Youth Chairman position does. "I go around the country inspiring not only adults but teens as well to get involved if they aren't involved and to thank the people who are already involved." And, how's this for today's healthy dose of inspiration? "Everyone at some point thinks Jerry Lewis gets paid to host his telethons each year. He gets nothing; it's all from his heart. And, oh, the many heartwarming people who work tirelessly for these people, the families you meet who have a child afflicted with one of the forty-three diseases we represent, or a mother who has Lou Gehrig's diseases. It's amazing to see how determined each of them is to find a cure for other people! I just think, Wake up, world! Look how lucky we are!" Not many people can say they love what they do everyday. I can, and even though it might be hard – boy, sometimes, it's just tough! – but to do what I love, not many people can say that. So if I can give back in any way and lend my voice to such a worthy cause like that, I'm all for it! Between my music and the MDA, I'm swamped! It's so great, though!"

For a person who hasn't hit his twenties yet, Billy is pretty wise! With his practical optimism and sheer determination, I have no doubt he'll find bigger and better things to come!
Billy describes his self-titled album as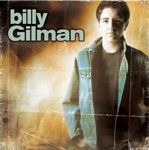 "earthy-sounding" - it's in stores now!
Why did you decide to go with a self-titled album for your latest project?
Billy: When we were talking about titles for the new album, I asked, "Why not just have it self-titled, because there are no frills, no big production. The record is really earthy-sounding; it's just me and who I am today. I think of it as a rebirth, almost. Listening to my progress and feeling it inside of me with my new voice – I've not done many records with my new voice – but I can honestly say that this is my best one yet.

What is the biggest difference between your self-titled album and your previous albums?
Billy: Not that it's the best I'll ever do, but it's the most focused album of any of my CDs. When I was recording One Voice and my other albums, there were a lot of [musical] styles on them – rock, pop, inspirational. This record, even though it has different types of country music, it's country music, and that's how we're marketing it. It's never been that way before. Everything and More was still a growing period in finding what my new voice was like. It [was really about] trying to find the best songs for the new me. This record really shows who I am now and what I'm capable of doing, vocally. It's coming of age. I mean what I say, and I mean I'm going to be in this business for a while.

Do you have a favorite track off the new album?
Billy: Every song I sing has to ring true with me. I might not have gone through it myself, but it's true to the world, and a lot of people go through it. I think it's great to be the voice that's an escape for them. I know how I deal with and relate to things knowing other people have also gone through. That said, each song really has a special spot in my heart. But, if I had to pick one, it would have to be "Let Me Remind You Again." It's really Eddy Arnold, Patsy Cline, 1950s country music – that's what I grew up listening to, that's really what is in my bones.

Are there any interesting tidbits about the making of your current album that not many people will know?
Billy: When I was recording One Voice, before [other artists who have since released albums of classic songs], I wanted to bring those songs back. But, of course, when you're signed to a huge record label, you're told what to do; you don't tell them what to do, so I never got the opportunity to do that. But now since I have, I didn't want to go back and record classics, because they're being done so much lately. I wanted a song you'd think was a classic – but isn't. It's tough to write an original song [that sounds like it's been around for years.] I wanted it to be really authentic, to maybe have words in it that people don't use anymore. And, when we were in the studio recording that song, we had the lights dimmed low, the musicians was getting into it, and man, I swear I could feel Patsy Cline on my shoulder saying, "Go kid, you can do it!"

Having "made it" in the music business at a young age as you have, what is the single most important piece of advice you can offer someone who wants to get into the music business?
Billy: You know what you've got to do? Go into the archives and really listen to where country music started with Patsy Montana, Faron Young, and [that generation of music.] Really listen to those songs. Hone your craft through them. If you learn that old way of performing songs – to deliver songs with a tear in your voice – that's what will set you apart from the rest. It's like when you're getting ready for a test. You read everything you possibly can about whatever you'll be tested on so you'll do well. I'm not saying [my singing is] perfect, great, or even "good," but in order to [record songs] to where I can be satisfied to bring it to the public, I'll do my homework. I was brought up on old-style country music – I had a foundation in it, thanks to my grandparents – and I really go in and listen to records that probably people don't even remember, just so I can hear every aspect. So, do your homework and you'll be able to do it well.
Billy enjoying his new-found voice!
Speaking of honing your musical craft, who were some of the artists who helped you find and develop your own voice?
Billy: Of course, Pam Tillis, but she's on a different level. But, my favorite singers are three people: Vince Gill, Patsy Cline, and Frank Sinatra. Those are the three people I could listen to over and over and not ever get sick of them. I want to introduce [that era of music] to young listeners. People were kinder to each other when that music was "big." Some of these messages that many of today's artists send out – especially in other genres of music – I don't know, I wouldn't want my kids hearing them. It's degrading! Now, my songs aren't squeaky clean, but it's not indigestible, because it's real.

What has been the most exciting event that your career has allowed you to experience?
Billy: Well, I've been on the Opry, I've won and been nominated for various awards. If you like accolades, then great, that would probably be your favorite. The Platinum records are very assuring to me that people are buying my records and appreciating it. But, the Pam Tillis duet really is the best, because it was on such a personal level. To have her history – not just her voice, but her history – on my record and just how good of friends we've become, that really brings everything on a personal level so full circle. That personal level, the friendships, the nice gestures, is what I'm most grateful for. I think those are the most important things that have stayed with me.
Billy and Mattie became fast friends after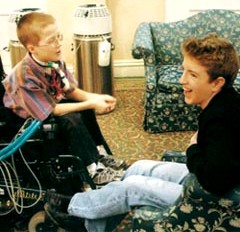 meeting on the Larry King Live show!
You had the opportunity to be a part of your friend Mattie's memorial service. Mattie, of course, being pivotal to your own involvement with the Muscular Dystrophy Association (MDA).
Billy: That was tough! See, even though I have to with the MDA, I really can't speak; I'm not good at that. I get up there and I will just clam up! It's almost an anxiety attack. I need prompters and cue cards that are as big as life – they're underneath the podium, of course; it's not seen so that people don't think I'm fake – but, because I have such a hard time mentally getting over the fact that "It's okay, you can do it!" I can not speak. So I sing! I had suggested, "How about I go up there and sing one of his poems we'd put to music?" I had to hold on to the podium, because it felt like I was going to go right down on my butt and sink. I saw the church spinning back and forth and upside down, because I was so taken back by the whole day. It was tough, but I did it for him, his mom, and his family; that got me through it!

What is something interesting about you that fans would be surprised to know about you?
Billy: I have to sleep with a motor on. I have a humidifier at home, which I don't use properly. I don't put water in it, which could probably burn it out and catch the house on fire! I just plug it in for the hum, because in my younger years, all I was on was tour buses. So, when it's silent, I will not get any sleep. There'd be times where I'd spend the night in a hotel room and they'd have to specially order a fan or a humidifier – something! The TV doesn't do it; it doesn't have that lull – to put in my room. Because I'd have to do a show that night, but I'd be completely hoarse because I didn't get any sleep! It's ridiculous; I try to kick it, and it just doesn't happen! The other thing is I don't touch elevator buttons. I don't know what it is, because I'm not germophobic. But, I do not touch elevator buttons! If I'm standing in an elevator, I'll kick the buttons with my shoe or my knee. If I'm in there with other people, I'll have them do it.

What do you hope your fans get from listening to your music?
Billy: I hope they get that it's real. From the time I was eight years old and my grandmother said I needed to be heard, it was my decision to get into music; no one forced me into it. And, even though I may have great influence and help from record label, publicity and other people, at the end of the day, if I said 'yes' to something, it all comes back to me. Even at eleven, I'd go to all the meetings and write notes about what each person involved was doing with One Voice. I knew everyone's names and what they were supposed to do. I did that so I could learn. I want people to know it's not a fly-by-night thing for me. It's who I am and like it or not, I'm still going to be in the music business.