By: Estella Pan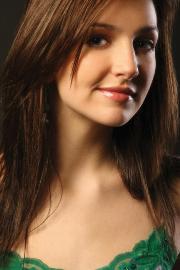 With the release of her debut single, "Can You Hear Me When I Talk to You?" Ashley Gearing became the youngest female artist – at twelve years old – ever to enter the Billboard country chart. In fact, recording the poignant ballad was what earned this Springfield, Massachusetts native her first recording contract. However, due to artistic differences, Ashley felt it best to part ways with them. The change only allowed her to explore other opportunities. Enter Squeeze Records, the label to which she is now signed with. Ashley phoned in three days shy of her fifteenth birthday to fill me in on her new album, just released in May; it is aptly titled Maybe It's Time.

Listening to Ashley talk animatedly, it is clear that the passion this gal has for singing and performing simply can not be suppressed. She takes me back to a time when music first became an integral part of her life. "I remember my mom rocking me to sleep and singing to me when I was a younger girl. I can actually still remember some of the songs she sang. I really think that's what helped me become so musical." She says about her love for country music, "Some people might think, Wait, you're from Massachusetts, why are you singing country music? It's what I grew up on. My mom is from Atlanta, and my grandmother down there always listened to country music. I've always been a big fan of country music." Performing for people is also something she's always enjoyed doing. "I really love to please people! Ever since I was really young, I would entertain so that people would laugh or smile." That little desire "to make people's days better" is what continues to propel Ashley forward, and it's evident the sheer excitement she possesses for having something tangible to give those who have been her devoted supporters. "The album is called Maybe It's Time, because we've all been anticipating this for so long! So many people have been asking for it, and it's very refreshing to finally be able to say, 'Here it is!'" She continues, "It really means so much to me that I have so many fans who have stuck with me since my first single; it's really amazing how people are still interested after two and a half years. I am most excited about giving my album to them as a 'thank you' for staying with me."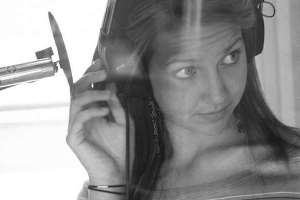 Ashley in the studio
Despite the time lapse between her debut single and first full album release, Ashley is glad she took her time to make this album exactly the way she envisioned it. "I really needed this past year to find myself as an artist. This album is so me!!" She adds, "I definitely feel that I've made an album that I can put in an enjoy all day, and I hope everyone will feel the same way, too." She is just as anxious to bring her music to her fans – through more live shows. "I miss performing live and hearing people's stories of how they love my music and how it touched their lives. It's really great to be able to get into all that again." Ashley describes all eleven songs on her new album as "amazing in my book!" She raves, "They're ones you can relate to. There are songs that touch your heart and others that make you feel good when you're driving. There's a song on there called "Just a Moon' that I wrote with Stephanie Bentley and my producer, Cliff Downs." [NOTE: Stephanie has penned numerous hits, including "Breathe," which was recorded by Faith Hill.] Having just begun writing songs in the last year or so, I asked her feelings about including one of her own tunes. "It's really great to have one that I wrote on my record. It's going mean a lot to me when someone compliments my music. It's another thing when someone compliments me on something I actually wrote and put time and effort into producing and making. I'm excited to get into more of that [on future projects]!" The current single is "I Found It In You," and Ashley says the song captures the essence of finding muses in the most unique places. "Different people find inspiration through different things – it could be from reading a magazine, going to church, or doing what they love to do. You can take something from the song in a religious aspect, or it could be a love song, or it could be about someone you look up to and telling them how much they mean to you."

Having people who continue to follow her career means a whole lot to Ashley, and she doesn't hesitate to express heartfelt appreciation for her loyal fans. "Like I said before, it's just amazing to me how they've kept their interest in me. They've been anticipating my album as much as I have! My fans are really awesome and I want to do all I can to keep in touch with them in the know about what's going on with me." One way she does so is sending regular personal e-mail updates to fans to keep them posted on her career progress. The positive tradeoff is that fans can feel closer to their favorite artist, and Ashley has a direct way to get feedback about her music from her fans. "I always love to hear that my voice and my music touches someone in some way."

Getting your foot in the door of the music business is hard enough without trying to figure other things – like education – into the mix. Naturally, I was curious as to how Ashley has managed to balance both her music career and academic obligations so gracefully in the last few years. She appreciates the fact that "my friends at school have been so supportive of me. My teachers have been supportive of me, especially when I am on the road." Though she admits it can be hard at times, she has found a way to pursue musical opportunities while still continuing to attend school. "I find it's easier to do my traveling in the summer, and to focus on school in the winter and fall."

As for her immediate future, Ashley shares, "We have a lot of shows planned [in the coming months], and I'm really hoping to get back to radio stations that I visited with 'Can You Hear Me When I Talk to You?' and re-introduce myself. I miss all the chaos of living on the road type things, and I'm looking forward to experiencing that again!" She also has plans to move to Nashville. "I'll be moving down in the summer, and I'm going to be starting school there in the fall. I'm really excited about it, because I think it's going to open a lot of doors for me." Both school and career are equally important to her, and being able to do both without certain limitations – ie: distance – ultimately influenced the decision to move. "That was the main thing we were looking at. I'll still be able to go to school, which is what I really want to continue doing throughout high school. At the same time, I'll be able to get home and go over to my producer's house to cut a song – without having to make these long plane rides to Nashville on the weekends and miss school." The pending move involves her whole family, which includes her father, mother, and younger sister, Katherine. "Oh don't even think that [moving down by myself] would ever happen! My mom would be flying down every weekend!" She adds, "My family is looking for a house as we speak."
Ashley sings at the 2004 Red Sox home games
(They took home the World Series Champions the same year!!)
It seems that Ashley has got the best of both worlds as of late, and she is extremely grateful for the opportunities that have been afforded her! "I pinch myself every day! I'm just a normal teenager, but yet, I've been able to share my voice and my gift with millions of people – to see their reactions and touch their lives." She adds, "I've always loved singing ever since I was a little girl, and now, to be able to call it 'my job,' it's a blessing! I enjoy it so much!" In case you haven't noticed, she is more than elated to be back on the music front! So, does she have a favorite aspect of being an artist? "I love performing live, going to different radio stations and meeting people, doing interviews. I absolutely love that! But, when I'm on stage, I live off of people's reactions and their applause – that's what keeps me going through each show. That's the best part for me." Having said that, you might be surprised to know that Ashley is actually "really self-conscious about my singing. Some of the people at school know this, but I don't really like to sing around my friends; I don't like talking about it. It's just really weird when my friends ask me, 'So, what are you doing tonight?' I'll feel really self-conscious about saying, 'I'm going to Boston to do a show.' I'm a different person when I get up on stage than I am when I'm off it just interacting with my peers and family."

To those looking only at paperwork, Ashley may seem young. Age is, after all, only a number. But, what makes a person who they are is how they handle the ups and downs of life. The wisdom that she has gained through her life's experiences is built on a foundation of her deep love for music and people – that alone, will carry her a long way in an ever-changing scene known as the music industry. If you haven't acquainted yourself with Ashley and her music, maybe it's time you listened up.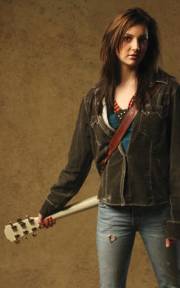 Growing up, who were some of the artists you listened to and admired?
Ashley: I've always had an open mind with music; I listened to everything from Faith Hill and Shania Twain to Bonnie Raitt. When I was younger, I was in love with Céline Dion's music. I have every CD of hers and would always just sing in the back seat of the car to her music! I pretty much love every [kind of music]. I really look up to Faith Hill – she's a "big" artist, but yet, she's very grounded and a great woman. I'd love to be like that, too, in about ten years – to still have a career and for it to still be as strong.

After you began pursuing a career in music, you've continued to attend public schools. Do you find it easy or difficult switching gears from "Ashley, the student" to "Ashley, the singer/songwriter"?
Ashley: I really try to keep my music life and my school life on different sides, because if they're mixed together, it gets to be too complicated. I would like to be known at school just as 'Ashley' and not 'the girl who goes all over the country and sings.' It's a great way for me to [do the things that fifteen-year-olds do], but also to be a singer as well – without really meshing the two together. It's what I have been doing, and it seems to be working well.

Speaking of school, you recently spent a day visiting with 7th and 8th graders from inner city schools in your hometown. Why was it important to you to share your own experiences with these kids?
Ashley: I know, as a little girl growing up, I always had the dream of becoming a singer. But, I never knew what to do with it until people actually came up to tell and told me how to pursue it. Without those kinds of people, I don't think I'd be where I am today. Following your dream takes a lot of work, and I think these kids deserve to know what [is out there] from someone who's been through it. Knowing things like people aren't always going to be nice and that there are a lot of doors that are slammed in your face before you get to success. I believe in these kids 100%, and I believe that if you want something bad enough, and if you work hard enough for it, it can happen. I asked some of the kids to share their dreams with me, and I got everything from wanting to be a juggler to a singer to a dancer. I had some of them perform – one kid was able to break dance for me! They believe in their dreams so much, and I wanted to give them hope to keep going for it.

For young children who has that dream of being a singer but maybe doesn't know how to go about making that happen, what advice do you have for them?
Ashley: For all the kids who are looking to pursue their dreams, I'd say work your craft. Keep practicing and doing what you do. For a singer, sing and perform anywhere you can. If you can't afford singing lessons – what I did, as a younger girl, was get different CDs that I loved and play them over and over. Study voices, sounds, and notes. Just keep going, but make sure to always love whatever it is you're doing, because it's not fun when you don't love it anymore. If it becomes "work," just stop. Everyday, I love what I'm doing! There are a lot of sacrifices to be made, don't get me wrong. And, there are times when I don't really feel like doing a show because I'm not feeling well. But, it's all worth it when I hear that audience applauding me – it's all worth it!

Does your younger sister she have an interest in becoming a singer?
Ashley: Yes she does!! Katherine will be seven in July. It's a little bit scary, because I don't know if my parents want to go through all of this again! But, she really loves music! She's more of a rocker, I must say, but she reminds me so much of myself growing up. She'll belt out every song on the radio in the car – when she thinks no one is listening. But, as soon as she thinks someone is listening, she'll stop. Who knows if she'll want to do it professionally, there's no pressure for her to. But, she really enjoys going to my shows. I remember at a recent show, I was singing one of her favorite songs. So, I had her come up on stage and sing a little with me. She was totally freaked out, but I could tell by the end of the song that she wanted more!

Roger would like to know: If you could be granted one wish, what would you choose for it to be?
Ashley: Oh my! Wow!! Ooooh, that's so hard; there are so many ways you can take that question!! I think my one wish would be for me to be known around the country and even the world for not only being a good singer, but also a great person. I know that if I ever became really big and famous, giving back to the community is something that I would make sure I kept doing: using my voice for not only entertaining but making people's lives better.