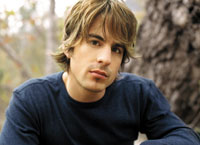 Who is he?
Nothing is more inspiring than Jimmy Wayne's story! He is living proof that no matter what, you CAN make it, if you believe in yourself and just go for your dream! For anyone who has doubted the healing power of music, take a moment to learn a little about Jimmy: He has weathered more emotional and physical turmoil than anyone else would care to experience. Facing physical abuse at the hand of his stepfather, working as a child to make money for his imprisoned mother, and later living alone in the streets - most people think "that won't happen to me." But, for Jimmy, those things were more than real; they did happen to him. During tough times, he channeled his pain through music and started writing songs.
These days are looking brighter. He has already sung on the stage of the Grand Ole Opry and his debut single, "Stay Gone," reached #3.
Jimmy says, "My responsibility in the past, when I was sleeping outside every night, was just to survive. My responsibility now is to stay real, stay grounded, and just tell the truth." And, tell the truth he does, as evidenced in the heart-gripping "I Love You This Much," which is a not particularly rosy reflection of the life Jimmy knew as a child. He co-wrote seven other tracks off his debut album (including "Stay Gone"). Just as his trials are very real, you can bet his songs will always be, too!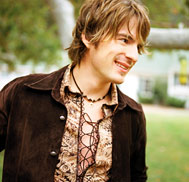 What has Jimmy been up to?
Please continue to REQUEST Jimmy'as NEW single "That's All I'll Ever Need" - at radio now!! Please continue to REQUEST all of his previous singles at radio and videos on GAC, VH-1 Country, and CMT!!

CONGRATULATIONS to Jimmy, who has signed a NEW record deal with Big Machine Records!!!! His NEW single heads to radio later this month, so be listening for it and get ready to REQUEST!!!!

Between hitting the road and meeting the fabulous fans, you would think that Jimmy wouldn't ever have time to complete his next album. Not to fear, he spent years writing material before he was even signed. The result: plenty of excellent, original material for the next few albums. Jimmy says, "I've got enough songs probably for two or three records, you know, but I want to pick out songs that make this record, rounds it off. I want it to be more fun than the last record, I want it to be more up tempo, definitely...and I've got some songs that touch on personal experiences like on the last record, but I've got some stuff that's just tongue in cheek, you know, just very fun." We'll take your word for it, Jimmy!!

Want MORE interesting tidbits on Jimmy?!



Where can I buy his music?
Check out Jimmy's self-titled debut album, which features "Stay Gone," "I Love You This Much," "You Are" and 9 other excellent tracks!! Purchase YOUR copy by clicking on the CD cover!