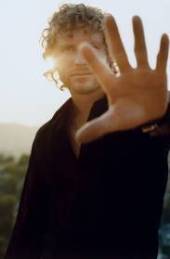 What has Dierks been up to?
REQUEST "Free and Easy (Down the Road I Go)" - at radio NOW!!

CONGRATS to Dierks, who nabbed four GRAMMY nominations in the categories of Best Male Country Vocal Performance and Best Country Song - both for his hit single "Long Trip Alone," as well as Best Country Album for Long Trip Alone and Best Long Form Video for his live concert DVD Live & Loud at the Fillmore. Dierks and superstar Tim McGraw are tied for the most country nominations. The 50th annual GRAMMY Awards will be broadcast on Sunday, February 10, 2008 live from the Staples Center in Los Angeles on CBS.
"The Recording Academy is one of music's most prestigious organizations and to have four GRAMMY nominations makes me feel proud and humbled at the same time," said Bentley. "I live and love country music, and I am looking forward to a great night with my fellow nominees."
The good news came right on the heels of this week's celebration of his career fifth number one hit single with the chart-topping "Free & Easy (Down The Road I Go)." Bentley was also recently awarded with the Country Music Association's esteemed "Triple Play" award in recognition of three consecutive number one hits in a 12-month period.
There is still more to come from the critically-acclaimed album Long Trip Alone, with the release of a fourth single "Trying To Stop Your Leaving" in January 2008. Written by Bentley, Jim Beavers and Brett Beavers, "Trying To Stop Your Leaving" showcases the consistent strength and continued growth of the country music star's voice, along with his innate ability to deliver authentic emotion in every performance. Bentley will perform these songs, as well as hits from his first two PLATINUM selling albums on "Austin City Limits" on January 26, 2008.

Dierks says he'd never pass up an opportunity to perform at Kenny Chesney's stadium shows and probably wouldn't turn down the chance to tour with George Strait again, but for the most part, he's having too much fun headlining concerts to go back to being an opening act.
"After going out on the road twice with Kenny and twice with George, there's really nowhere else to go," he says. "I have so much fun closing the show and getting to have the whole stage, pick the lighting, pick the sound, pick the staging, the venues, the way it's set up with the little area up front, the little pit we have. You miss that when you go out on the road with other people, and I don't think that I could go back and do that."
Still, in addition to Kenny and George, there's one other artist who Dierks would jump at the chance to open for. "I would if Tim McGraw called," he says. "I'd love to do a couple of shows with Tim, just because I'm a huge fan of his and it'd be cool just to say you've been on the road with Tim McGraw."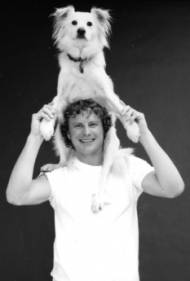 Dierks and Jake
Did y'all know?!
** Dierks is a pilot, qualified to fly Cessna airplanes. "I earned the licenses, but I haven't flown in seven years.

** Dierks first spotted Jake at a pound in Nashville. They were going to put him down, so Dierks took him home. Ever since, the two have become lifetime buddies and Jake follows Dierks everywhere! Dierks credits Jake for getting him through some of the toughest times in his life.

** Dierks is Greek!! Ok, not really, but he IS a member of the Sigma Alpha Epsilon fraternity.



Where can I buy his music?
Dierks' has released his NEW album titled Long Trip Alone. Also available are his self-titled debut album and Modern Day Drifter - purchase YOUR copies of Dierks' music by clicking on each respective CD cover!!