On the set of Dolly's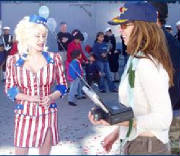 "Welcome Home vid
Trey Fanjoy started directing video in 1997; since then, she has nearly 200 clips to her name and has worked with country music heavyweights Montgomery Gentry, Alan Jackson, Lonestar, Loretta Lynn, Martina McBride, Reba McEntire, Dolly Parton, Keith Urban, AND Wynonna! Trey has become one of the most sought directors in the industry, and her vids continue to top the charts at GAC, CMT, and VH-1 Country.
Trey and Reba filming "Somebody"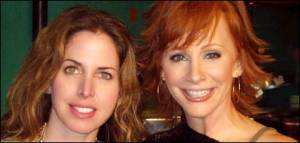 Tracking Trey:
Check out Trey's NEW clips for: Bob Seger ("Wait For Me"), Montgomery Gentry ("Some People Change"), Jimmy Buffett ("Bama Breeze"), Pat Green ("Feels Just Like It Should") and others!! Stay tuned to GAC, VH-1 Country, and CMT for all of Trey's videos and REQUEST 'em!! (see below for her extensive résumé)
Lee Ann shines in her "I May Hate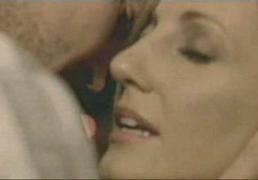 Myself in the Morning" video
Trey filmed the video for Lee Ann Womack's "I May Hate Myself in the Morning," from Lee Ann's latest album, There's More Where That Came From. Filming took place in Fort Worth, TX, and being a Texas native herself, Lee Ann explains, "The song is about re-visiting your past, so it made sense to shoot the video here. Plus, I look for any excuse I can to get back and hang out with my friends."
Trey brings a glow to Wy's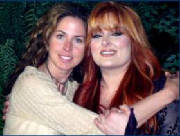 "Heaven Help Me" video
In Cuba w/ Clay Walker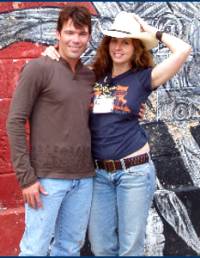 for the "I Can't Sleep" vid
On the set of Chely Wright's
"Back of the Bottom Drawer" shoot
REQUEST the following vids, all of which were directed by Trey AND which have been released to GAC, VH-1, and CMT (NOTE: for commentary from Trey on concepts for some of the following vids and more, see below):




"Wait For Me" (Bob Seger)
"Bama Breeze"(Jimmy Buffett)
"Tim McGraw" AND "Teardrops on My Guitar" (Taylor Swift)
"Feels Just Like It Should" (Pat Green)
"Some People Change," "If You Ever Stop Loving Me," "Speed," AND "Hell Yeah" (Montgomery Gentry)
"Heartbreaker's Alibi" (Rhonda Vincent, featuring Dolly Parton)
"Lipstick" (Rockie Lynne)
"New Strings," "Kerosene," AND "Me and Charlie Talking" (Miranda Lambert)
"Leave the Pieces" (The Wreckers)
"The Seashores of Old Mexico" (George Strait)
"Love Needs a Holiday," "He Gets That From Me" AND "Somebody" (Reba McEntire)
"I'm Taking the Wheel" AND "Don't Worry 'Bout a Thing"(SHeDAISY)
"Lipstick" (Rockie Lynne)
"Drunker Than Me" (Trent Tomlinson)
"I Don't" (Danielle Peck)
"XXL" (Keith Anderson)
"Ain't Nobody Gonna Tell Me What to Do" (Van Zant)
"She Didn't Have Time" (Terri Clark)
"Stay With Me (Brass Bed)" AND "Nothing to Lose" (Josh Gracin)
"You're Like Coming Home" (Lonestar)
"Arlington" (Trace Adkins)
"Somebody's Hero" AND "When I Think About Angels" (Jamie O'Neal)
"Something Like A Broken Heart" (Hanna McHuen)
"Baby Won't You Come Home" (Jon Randall)
"Tiny Town" (Shelly Fairchild)
"You're My Better Half," "Raining on Sunday," "Somebody Like You," (two versions) "But For the Grace of God" AND "Your Everything" (Keith Urban)
"I May Hate Myself In The Morning" (Lee Ann Womack)
"Trip Around the Sun" (Jimmy Buffet with Martina McBride)
"Cowgirls" (Kerry Harvick)
"Getaway Car" (The Jenkins)
"Hey Good Lookin'" (Jimmy Buffett, with Clint Black, Kenny Chesney, Alan Jackson, Toby Keith, AND George Strait) - [co-directed w/ Stan Kellam]
"If Nobody Believed in You" (Joe Nichols)
"How Far" (Martina McBride)
"Miss Being Mrs." (Loretta Lynn)
"All How You Look At It" (Tracy Lawrence) [NOTE: Trey makes a quick cameo in this clip! At the end of the airplane scene. Tracy walks off the set w/ the little boy. They meet Trey (in a light purple top) by the cameras, and Trey picks the lil boy up!]
"Back of the Bottom Drawer," "Jezebel," AND "Never Love You Enough" (Chely Wright)
"Welcome Home" (Dolly Parton)
"I Can't Sleep" (Clay Walker)
"Last One Standing" AND "Fall Into Me" (Emerson Drive)
"Heaven Help Me" (Wynonna)
"Remember When" (Alan Jackson)
"I Love You This Much" AND "Stay Gone" (Jimmy Wayne)
"Front Porch Looking In," "Smile," AND "Amazed" (Lonestar)
"It's Five O'Clock Somewhere" (Alan Jackson/Jimmy Buffet)
"Jolene" (Mindy Smith)
"Good Time" AND "U Go 1st" (Jessica Andrews)
"Brokenheartsville" (Joe Nichols)
"Athens Grease" (Phil Vassar)
"Don't Come a Cowboy With Me Sonny Jim" (Kelly Willis) - [co-directed w/ Traci Goudie]
"Beautiful Goodbye" AND "This Far Gone" (Jennifer Hanson)
"When U Come Around" (Derek Ruttan)
"So Wrong" (Pam Tillis)
"Help Me Understand" (Trace Adkins)
"Good Day to Run" (Darryl Worley)
"I'm Gone" AND "I Always Liked That Best" (Cyndi Thomson)
"Don't Waste My Time" AND "Everything Changes" (Little Big Town)
"This Everyday Love" AND "Prayin' For Daylight" (Rascal Flatts)
"Where the Stars and Stripes and the Eagles Fly" [co-directed], "Kiss This" AND "People Like Us" (Aaron Tippin)
"Ain't Nothing 'Bout You" (Brooks & Dunn)
"Lovin' Every Minute" (Mark Wills)
"Didn't We Love," "Asking Too Much," AND "Angel Eyes" (Tamara Walker)
"So What" AND "I Cry" (Tammy Cochran)
"One Voice" AND "Oklahoma" (Billy Gilman)
"Change" AND "Everybody's Gotta Grow Up Sometime" (Sons of the Desert)
"I Want You Bad" AND "Right Man For The Job" (Charlie Robison)
"Send Down an Angel" (Allison Moorer)
"How Many Days" (Jack Ingram)
"Power Windows," "Over My Shoulder," AND "Better Than a Biscuit" (John Berry)
"I Know How the River Feels" (McAlyster)
"I Fall" (Nikki Horner)
"How Much Longer" (Sisters Wade)
"The Last Thing On My Mind" (Patty Loveless)
On the set of "Last One Standing"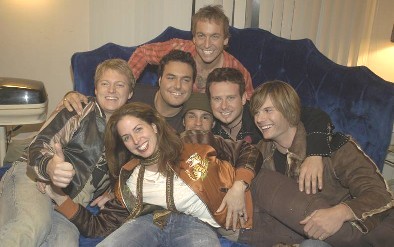 Trey hanging w/ the guys of Emerson Drive
Q and A with Trey:
Q: Do you direct strictly country music videos or also for other genres of music?
A: I also do rock and pop stuff for a Los Angeles based company.
Q: What's the first video you ever directed?
A: The first video I ever did was Buffalo Club's "Heart Hold On." The band broke up shortly after...but NOT because of the video!
Q: What has been the most difficult video to shoot?
A: Well, it depends on what you would say is "difficult." For me, weather issues are always the hardest to deal with. I think the toughest job - and it was due solely to weather - was Sons of the Desert's "Everybody's Gotta Grow Up Sometime." Now, people look at that video, and say, "Oh my gosh! You guys look like you had the most fun!" But, it was raining on and off all day! And, it was really overcast, so that bright sunny look - we created that; we just really lit it up. (NOTE: Trey said she did the same thing - "lit it up" with Alan Jackson's "It's Five O'Clock Somewhere" vid.)
Q: Do you ever sit back and watch CMT for your videos to come on?
A: I don't ever just sit down and watch music videos on TV. I'm always running around the house; I have a hard time sitting still! When the Alan Jackson/Jimmy Buffet clip for "It's Five O'clock Somewhere" used to come on, I'd stop and watch it, [because] my then-boyfriend is in that one.
Q: You work behind the camera. Have you ever thought about being ON camera?
A: Actually. I was on camera many many years ago. But no, now I really prefer being behind the camera. I love my job!!
Q: Shooting vids require filming in bits and pieces. How do you get to the finished vid we see on TV? And, how does the music part of the vid figure in with the visuals on film?
A: After filming, I go into an edit bay and there I cut the film to the music on a computer called an AVID. I have a music bed of the actual song in the computer and assemble the various shots in there.
Q: Are there artists you'd like to work with, but haven't gotten the chance to work with yet?
A: Yes, there are! George Strait I'd really like to work with. I haven't gotten to do a really big "diva." I'd like to do Reba, Faith, or Shania. (NOTE: Trey got her wish for 2 of the mentioned artists - she recently directed "Somebody" and "Love Needs a Holiday" for Reba AND worked w/ George in "Hey Good Lookin'"!) I LOVE doing beauty stuff and shooting women. [Recently], I got to work with Dolly Parton. That was just a tremendous thrill!
Did y'all know?!
Trey's creative work isn't limited to strictly the country genre. She's also directed vids for several pop AND rock artists, including Kid Rock, Jerry Lee Lewis, Uncle Kracker, Five For Fighting, Atomic Kittens, among others!