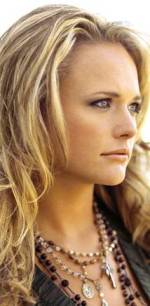 Who is she?
In 2005, Miranda Lambert lit up the country scene with Kerosene, her fiery debut album on a major label (she had previously released an independent album prior to signing with Sony BMG Nashville). Since, Miranda has continued to prove herself as one of the industry's most engaging live performers - not to mention her knack for writing introspective country songs.
Growing up in the heart of Lindale, Texas, Miranda knew that music was her destiny. By the age of 17, she had taught herself how to play guitar and from there, hit the ground running, working hard to hone her craft of singing and writing songs. She quickly formed her own band, Texas Pride, and began playing on the Texas music circuit, sharing the stage with Jack Ingram, Cory Morrow, Robert Earl Keen, Cooder Graw, and many others. Two years later, she gained major steam when she auditioned for the first season of Nashville Star, finishing in third place. That opportunity led to signing her record deal and releasing Kerosene - which has just been certified Platinum by the RIAA!!
Acclaimed music reviewer Robert K. Oermann (who was also one of the judges during Nashville Star the season Miranda was a finalist) said of Miranda: "I just want America to know the reason we picked these people to be in this contest is because they ARE all writers, and America, you just heard the best of them right there." Indeed, the young star is quickly becoming a hailed triple threat in country music! Kerosene started the fire and her new album, Crazy Ex-Girlfriend continues the journey. In some instances, it's louder than its predecessor. However, Miranda also showcases a softer and more vulnerable side to her on the new album. She admits, "I'm usually the girl who won't take any crap, but that's not realistic all the time." The album include eleven songs, eight of which Miranda either wrote or co-wrote.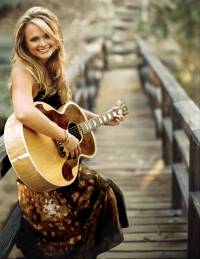 What has Miranda been up to?
REQUEST "Famous In A Small Town" - Miranda's NEW single at radio now!! Please continue to REQUEST Ran's previous singles and videos!!!!
Rick and Beverly Lambert are proud to introduce Red 55 Winery honoring their daughter, Miranda. A good deal of time went into developing this private wine label and the reason is simple: We believe in families working hard together and celebrating success when it finally comes. Just like wine, in the music industry there are no overnight sensations. Many years of hard work go into the product that the public ultimately experiences. For that reason they've have partnered with the family of Lou Viney Vinyards to bottle a wine worthy to put Miranda's name on. This family-owned vineyard exemplifies the very values that we honor. With each of these six wines we offer on Miranda's Red 55 label we trust you will taste and experience the time, effort and love that goes into every bottle. It is also our hope that you will experience the great pride that comes from working hard and celebrating success together in your own family. Please take a look at our Lone Star lineup that not only embodies the spirit of Miranda but also her award winning music:
http://www.mirandalambert.com/store/product.php?product=46
CONGRATS to Miranda, who received a Grammy nomination for Best Female Country Vocal Performance for "Famous In a Small Town." The track is from
Crazy Ex-Girlfriend
, an album many critics are boasting as one of the best of 2007.
Crazy Ex-Girlfriend
was called "One of the best country albums of 2007" by USA Today and Miranda "one of country music's most promising young stars" by the New York Times. Ran's sophomore album received rave reviews from virtually every publication in the country and now joins the ranks of many "Year End" and "Best of" lists for 2007.
Crazy Ex Girlfriend
is the only country album to make Paste Magazine's Top 50 albums of 2007. At #18, Miranda is ranked above Patty Griffin, The Shins, and Norah Jones and just below Josh Ritter (#17), Ryan Adams (#16) and Kanye West (#15).
Crazy Ex Girlfriend
is also #4 on the Top 10 albums of 2007 according to MSN's Year in Review, one of Stylus Magazine's Top 50 albums of 2007, Top 40 Albums of 2007 according to Nuvo and is one of five Top country albums for Playboy Magazine's 2007 Music Poll. Several local and regional publications have confirmed "Best of" lists as well.
Ran says the main theme that runs through both her albums is being a strong woman. "I might say it in different ways and weird ways, but even the most vulnerable songs, like 'Desperation,' it still takes strength to say something like that — to really admit that you're desperate for someone."
Ran's heart and home remain in tiny Lindale, Texas, about 80 miles east of Dallas. Miranda says she chose to buy a house near her parents in her hometown of Lindale — population 4,000 — because it keeps her grounded. "I'm on the road so much, that when I am home, I want to get back to reality," Miranda recently told North Carolina's Fayetteville Observer. "It's important to me to stay close to my roots. I can relax here and be normal."
It comes as no surprise that her current hit single is titled "Famous in a Small Town." Miranda jokes, "It's everything that did or could happen in Lindale."
Miranda recently took a week off to spend time with her boyfriend, Blake Shelton, in Oklahoma. The pair had a friendly wager on who would sell the most albums when they both released their projects on May 1. Miranda won when her Crazy Ex-Girlfriend beat Blake's Pure BS by 4,499 copies, and as a result, he owes her a vacation. "I just had to go and date an Okie," she said laughing. "We haven't done our vacation yet, but we're working on it. There's been some hard stretches where we only see each other once a month, but being in this business, we don't have time to get tired of each other. We have time to miss each other."
One of the first things Miranda did after her album
Kerosene
went Gold is helped fund her younger brother Luke's college education! Helping is family is of utmost importance to Ran. She says, "It's a big deal to me to take care of my family because they are the ones who took care of me and made my success possible. People dream of careers like the one I am having. I feel so very fortunate and blessed. You can't take it for granted because it could be gone in an instant."
She intends to be around for a long while. "I'm doing what I've always wanted to do," she says. "I have been working non-stop and making music the way I've always wanted to. I want to keep singing songs and sell a lot of records. And maybe I'd like to win the
Entertainer of the Year
award just once. That's a goal of mine because all I've ever wanted to do is entertain people."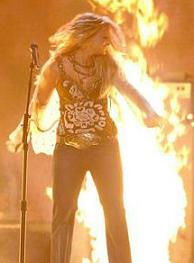 Miranda Checks In:
I'm Looking For Blue Eyes (dated January 26, 2008)
Well, I usually write about once a month but I have some VERY important news. SO the story goes... Mom and I were driving to Ada, OK (BS's hometown) last Monday to pick up some farm stuff. It was one of the coldest days we have had all year. In fact, that night our car doors froze shut! Freezing. Anyway, we were crossing a bridge on a two-lane hwy and we saw something moving. At first I thought it was a cat but as we approached I realized it was two tiny puppies. As soon as I realized it, I slammed on the brakes. I was in my Ford F-250 so it wasn't easy to stop. Mom and I got out and started walking toward them. They ran straight to us. It was a horrible sight. They were covered in stickers and looked half dead. We put them in the truck and immediately took them to the vet (Feline and Friends in ADA, they were great). The vet said that they would not have lasted another night out in the wild. They are half golden retriever and half Australian Shepard. As it turned out, she said they were about 10 weeks old, which would mean they were born right around my birthday on November 10th. Mom started smiling from ear to ear when she heard that! So needless to say I have TWO NEW PUPPIES!!! Their names are Jessi "Blue Eyes" and Waylon Shooter. (Of course)! They are spending the week at mom's and still in recovery from dehydration and malnutrition but are well on their way to being healthy puppies. I am picking them up next week and taking them to the farm, their new home. We have already introduced them to the other animals and they got along great. I feel like the Lord was watching over them on Monday, but more than that over me because they are a huge blessing in my life and I will love them for the rest of their "Doggone" life. HAHA!! Anyway, I had to share the great news. Of course, Delilah is being sweet to them but she is not exactly happy about the new addition yet but she will get used to them. Thanks again everybody for supporting the humane society. I guess this is what they mean when they say practice what you preach because you know... puppies are a lot of work. They are so worth it. I've added some pictures so you can see for yourself how adorable they are.

ML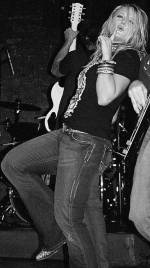 "I'm holdin' up my smokin gun!"
Ran sports this hand-made hat made w/ beer
caps on the brim - buy YOURS on her site!!


Did y'all know?!
** Miranda says her main goal on Nashville Star was to stay in the running long enough to sing "Greyhound Bound for Nowhere," a touching ballad she wrote with her dad. "I thought if I could make it through the original song night, then I could get a publishing deal out of it. I wanted a publishing deal. Luckily I got everything. I got a record deal and the publishing deal. I was really happy with the whole experience."

** Now available on Ran's website are special hand painted Texas cowboy hats (complete with beer caps around the brim!)

** Here's some insight into Ran's hit single "Kerosene": "I wrote it in like 20 minutes while my mom was driving me to be on Nashville Star. I guess I had a little attitude problem that day!" That "attitude" sure paid off! Another interesting fact about the song is this: Ran's parents are both private investigators, and their stories about cheating lovers partly inspired the lyrics for "Kerosene."

** Before finding fame on Nashville Star, Miranda landed a movie spot in Slap Her, She's French (in which Piper Perabo from the movie Coyote Ugly co-starred!)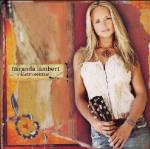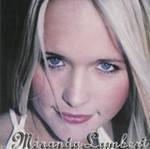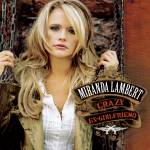 Where can I buy her music?
Pick up YOUR copy of Kerosene, Ran's debut album on a major label; it is available for purchase by clicking on the CD cover!!

[NOTE: Ran also recorded a self-titled album before signing with Sony. In accordance with label policies, that project is now only for sale at Ran's shows.]