At a mere 17 years old, Taylor Swift continues to enjoy a whirlwind of career highs that include big tours and a Gold album!! Hey y'all, she's just gettin' started!!
Introducing Taylor:
Taylor Swift always knew she was destined for success as a singer and songwriter. She began actively pursuing her dreams at the age of 11, when her family moved from Pennsylvania to Nashville.
Now 17, Taylor has a record deal with Show Dog Records, TWO hits under her belt ("Tim McGraw" AND "Teardrops On My Guitar"). Plus, did we mention that her self-titled debut album has already attained PLATINUM status?!
Her album contains many of her self-penned tunes, including "Tim McGraw." She has toured with George Strait, Rascal Flatts, Brad Paisley, AND was a special guest on the Soul2Soul tour featuring Tim McGraw and Faith Hill!! Her current single is "Our Song."
A bonafide serious musician and insightful songwriter (she wrote EVERY song on her debut album!!), Taylor's lyrics are honest, her musical style simply eloquent, and her pure and lovely voice is a fresh of breath air alongside many of her contemporary peers. Mix in a good measure of her bubbly personality and a genuine friendly demeanor, and you get an all-around country girl who loves to have fun and spend time with her fans! Look for many great things to happen down the road for Taylor!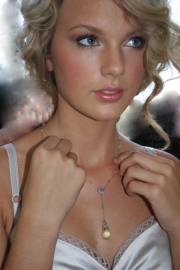 Taylor News:
REQUEST Taylor's NEW single "Our Song"!! Please continue to REQUEST "Tim McGraw" AND "Teardrops On My Guitar" at radio AND on GAC and CMT!!

Taylor has joined Tennessee Governor Phil Bredesen and the Tennessee Association of Chiefs of Police to launch a new statewide public education campaign to combat Internet crimes against children. "Chatting with friends and surfing the Internet is cool," Taylor says, "but it's important to stay safe. Be smart about keeping your identity private online."
Taylor, 17, is one of the first country artists to fully embrace the Internet. Her music has been streamed more than 24 million times on her MySpace page, and her first two singles, "Tim McGraw" and "Teardrops on My Guitar" were both certified gold for digital downloads. Her partnership in the campaign, called Delete Online Predators, represents the highest-profile involvement to date by a country star in the effort to combat Internet crimes against children.
The yearlong campaign, drawing on messages developed by organizations including the National Center for Missing & Exploited Children, will distribute Internet safety information and materials to parents and middle school students across the state. One major campaign goal is to urge seventh- and eighth-graders to take the NetSmartz Safety Pledge. The pledge, along with other educational materials, can be downloaded at deletepredators.com. The website will be regularly updated with news and information about Internet crimes and safety efforts across the U.S.

Taylor has secured her place in country music history with the recent platinum certification of her self-titled debut CD. She is the only female artist in country music history to write or co-write every song on a platinum-selling debut!! She has enjoyed a near meteoric rise to stardom in recent months. This time last summer she was in a rental car visiting radio stations, introducing her debut single "Tim McGraw." By May of this year, she was serenading Tim himself on live national television at the ACM Awards.
Taylor continues to sell more than 30,000 albums a week. "Having my album go platinum in eight months is something I've always dreamed about but never actually imagined would happen," Taylor said. "I can't believe this! I remember two years ago when Sugarland's first album went Platinum, I cut out the picture from Country Weekly and put it in my wallet and thought to myself, 'They've made it.' I never actually thought that two years later, I'd have a Platinum album of my own.
Taylor said she's also proud to have the first Platinum CD for her label, Big Machine Records. "But to be realistic about this," she added, "the only reason I have this is because of the fans — those incredible people who are going out and buying this record. I love all of them, and I owe them everything. They're everything to me."

Taylor got her wish to open a series of dates on the Tim and Faith Hill's Soul2Soul Tour 2007 this summer. She dishes about hitting him up for a spot on the show during a phone conversation the two had earlier this year. As it turns out, Taylor is learning that it never hurts to ask. "I asked him, 'How come you don't take opening acts out on the Soul2Soul tour?' And he goes, 'Why? Do you have someone in mind?' I go, 'Yeah, I do. She sings a song with your name as the title.' I was like, 'I'd love to be on tour with you if you have any extra time before your show.' I definitely was a little bit outgoing in that sense."
Touching Base With Taylor:
One week and counting til it's someone's birthday.....
(dated December 5, 2007):
And by someone, I mean me.

Haha.

Yes! My birthday is next week, December 13th to be exact. I can't wait! It's going to be cool to turn 18 and have so much to celebrate. I feel like this whole year has been a big gift. It's been quite a year! Thanks to you.

And now I want you to direct your attention to my default picture (and no, I did not photoshop her in). It's Colbie Caillat!! She was doing a show in Nashville and I just happened to be in town, so we got together and wrote a killer song. It's really cool, and I can't wait for you to hear it. She's gonna record back up vocals on it for my new album. (They'll be really loud back up vocals, because she has an incredibly awesome voice and I want it to be turned wayyyy up) We have so much in common, and she's now officially number 1 on my cool people list.

I'm just kidding.. I don't actually have a cool people list. But if I did, she would be number 1.

Speaking of my next album, today was my first day in the studio "pre-planning" for recording it!! My producer, Nathan, and I basically spent all day listening to songs and picking which ones to record first, and freaking out about the fact that my album is now DOUBLE platinum!!!

By the way, my house is completely decorated for Christmas. Christmas decorating is like my mom's sport. I mean, we have Christmas tree salt shakers and wreaths on each door and garlands hanging on every ledge.. It's festive. I'm getting into the Christmas spirit, and trying to do as much shopping as possible. This year I can say with total and complete honesty that I've gotten everything I could ever ask for. (Thank you for being such a big part of the reason I can say that)

I'm off to LA tomorrow to help announce the Grammy nominees. Let's hope I don't stutter or mispronounce anything or.. stutter. Ha

All is well here and I hope all is well where you are.

lovelovelove
-T-
Did y'all know?!
** Taylor says she gets excited about award shows "I love to dress up. But I wear cowboy boots so that when I walk down the stairs I won't fall. I have this fear of falling in front of large groups of people. That's why I tend not to wear heels." She points out that at her height, heels also make her tower over a lot of people. "I'm 5'11'', so when I wear heels, it's definitely a really good view that I have," she says. "I'm like 6'2 when I wear heels, so I tend to wear cowboy boots a lot."

** Taylor wrote her smash hit, "Tim McGraw," in math class. "I guess I wasn't paying attention to the teacher. I was thinking about a guy who was going off to college. I knew we were breaking up, and I started thinking about the things he'd remember me by." She asked her teacher for permission to go to the restroom, where she pulled out her phone and left herself a voice memo with the future melody to the song."
She continues, "If you listen to my album, you might think I've had 500 boyfriends, which isn't the case." Taylor explains, "I've written a lot about what other people go through. I'll be in one of my friends' bedrooms, and she'll say something like, 'Ohmigod, he didn't call me — I'm gonna die.' There's so much drama in the lives of teenagers. It's fun to write about."

** Speaking of writing, Taylor admits she doesn't change the names of those who end up in the songs she writes, and she's composed nearly 250 since she started writing at age 11. Taylor says that although she didn't actually include the name of the subject in the rootsy ballad "Tied Together With a Smile," she wrote it about a close friend with health issues. "She's that popular girl that looks so beautiful and every guy wants to date her," she says. "I wrote that song the day I found out she had an eating disorder and handed a copy of it to her. It helped us both get through it."
Taylor is candid about her songwriting, which she says has improved a lot since she began collaborating with others through a publishing deal three years ago. "I don't hesitate to mention names in my songs; I don't leave out details," she says. "If people are going to come out and buy my albums, they should get the whole story."
Growing up, Taylor had plenty of alone time to write poetry and songs. "In middle school, the girls wanted to go out on weekends, have sleepovers and, believe it or not, they were already starting to want to drink," she recalls. "I just couldn't comprehend why they would want to do that. So a lot of times I didn't get invited to stuff because I would rather be practicing guitar or writing a song or out at some karaoke thing."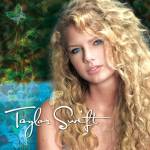 Tune in to Taylor:
CONGRATS to Taylor, whose self-titled debut album has sky-rocketed into GOLD status, as certified by the RIAA!!!! Y'all can purchase YOUR copy of her album, (which includes her Top 5 debut single "Tim McGraw") by clicking on the CD cover!!