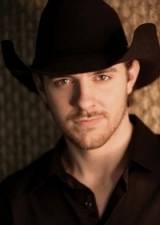 Young Country:
Chris Young has a baritone voice that precedes his years. Watching his live performances, you can sense that he has a deep passion for singing country music. His debut album was the now-sold out A Little At a Time. In 2004, he released the stellar project I Wish I Was Lyin' album. He's also got a holiday album called An Acoustic Christmas.
Chris continues to garner fans from all over the nation - and every one of them will tell you that they're a "Young Lover" because not only will his musical talent speak for itself, but he's just a genuinely nice guy! (It should be mentioned that Chris noticibly had the largest fan cheering section during the recent Nashville Star 4 Regional auditions)! A few weeks later, he was crowned this year's Nashville Star, thanks to his loyal fan base!!!!
As part of the prize, he was signed to RCA Records and in October, 2006, he released his self-titled album!!
Chris Young News:
Chris and his grandmother will team up to decorate a pair of wooden paper dolls for Monroe Carell Jr. Children's Hospital's Project Paper Doll!! "Nanny" will create the dolls' attire while Chris will add his own personal touch by drawing the faces. Look for these and more one of a kind pieces of art to be auctioned by ebay's Giving Works division beginning the day after Thanksgiving. The wooden paper dolls are symbolic of the Children's Hospital logo.
In its inaugural year, Project Paper Doll (PPD) will generate national awareness and support for the Monroe Carell Jr. Children's Hospital at Vanderbilt. One hundred wooden paper dolls will be turned into "one of a kind" pieces of artwork by artists and celebrities from around the country. A kick off party unveiling the original pieces of art will be held in November at the Children's Theater of the Monroe Carell Jr. Children's Hospital at Vanderbilt. The honorary chairman of this event is Sony/BMG Chairman Joe Galante; and will be followed by a national online auction launching the day after Thanksgiving facilitated by eBay's Giving Works division and publicized by a team of music industry pros.
The Monroe Carell Jr. Children's Hospital at Vanderbilt is a place to hope and a place to heal for patients and their families. It is ranked as one of the 10 best children's hospitals in the nation by Child magazine. Children's Hospital cares for many of the sickest pediatric patients in the region and beyond. They treat all children -- the Monroe Carell Jr. Children's Hospital at Vanderbilt is the only Level 1 Pediatric Trauma Center in Middle Tennessee. Children's Hospital also has the only Pediatric Emergency Department and more than 100,000 patients are seen in the outpatient clinics each year.
Ahoy, matey! On December 1, 2007, Chris and his band will cruise from Galveston, TX to ports in Mexico on the Carnival ship Ecstasy. Fans will have lots of EXCLUSIVE time with Chris, and there wil be some special things for fan club members.
Would y'all like to join him?! You KNOW y'all do!!!! For more info, visit
http://www.vickiestravel.com
OR call toll free 866-941-2520 or 713-349-3946.
Chris' self-titled debut leaped into the #3 spot on Billboard country chart in its first week. The album sold over 36,000 copies in its first week on the shelves, setting a record for the highest-selling debut by a male country artist in 2006!!!! (That's right behind Alan Jackson and George Strait, by the way!! I'm thinking not too shabby!!) Have YOU bought your copy yet?!
Chris continues to criss-cross the country, maintaining a heavy touring schedule! Make sure y'all log on to his official website (link is below) to see whenhe'll be headed to YOUR town!!
Catch up w/ Chris on myspace!! His page is:
http://www.myspace.com/ChrisYoungMusic
Chris Young ringtones are now available for download!! Get YOURS at:
http://www.ISound.com/chris_young
!!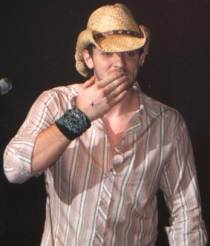 Love from Chris to his "Young Lovers":
As 2006 draws to a close, I have LOTS to be thankful for. You guys play a HUGE part in all of that. During 2006, I was able to see many of my dreams come true - getting a major label record deal, playing the Grand Ole Opry, meeting Opry Stars like Jean Shepherd, Porter Waggoner, Little Jimmy Dickens, and Jimmy C. Newman, releasing the first CD that I didn't have to sell out of my trunk (walking into Walmart the first time and seeing it for sale there was unbelievable), appearing on national television on the The Tonight Show with Jay Leno - are a just a few of those. None of it would have been possible without all of you. For that I thank you and include all of you in my prayers on a regular basis. I've been very blessed to meet so many wonderful people through my music. Many of you have purchased multiple copies of the CD which I truly appreciate more than you'll ever know. Many of you have been supportive for many years, I hope I can live up to your support over the years. I don't know how to thank everyone enough, but just know that I truly appreciate each and every one of you every single day.

Here's hoping that 2007 is wonderful for all of us, and that we eachcelebrate the coming year in health and happiness!

Hope to see you all at a show soon!

Chris
"Young Lovers," Listen Up:
Chris' A Little At a Time album is SOLD OUT!! However, his two other albums I Wish I Was Lyin' AND An Acoustic Christmas are still available on his official site (link is below). His self-titled RCA album is IN STORES NOW!!!! Click on each CD cover to purchase YOUR copies of Chris' music: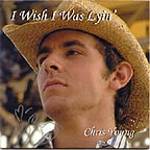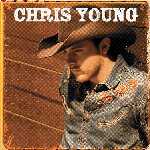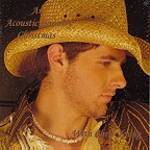 Catch up on all things relating to Chris at: