By: Estella Pan
Big & Rich rule of thumb: Love everybody.
Love everybody. If you've followed Big & Rich for the last few years, you've likely seen the t-shirts, buttons, and guitar backs (shown at their concerts) adorned with this phrase. Now, get ready to know these two men who have turned a seemingly simple idea – that could otherwise be passed off as a marketing gimmick – into their living philosophy. It's true. Big Kenny Alphin and John Rich apply the two-word phrase to their music as well as just about every aspect in their lives.

With a new single impacting radio, a brand new album AND book release on the way, no doubt this duo keep their plates full! First topic of interest is their current single, "Lost in This Moment," of which John says: "I guess it's the first love song we've released. We've rocked everybody and we've gotten serious with everybody." [NOTE: Previous hits include "Save a Horse (Ride a Cowboy)," "Holy Water," "Comin' to Your City," and "8th of November."] "Well, 'Lost in This Moment' is a wedding song. It's a song written in the groom's point of view – what all he sees and everything that's going down." Kenny adds, "It grooves hard and it's real fun to play!" John admits, "We haven't put anything out like this to date, but that's kind of our style anyway, to keep throwing you curve balls."

Looks like the latest pitch has caught on mighty quick, as "Lost In This Moment" had the most adds in its first week of release than any other Big & Rich single thus far! John is keeping his fingers crossed, "This might be our first real, maybe, easier run at radio than we've had before. We've always had to scratch and claw pretty good so maybe this one will actually give us a break for a minute." The song is featured on their forthcoming album, which will be titled Between Raising Hell and Amazing Grace. Kenny gives insight into the naming of the album, "There was this radio fellow that we were in a conversation with last year when we were out doing our tour. We got into a discussion of what our music was about. That discussion led to the thought that it's somewhere between raising hell and amazing grace." He adds, "We try to be as good of people as we can and live in as Godly a way as we can." On the other hand, "We like to have a lot of fun, too, and sometimes push that a little too far. And, we always end up back at that same place where we're hoping and praying we get it to live and enjoy it all one more day." Bottom line, according to Kenny, is this: "It's where we are, man! We're between raising hell and amazing grace and this entire album is going to encompass that world!"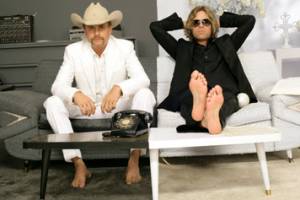 John gives his take on the album, "It's similar [to our previous albums] in that it's really varied from song to song. There's everything from 'You Shook Me All Night Long,' [NOTE: The tune is a cover on AC/DC] to 'Lost in This Moment.'" He continues, There's a song called 'Faster Than Angels Fly.' It's what we consider our 'Seven Spanish Angels,' which is one of our all-time favorite songs! We were actually thinking about cutting the Big & Rich version of ['Seven Spanish Angels'] until we ran into "Faster Than Angels Fly"! I guess that would be the first song we've recorded that neither one of us wrote. We did a really cool recording – it almost sounds like 'Streets of Philadelphia' the way it came out." He sums up the entire project this way: "The unexpected has become the expected with us. If we came in with something linear on an album, people would go, 'That doesn't sound like what I'm used to hearing from those guys!'" Kenny describes Between Raising Hell and Amazing Grace as an album that "is really tall and really deep! We set a real high wire for ourselves and worked diligently on this album for a long time to make it a real record, something you want to sit down and listen to the whole thing." He adds, "It's just too easy anymore for people to go out and get a song here and there that they like. So you've got to really put together something special for them to buy the whole album. We are pushing that envelope as hard as we possibly can." Taking a second to address the nature of their songs, Kenny quips, "What do you mean it's not packaged neatly in a box?" He good-naturedly offers, "We can put it in a box for you – $19.99 plus shipping and handling!"

Just as their songs incorporate many genres of music, it should come as no surprise that the songwriters who have influenced each through the years also run the gamut on the musical spectrum. John praises his musical mentors, "I've been very fortunate to have some real heavily-talented writers who mentored me to where I am now. They're the ones who took your phone call and scheduled a writing appointment with you when you weren't worth a nickel to anybody." Kenny says, "I'd say John influences me; I've written so many songs with him." John returns the compliments, "Kenny has a style and I have a style. We started this whole thing out as songwriting partners for several years before we decided to team up as artists." John states that other influences include "some writers here in town like Sharon Vaughn, who 'My Heroes Have Always Been Cowboys' when she was 19 years old! Go back and listen to that lyric and tell me THAT's not one of the best songs ever written!" Kenny adds, "When I go back through music, on the country side, Merle Haggard and Willie are both phenomenal writers. But, I also grew up with Steve Miller; I love the way he constructs songs. Even Queen, I'm heavily influenced by their music! The Beatles is just classic, and one of my favorites of all time is Bill Withers!" The list of great music is endless. Kenny continues, excitedly, "I'm still influenced by good ol' southern gospel church music. I still feel hymns when I write, but they're so great to sing, and they keep coming back to that chorus that everybody knows. There's just so much great stuff thrown at us, I think we're influenced by all of it!"
All Access: Get in w/ Big & Rich on June 5!
In addition to new music, Big & Rich have also authored a book titled All Access, which will release on June 5. [NOTE: That's the same day their new album drops into stores, by the way.] John sheds light on what fans can expect in the new read: "It's the biography of Big & Rich." He clarifies that the book is not about the separate lives of Big Kenny Alphin and John Rich, but rather of the two men as a duo. "It [covers] from the day we met until now. There's a lot in there about the MuzikMafia, how that came together, and how the whole thing works. Then, there are a TON of pictures in there that are real candid, behind-the-scenes kind of stuff – pictures from our personal collections, ones that fans have taken, and shots of us that you're not going to see anywhere else! I think it's going to be a really neat thing for our fans to get their hands on!" Kenny also puts his stamp of approval on the project: "It's a super neat piece of work! When it got close to the final draft, I went through it, and I was just blown away! There's just so many things our lives are involved in with so many dreams to come, it really helps to put our fans there with us in that place a little bit. It also includes a DVD with lots of behind-the-scenes stuff."
Both John and Kenny enjoy ridin' around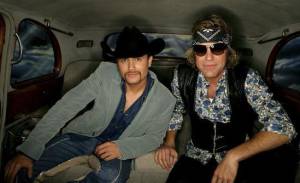 and seeing different parts of the country!
Keeping a demanding tour schedule can take its toll on any artist. Kenny and John make sure to have plenty of ways to de-stress. John says, "When you're on tour, you're living in parking lots and eating catering. It's fun to get out and see the city you're in. You know, go out and find some bowling alley or bar and hang out with the locals – that's always good for us." Like his partner, Kenny also delights in getting out and enjoying the different cities they visit. In fact, he practically takes mini-vacations between their shows! "Last year, between shows in California, I got to drive over Lake Tahoe. I went over Highway 8 and 9, through the Redwood Forest and a bunch of those great little towns. I drove up and down the coast, I actually got to spend the night in Monterrey – and this is just stuff I did between shows hoppin' on my motorcycle!" He shares, "One of my dreams of doing this was to tour and see the country. But, that doesn't include just the area inside the fenced-in gate in the back of the venue! You've got to get out and see [each city]! I take my bicycles, too! I love to cruise in and out of downtown sometimes; there's nothing better! We have a bunch of motorcycles and bicycles, so anybody who wants to can go. I also like to get out for a walk or run, too!" And, he's discovered that "a lot of these towns have river walks and green ways you can run on. It's so neat to be able to get out and see America!"

Kenny reflects on his appreciation for being able to see the country – one of the perks that comes with being in the music business. "My fun thing is to leave sometime in the morning and just try to figure my way back without a map. I remember last year, there was one place we were playing near Lincoln, Nebraska and I got on this road that went past all these huge, huge, HUGE cattle feed lines." What's the first thing he does? "I stopped off the side of the road and called my daddy up to tell him, 'You won't believe what I'm seeing!' He's a cattle farmer but we never had a feed line that was anywhere near this size! We would hold like a couple hundred cattle at a time, and they're holding a couple thousand cattle at a time! There's so much greatness and beauty in this country, it just makes you realize how awesome it is and how small it is, too!" Yet another thing Kenny finds fascinating is the various dialects used in different parts across the country, "To hear people talking in Boston and to hear people talking in Minneapolis, it's like listening to two foreign languages. But yet, if you just slowed down a little, you can understand exactly what everybody's saying."

John prefers a different type of sightseeing. "I think I personally visited 100 different Hooter's last year." He's got his routine down pat. "I get in my car, hit OnStar. It goes, 'Hello Mr. Rich, can we help you?' I go, 'Yes, where's the nearest Hooter's?'" This could be considered a serious hobby on John's part. "I think the furthest I've drove was 40 miles to get to one. I'll grab a buddy and we'll go track down the Hooter's." With a chuckle, Kenny shares, "What's crazy is when I'm out riding my motorcycle, if I see a Hooter's, I just pull in and he's typically in there!"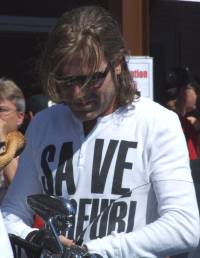 Big Kenny lends his support to
All is fair in love and fun. But, when it comes down to business, Big & Rich are on top of their game. They are both very involved in the "Save Darfur" campaign, which was organized to raise awareness for the serious genocide that continue to happen in Darfur. [NOTE: See below for additional information about "Save Darfur."] Kenny says the reason they got involved is simple, "You just do whatever you can, and one of the things we can do is raise a flag to it, to at least show people, to try to bring awareness to it. We're actually going into Darfur later this year. We're taking a team of people, some other artists, and we're going to be spending months and months preparing for it. We want to start talking about it, to find media who wants to become engaged in the process, because by the time we get there on that soil, we want people to understand why we're there. We want them to already know the story so that when we let these children tell their stories, people will understand it and they'll do something about it." He has faith in the legions of Big & Rich fans. "I know there are conscientious people out there! Our fans, the people we play music to, when they become aware of this, they won't tolerate it. Their ultimate hope in becoming involved is that "the world will rise up and say, 'NO!' and it'll get stopped."
Back on the music front, things continue to soar with the MuzikMafia. [NOTE: Mafia stands for "Musical Artist Friends in Alliance."] The group was formed by Big & Rich (along with Jon Nicholson and Cory Gierman) on the premise that musicians of all genres could gather and share their respective talents in weekly jam sessions. Thus was born the idea of "music without prejudice." Other members include Gretchen Wilson, Cowboy Troy, James Otto, and John Anderson – all of whom will release new albums this year. Earlier this month, the MuzikMafia celebrated their 155th musical gathering since its forming in 2001! Big Kenny beams as he talks about spreading the love through music. "We're out here with the MuzikMafia supporting the arts as much as we possibly can – trying to get more people playing more music, beating more drums, singing more songs, painting more paintings, planting more flowers and making the world a more beautiful place."

Love everybody. It's not just something they say, it's the Big & Rich way of life.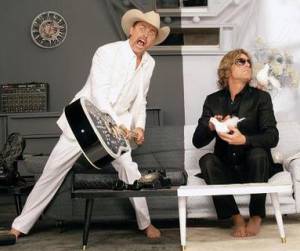 It's obvious that your musical influences span various genres. Do you have any favorites that you turn to for inspiration for your own musical and/or writing styles?
Kenny: I love U2. There is a simplicity and constant continuity in their vibe of writing. They've always walked that line of being able to write popular songs but also having a significant message in them, too. I think that's a great power of music. So, when I see someone who does that so eloquently, I'm drastically influenced by it.

John: AC/DC's Back in Black – those grooves they have – nine out of ten uptempo songs I write, you can draw a direct correlation to one of the songs on that album. That's just the best three-chord rock 'n' roll that ever happened!

You are very dedicated to raising awareness for the "Save Darfur" campaign. Tell us specifically what it is and how you came to be involved with it?
Kenny: "Safe Darfur" is what we see as one of the greatest humanitarian crises happening on the face of the earth today. There is basically a genocide that's happening there where the very corrupt government, led by this dude by the name of Al Bashir, is supporting these militias of predominantly Arabic herdsmen who have been going in to these farming communities, basically pillaging and leaving them burned. There's just no way for anybody to come back there and survive, so the ones that they don't, they run them into these IDP camps – they're nothing short of death camps – and leave them to starve and die of disease. They push them out of camps every 30 days, so they have to go and try to start up [their lives] again. People have just died off at a rate of 5,000 per week – that's the ones they don't slaughter. It's been going on for a long time, but those crises that exist is really something that can be stopped just by world awareness, by everyone saying, "Oh my goodness! This is as horrible as slavery, and we would never tolerate that in our country! We don't tolerate it now, how can we tolerate it anywhere else?" Is a child here any different from a child over there? No, because they're all God's children.