By: Estella Pan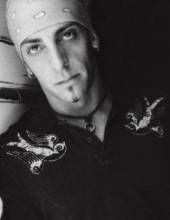 My conversation with Trent Tomlinson included plenty of talk about music (that of his own and other artists), his charity efforts, and more than a few spontaneous surprises along the way! He realizes that – upon first glance – people might be quick to typecast him as a "bad boy." But, Trent asks that you give him a chance to prove otherwise. "I'm not as bad as everybody thinks I am." Read on and you just might believe him.

First, we cover his passion for helping patients staying at St. Jude Children's Research Hospital. In February, Trent was one of the contestants in the long-running game show Wheel of Fortune. "A friend of mine who works at my management's office – his wife does a lot of film and television stuff." The show's "Country Music Stars Week" paired fans with participating artists; each artist's winnings were donated to their favorite charities. Trent chose St. Jude's because it's an organization that is very dear to him. In previous years, his uncle had served on the board at the facility. Being that it was a relatively short drive from his home, Trent visited the hospital numerous times growing up, and they taught him the value and impact of volunteering time to help better the lives of children. Years later, he continues to help as much as his schedule allows. "They presented me with this opportunity to get on [Wheel of Fortune]. I jumped at the chance, because I'll do anything to raise money for those kids. That's my charity. I had a great time, it was fun!"

The next month, Trent was one of the artists invited to perform at this year's New Faces Show held annually during Country Radio Seminar (CRS) week – a bill that also included Rodney Atkins, Eric Church, Jack Ingram, and Miranda Lambert. "It was a great chance to see radio stations I maybe didn't get a chance to visit during my radio tour." He shares another observation he's noticed about previous shows. "Whoever does really well at that show usually has a huge year the following year." With his feet planted firmly on the ground and both eyes shining intently, Trent declares, "I plan on being that guy this year." Something tells me he'll make good on that promise.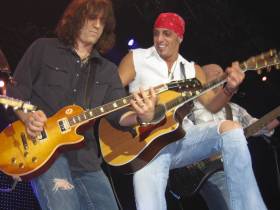 On the heels of two singles (one being the mega-hit "One Wing in the Fire"), comes Trent's third called "Just Might Have Her Radio On," which has just begun impacting radio. Since the release of "Drunker Than Me," his merits include opening for Bon Jovi and penning a hit song that's bound to become a favorite for years to come. It took more than a decade of personal and professional letdowns to get him to this point, and though he is now well on his way to finding a successful median, Trent will still humbly tell you, "Yeah, but, we all need more help, you know?" That's where the fans come in – and he's getting to meet more and more of them everyday. He promises that every show he puts on will always have "LOTS of energy!" because "I can't hardly sit still." But, that's only part of the equation. "I've got a great band. My lead guitar player was actually an original guitar player for The Black Crowes. He quit that band and is playing with me now." So, let's say you've never attended one of his shows. Here's his selling pitch: "We've got a lot to offer in our live show. It's an emotional roller coaster. We go from rockin' it out to stripped down, just acoustics then back up to high energy again. It's kind of like trippin' on acid!" He laughs heartily then pauses in thought for a second. "I don't know what trippin' on acid is like, though!" He's serious. "No, honestly, I don't...just for the record."

It's plenty obvious that Trent enjoys a good time. He might have had a too good of a time filming one particular scene for his "Drunker Than Me" video, which ultimately wasn't edited into the final reel. You could say that it involved a little bit of role-playing: "I dressed up as a woman." He describes the treatment for that scene: "There's a line in the song 'Cause baby, you've turned into me and I became my mother. So, we thought it'd be funny to dress [the woman in the video] like me – put a little goatee and bandana on her – and dress me up like my mom holding my coffee cup and scolding her. I liked it! I thought it was funny!" At last minute, however entertaining, the aforementioned footage was left on the floor of the production room… or maybe not. "I still have a DVD of that and I occasionally go back to it and laugh my ass off. It's great!!"

Then, there's his debut album, Country Is My Rock, something Trent is well proud of. "My whole record is autobiographical – every song on it I've lived through and it's very true for a certain period of my life." He reveals, "There was a lot of hiding and running from my demons, and I faced those demons and wrote about them." That's all eleven songs on his album, which he also produced himself. Picking up his CD from the table between us, he states, "All these songs on here is exactly my life put to song. I think if you listen to it, everyone can relate in some way."

Perhaps the most personal song on Country Is My Rock came in the form of "One Wing in the Fire." Trent was inspired to write it based on the mixed emotions he felt toward his father, whose had his share of front-row sin – but this was the same man who fixed my car and fixed my car when they've been broken down. He admits, "I was a little nervous at first, because I didn't want to air my family's dirty laundry, initially." On the other hand, "I believe if you tell the truth, it'll set you free. It's such a cliché but a cliché becomes a cliché because it's the truth. My dad chose the path he chose to go down so I choose the path that I choose to go down. It was to write this song." That philosophy proved stronger than even he could have ever imagined. The first time Trent played the song for his father was at the Bluebird Café, and he received a solo standing ovation from the man who inspired the song. From that point on, the wedge that drew the two men apart was sealed shut indefinitely. "After writing that song, honestly, it brought my dad and I closer together. We might even have a better relationship now than we've ever had." And he isn't the only one who has benefited from the song's powerful message. It resonates deeply with his fans who continue to "come up to me after my shows and say, 'My dad's just like that' or 'I feel the same way.'" Commercial success withstanding, the thing that Trent will always remember is this: "['One Wing in the Fire'] has been a big hit for me. But the truth is, the fact that my dad and I got to rekindle our relationship based on this song – anything outside of that is gravy for me."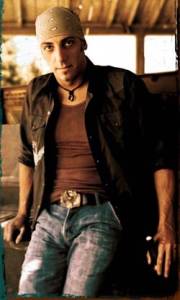 Honesty is the common thread of many country songs, and Trent hopes that fans will see this in his songs as well. "I hope they get that I'm a guy who tells the truth, who is not afraid to push the envelope. Someone who is not afraid to address topics of a father being the way he was. I hope people walk away going, 'You know, that guy right there told it how it was.' No matter how dark or politically incorrect it might be, it's still the truth." He believes "People will still relate to it, because that's exactly how they feel. Look at the "Alyssa Lies" record. And, remember "Strawberry Wine," about a girl losing her virginity? Topics like that are hit songs because people really gravitate toward those things! It's real life." [NOTE: Jason Michael Carroll wrote and recorded "Alyssa Lies," also his first single, about the detrimental effects of domestic abuse. Deana Carter made "Strawberry Wine" a hit, and it has in fact become somewhat of a signature song for her.]

Another song in his catalog is called "Missing Missouri." Sara Evans recorded it for her current album, and not surprising, it also rings true to Trent, who grew up in Kennett, a small town in the "show me state." What does he miss most about Missouri? "I miss family. My mom and dad still live there. My sister lives next door to me now. She hadn't always lived here, but when she moved down here, it was great to finally have some family to be around. But you know? Every reason why I left there is every reason I go back." He explains, "After I'm gone for a while, I miss the cotton field, I miss the flat ground, I miss the farm. But then, I get there, and realize 'You know what? There was a reason why I left!'" On days when he does travel home, he spends most of his time at his parents' farm. "I go back there, put the old work boots and a ball cap on and I go out to help dad on the farm. That's the side of me that keeps me grounded."

There's one other quality Trent possesses which many of his fans may find appealing. "Oh, I'm a hopeless romantic." He works in a short pause followed by a confirmation delivered as an aw shucks kind of sigh: "Yeah... I am." He reveals, "I cried at the movie Turner and Hooch when the dog died." With a grin spreading across his face, he offers, "I know. How sweet!" Collective sigh. "I am a good-time guy, don't get me wrong. But, I have the ability to love you." He suggests, "Don't let my earring, do-rag, and all that stuff fool you. You've got to be sensitive to write the songs I write, I think." There's no doubt that his career pursuits matter to him. But at the end of the day, Trent's priorities lie with "family, God, and rolling over in your bed in the morning, looking somebody in the eye, and knowing they love you as much as you love them. Until you have all those things intact, your life is missing out."
Something I simply couldn't miss mentioning involves having a little fun at Trent's expense! Picture this: After a long day of nonstop music and business, he decides to take a shower. Within those few minutes, he's singing to himself. Sounds pretty normal, right? It is – that is, until you consider the song he was caught singing. Here's a clue: It was a ditty made famous by one former teen pop princess who wore a bright red pleather catsuit in the song's accompanying video. [NOTE: He admitted to this in a previous issue of Playgirl magazine, by the way.] You might know where this is going, but Trent doesn't bat an eyelash! So just why was he singing this particular song? "I don't know why I was singing it!" After a long hearty laugh, he attempts to remember. "You know what? I think I heard it on VH-1 or something and then it was in my head. I was just like..." He proceeds to pantomime washing his hair and sing the well-known hook line: "Oops! I did it again!" Yes, this is Trent revealing his feminine side.

After all parties in the room – including Trent – recover from a round of bellyaching laughter, he agrees, "Yeah, it was funny! But, I figure, just be honest about it, you know what I'm saying?" He not only believes it, he lives by it: If you tell the truth, it'll set you free.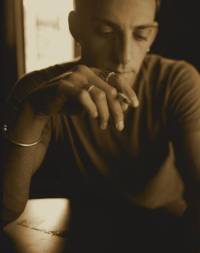 Chelsi of Indiana asks: Out of all the places you've performed so far, which one has been your favorite and why?
Trent: I'll tell you what, my favorite of all-time was I opened for Bon Jovi here in Nashville last year. It was Valentine's Day at the Gaylord Entertainment Center. [I was] chosen to open for them having only had one single out. "One Wing in the Fire" wasn't even out yet. But, Jon Bon Jovi had gotten a hold of my record and loved it. It was a great opportunity for me to be "thrown to the wolves" of a rock crowd – if you will – to play for a demographic that isn't normally your demographic and win them over. Not only that. But, have them be won over by a guy who hadn't had a hit yet! It was a great thing! We went out there and we rocked the house! The quote from Bon Jovi's management was that I was "the best opening act" they ever had. It was the most nerve-wracking, glorious experience of my life!

Jody, of North Branch, Michigan, writes: I know that Trent is one of the hardest working guys in country music these days. When he does have time off for vacation, where would he like to go and what would he like to do to relax?
Trent: Cabo San Lucas, Mexico. Just sit at the pool bar, drink margaritas, and get dark, dark, dark. I love Cabo San Lucas! Of all the vacation places I've been, I had the best time there. It's dry heat; the ocean is on a desert. You have mountain, desert, and water. I have really bad allergies, and Nashville's the world's worst place for it. When I get there, after one day, I can breathe really well. I just love it there!

Wesley Koenig asks: I was wondering if there is any way you could record your version of "Purple Rain"?
Trent: You know what? That's been talked about. I've been doing that song live since forever when I played at honky-tonks and bars for years. I put my own stamp on it. At this point, though, it's more important to establish myself as a songwriter and as an artist on my own merit before I go and do anybody else's songs.

Brian from Ohio, has this question: As an artist who writes his own songs, what advice could you give to someone who might be reading this about breaking into the business, be it as an artist or writer?
Trent: Move to Nashville, number one. That's the truth. You've got to be present to win. Once you move to Nashville, network. Meet someone who is in the same position you're in and has the same drive you have. You get together, write songs, and eventually, you'll meet somebody who has a publishing deal – that person has the means to get your songs demoed. Now, you might have to sign your publishing over to the publishing company in order to pay for your demo, because you haven't got enough money to pay for it. That's how I did it. But, you have to move to Nashville to get it done. Then, just dig in! Persistence makes preparation.

Tori, from Florida, wants to know: In an industry that can sometimes be so focused on image, did you struggle to stay true to yourself and to keep your look?
Trent: No, because I'm hard-headed. This is the way I looked before I got my record deal, it's the way I'll look after it's long gone. They asked if I wanted an image consultant, but I said, "No, I buy my own clothes. I dress myself." I do what I do, and my music is the same way. I wrote every one of my songs and I produced my record. A lot of people might say, "He's hard to work with." No. It's just that I know what I am and I know what I do. If I don't believe in myself doing what I do, then I don't expect anyone else to. I just try to stay as true to myself as I can.
Here's an EXTRA BONUS for all you Trent Tomlinson fans: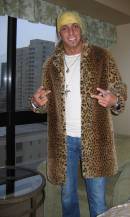 As I was headed out the door, Trent, who had been eyeing my leopard print faux fur coat, informs me that he's "always wanted to buy myself a coat like that so I could pimp out like John Rich!" On the spur of the moment, I encouraged him to indulge himself and handed over my coat – which he proceeded to put on! This, of course, provided for a PRICELESS photo opportunity... and I took full advantage of it!