By: Estella Pan
The lyrical depth in the songs that Sarah Buxton writes makes it obvious that she has some very important things to say. And, she expresses those things quite effectively. In addition to being endowed with musical talent, Sarah also has a giving soul – especially when it comes to helping children.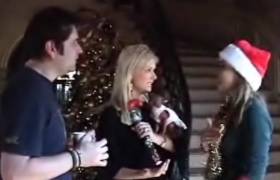 Sarah enlists Jay and Allison DeMarcus' help
She spent the better part of 2006 and this year lending her time to help brighten the days of some very deserving children. During the past holiday season, she organized and executed a mission she called
Sarah's Santa Sleigh
. "Leslie Tomasino, my publisher friend and I were having a talk last year, and I was saying, 'I feel like we should be doing something. It's Christmas time, you know?' I thought just from seeing me in the 'Innocence' video, no one's going to really know who I am. So, I decided to put something together that shows me running around to all my friends' house picking up a bunch of stuff." Donning a Santa hat, Sarah drove around in search of treasures. Among the stops she made were the homes of Tyler (her guitar player), Jay and Allison DeMarcus, songwriter Craig Wiseman, and photographer Kristin Barlowe. Sarah was especially thankfully to Craig, who went above and beyond to help out. "He had gone to WalMart and bought all kinds of stuff, including that little girl's bike he was riding around on. He's a true life Santa Claus!" Sarah took everything she collected to donation centers around Nashville so that less fortunate children and adults could enjoy a fruitful Christmas. "Oh, it was so fun! I'm looking forward to doing more of that!"
[NOTE: Sarah took along a camera to document her venture, and you can view that video in her blogs at http://www.myspace.com/sarahbuxton.]
Sarah visits with a patient at St. Jude's
The Country Cares for St. Jude Kids Radio Training Seminar was on Sarah's schedule in January, where she spent time with patients at St. Jude Children's Research Hospital in Memphis, Tennessee. She says the experience was inspirationally life-changing. "You think you know what it's going to feel like to be there... but you don't!" Reflecting on the visit, she found it ironic that "I haven't done anything, and these people are thanking me for coming in and saying hi. I mean, if my walking in, saying hi, and taking a few pictures makes somebody's day, then think about what else could really, really help them. I feel so called to do it!" That's just the kind of person she is. You don't have to ask her twice to step up her game for the benefit of somebody else.

The following month, Sarah was invited as one of the guests in the Songwriter's Round portion of the Max It Out benefit concert and silent auction event. [NOTE: Max It Out is held annually to raise money and awareness for meningitis.] Sarah heard about it through Victoria Shaw, who she frequently co-writes with. "When she told me about the event, about little Max, and asked if I wanted to be a part of that, I thought, Are you kidding?? I would love to that!" She animatedly recalls that "there were so many people and it went for so many hours!"

Sarah has also spent some time visiting the children at Vanderbilt Children's Hospital. "I visited the Cardiac Unit. These little babies go in to have their chests opened up and their most vital organs worked on – tumors removed, replacements – and they're on only Tylenol the next day. Some of them can go home the day after." She marvels at these littlest of miracles. "Isn't that incredible?! It just goes to show how resilient they are. I think it says a lot about the human spirit." The irony of situations is not lost on her. "The things we go through that we think are such a big deal – they don't even compare!"
Nicole convinced Keith to record "Stupid Boy"
Musically, Sarah's career entered the fast track, thanks to the buzz surrounding a little song she wrote called "Stupid Boy." The reflective ballad was recorded by Keith Urban and is included on his latest project, Love, Pain & the whole crazy thing. The song found its way to him through a good friend of Sarah's. "I have a mutual friend with him. Her name is Betsey Cook, who does day to day management for him. They were all hanging out, he was sharing new music he'd written, and she said, 'Let me play you something. Here's my friend, Sarah. Check it out!'" After giving it a listen, Keith's consensus was that "he really liked it and wanted a copy of my record. So, Betsey ended up calling me that night going, 'I hope you don't mind, but Keith has a copy of your record.'" Upon hearing the news, Sarah could barely contain her excitement. "I'm going, Do I mind? Oh, my gosh, take it, keep it!" Though Keith loved the song, he was initially hesitant to record it – contesting that "it's a girl song!" His wife [fellow Aussie and A-list actress, Nicole Kidman] convinced him otherwise. Sarah related the story she found out a couple months after Keith had her song, "[Nicole] said, 'You just change that one line and you're singing about yourself.'" Once tracked and released, "Stupid Boy" took on a life of its own, flying up the charts. Sarah will include her own version of the tune on her forthcoming debut album. "It's the last track on my album. [I took] a totally different approach than what he did." With a release date set for June, Sarah is ecstatic about sharing her music, promising that when listeners get their hands on it, they will see that "this album is all me."
"Buckle up, baby!"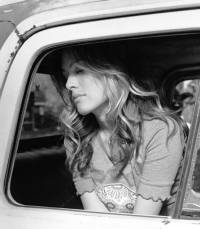 Life is a journey... love is a trip!
Sarah's songs embody the maturity and growth that can only come with living and learning. The lyrics that spill from her pen are brutally honest, ringing like a jolting wake-up call to "buckle up, baby!" and take on life's hard knocks as they come. Then, there is her gritty voice, which allows her to further stand out in a massive crowd of rising stars. She convincingly delivers each song so that the listener feels every emotion she puts out there. Pain, guilt, anger, frustration – you'll find them all and more, in their very rawest forms. Sarah says she "tried really hard to make a record that showcased and really documented what was going on in my life at one time." She describes her album, in its entirety, as "a smorgasbord of listening flavors. I think the one thing that remains constant is that it's all about my life." She figures, "if I'm out here doing this, I want people to feel like they know who I am." Fans can log onto her MySpace page to hear four songs – including "Stupid Boy," "Innocence," and her new single "That Kind of Day." Sarah laughs as she reveals the one thing you won't find on her album: "There are no love songs on it!" She adds, "It wasn't that kind of a record." Perhaps that's in store for the next album? "It might be, because I'm in love right now."

With a game plan in place to continue reaching as many people as she can, Sarah is off to meet the world!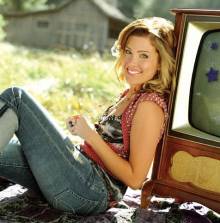 Hello world: Sarah wants to meet you!!
In your self-penned career biography, you end with, "HELLO WORLD. Nice to meet you." Is this your goal as an artist/songwriter?
Sarah: I thought about naming my album that: Hello World, Nice to Meet You. This is the point of why you and I are sitting here. You're going to write an article so that people I haven't met yet can know some things about me. My career is about meeting people all day and giving, and I feel it at the end of the day. I feel like I've been giving of myself. There's a difference when I spend the day doing [interviews] and when I spend the day talking to friends I already know.

John Rich has been a source of inspiration for many artists, including yourself. What are the chances of getting to do a duet with him for a future album?
Sarah: I've talked to him about that before. You never know what's going to happen, though, because to do something like that is such an event. The timing of that is really important. But, I admire him a lot! He's a great songwriter.