By: Estella Pan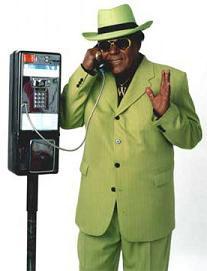 To many, Willie P. Richardson is the notorious "Phone Prankster." He has reached millions of hearts with what he calls "clean, but politically incorrect humor." It was true privilege to chat with not only an extraordinarily funnyman – but one of the nicest people, all around, that I have ever interviewed. [NOTE: I was also impressed with his extensive knowledge of country music!]

Though he didn't become a comedian professionally until the age of 47, making people laugh has always come naturally to Willie. The Nagadoches, Texas resident says, "I had for years, ever since I was a little kid, did little pranks on people." In fact, you could say he stumbled upon an opportunity to record his first album of phone pranks rather accidentally! "We've got a radio station here, and I stopped by to visit them one day. I had pranked [the disc jockey there] a couple times, and he told me to come in and make a phone call to the local hospital. So, I did, and it was recorded. We took it up to the hospital to let them hear it, and everyone thought it was so funny!" That phone call became the basis for what would become Willie's first album full of – you guessed it! – phone pranks! "We came back to the studio that day and spent about two days recording the first album; it was just me calling people living in my county."

Ten albums later, Willie has become one of the most requested entertainers for shows and private parties all over the nation. In fact, he's doing really good these days! "Since we started, we've sold well over a million albums, and we've never even had one on the charts and we're not on a major label. But, we've got great distribution through Select-O-Hits; they're a record distributor in Memphis. They do a great job in getting my CDs into WalMarts, Best Buys, and a lot of the truck stops all over the country." He says radio airplay has also been pivotal in allowing his work to reach millions of listeners. "Radio has been so kind to me – a lot of radio stations continue to play my pranks. I'd e-mailed out about 5,000 copies, initially, to radio stations, and one of the first stations to start playing my pranks was WSM in Nashville. From there, my calls just got so much radio play that I started getting requests for personal appearances. So, we put together a standup comedy routine about eighty to a hundred times a year."

If you haven't heard his pranks yet, you may be wondering what makes his work so popular. As Willie puts it, "We try to make the humor timeless." In other words, the subject matter and themes he covers are universal for most everyone. Another factor is making his work friendly for all ears. "It's clean and harmless. You can play it for your grandmother and not be embarrassed."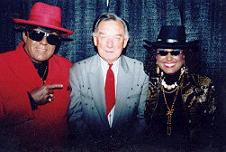 Willie and Lucretia with Ray Price
His wife, Lucretia, often joins in on the fun as Willie's sidekick on several of his calls. What does she think about her husband's antics? "She loves it! She's actually a nurse by profession. She's bad, too!!" Willie recalls one particular prank his wife made that sent everyone into a bundle of laughs. "One time, the radio station started getting their listeners to fax in ideas for phone pranks. This person faxed in an idea that said, 'This lady is my co-worker and she enters her child in beauty pageants. She's about to put her in one called Little Miss Christmas. Could you come up with something?' So, Lucretia looked it over and went, 'Oh yeah!' Then, she made that call; we were live on the air in St. Louis, and it was so funny!!" [NOTE: The bit he is referring to is titled "Little Miss Christmas." You can hear the call in full on Willie's Greatest Hits album.] Lucretia has also recorded a couple of her own albums containing her best-loved pranks. For both of them, their main objective is to have fun! "I don't know if you'd call it a talent or not, but I've always enjoyed it. I used to drive my poor family to crazy aggravation! Then, it was friends, family, people who would call me to prank one of their family members or friends – everybody and anybody who wanted to have a good time."

Then, there's the question about material – how does Willie ensure he doesn't run out of new scenarios to use for his calls? He tells me that he enlists the help of his listeners for fresh ideas. "When someone comes and asks, 'Would you prank my daddy, mother, sister, or friend?,' they'll give me the basic idea of what they want me to say. I'll look over the idea and make some notes before I ever do the call. Once I get them on the phone, a lot of it is improvisation – they'll say something and I just react to it." Sometimes, despite the fun nature of his calls, Willie has to do a little extra work to have it included on any one of his albums. He shares, "I have to make three or four calls to get one 'good one.' Because it's not me that's really funny; it's the person that I'm calling that's funny. I've had people just not say anything, they were so freaked out! So, if they don't react properly or at all, I can't really use it." Keeping with the theme of laughing, I wanted to know if he has a secret to keep from busting out in laughter so as not to give away the nature of his calls? "Oh, I have a hard time with that! If you listen closely to some of my calls, I have to keep my hand over my mouth to keep me from laughing. I can't help it, I laugh at everything!" Some of Willie's pranks have been so outrageously hilarious that even he can't figure out why his callers don't just hang up! "I often wonder why they stay on the phone with me for as long as they do. I guess they just keep wondering about what this crazy person's gonna say next!"

Since his name has become synonymous with "Phone Prankster," this could, obviously, be a problem for potential calls – that is, if people identify his name with what he does. Willie says that's where the beauty of technology comes in real handy. "Sometimes, if I say my real name, people just start laughing and they tell me, 'Willie, you're not going to get me on your record! You know that isn't going happen!' So, a lot of times what I'll do is change my voice a little bit and use a different name. Then, we'll go back into the studio and change that part back to, vHi, this is Willie P. Richardson...'"

By now, you've probably guessed that making people laugh is a full-time job for Willie – and one that he takes very seriously! "Laughing is really important! It keeps you young!" he adds, "I see people everyday that don't ever smile, and I can't stand that."
Willie P. and the REAL Percy Sledge!
Throughout your years of pranking people, has there been a most memorable prank and who did you make the call to?
Willie: XM Satellite Radio has a channel on there 171, and there are three disc jockeys on there who used to be these all-night deejays on AM stations that all the truckers listen to. One of them is Bill Mack over in Ft. Worth, who wrote "Blue" for LeAnn Rimes – he's a good friend of mine. The other is named Dale Summers, and I told him, "Percy Sledge is a good friend of mine, and I'm going to have him call you on the air one day." So, I waited about two weeks. Then, I called the radio show up, changed my voice to sound like Percy, and Dale went crazy – he thought he was talking to Percy! We went on for about five minutes, then he asked, "Man, how did you get my number?" I said, "Yes, sir. You know that comedian, Willie P. Richardson?" He said, "Oh yeah! You've got to really watch him!" And, I said, "You sure do!" I had him fooled right on the air!

Aside from recording albums, you also mentioned doing stand-up comedy live shows. What are they like?
Willie: It's a two-hour show. I do a couple songs, but it's mostly stories about how I got started in [comedy], things that have happened to me over the years, and about my family. We draw pretty good crowds, and it's really gratifying to look out and see six-year-old child sitting next to a 65-year-old grandmother, both laughing, and not having to worry about offending people with dirty words and things like that.
Visit Willie P. at http://www.WorldWideWillie.com!![NOTE: Y'all can purchase ALL of Willie P.'s CD as well as hilarious personalized answering machine messages, plus more - check it out!!]