By: Estella Pan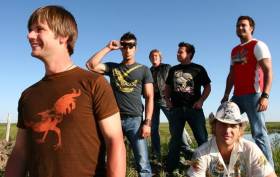 If there's one thing that Brad Mates (lead vocalist), Danick Dupelle(guitarist), Patrick Bourque (bassist), David Pichette (fiddler), Dale Wallace (keyboardist and guitarist), and Mike Melancon (drummer) – better known as Emerson Drive – share, besides their love for music, it's that they rarely pass up opportunities to have fun! These guys (sans Dale, who was ill) came with an overabundant supply of laughs as we gathered to talk about the latest developments in their career.

After their initial label folded, this six-member band quickly snatched a new record deal with Midas Records. Brad affirms, "We're excited to be back here at CRS and seeing all the radio people who maybe haven't seen us for about a year or so." As for the various personnel and other changes they've endured, they are a thing of the past. David sums it up like this: "We've been working together for four years now, growing as a band. Like anything in life, there's evolution and progression. We're more focused on this new music and our new album." He adds, "Working with Midas Records, being with a bunch of [people] that believe in you, that support you – it's great in the sense that, when you're working at a career as hard as we are, you need people that believe in what you do as much as you do. I think those are the people we've found now, and we're going to be able to grow into a very bright future."

Brad excitedly reports on the progress of their new album, "It's coming along great! We've got a couple more songs we need to record and the album should be sent out to stores early summer." Though they haven't picked a name for the album, they are thrilled about fans getting to hear their new music! Patrick informs me that "we've got really great songs this time around! It's going to be more country, and have a more raw and rootsy feel to it. We all feel more confident about the fact that the songs have a lot more substance." Their new single, "A Good Man," has just hit radio, and Brad says the song is "about being a good man – a father, brother, and friend. It's got a great message that speaks pretty much to everybody who wants to be remembered as being a good person."
Emerson Drive backstage w/ Shania
In 2004, Emerson Drive partook an opportunity of a lifetime when fellow Canadian, Shania Twain, personally invited them to join her on the widely successful Up! tour. Danick talks about that experience. "It was pretty amazing that Shania asked us to be on that tour! The first show we did, we were very nervous, because not only was Shania there, but Mutt Lange was too!" He adds, "But, she's so down-to-earth, everybody was so professional on the whole tour. We were treated so nicely that it seemed like we were part of that family." Brad agrees, commenting, "We were very fortunate to be on that tour, traveling around the country, playing for fifteen to twenty thousand people every other night. It was a dream come true for us!" David shares why he thinks Shania continues to enjoy monumental success. "I think one of the reasons is because she is so down-to-earth. That's something we really learned a lot from – just looking at how she manages everything. She's got a hundred or so people on tour with her, but she's still very hands-on with everything. She's got the respect of everybody, because she knows how to treat people. I think that's something we'll all keep in mind for the rest of our lives."
These guys have earned the reputation for being major "road warriors," so I asked what keeps their fans coming back. Patrick says it's all about "a lot of energy. We have a blast playing! Fans come to our shows and want to see something different. Sometimes, we're just goofy on stage and they like that!" This brought forth the golden opportunity for me to ask what had been the funniest or most embarrassing stage moment. David recounts an almost-fatal incident: "I can remember one that involved Brad and I. We were on tour with Shania, I don't remember where but we were in front of 20-some thousand people. We're playing 'The Devil Went Down to Georgia.' Shania had a round center stage setup, and Brad and myself are running all over the place. Every night, it's been going great. But this one night, for some reason, we ran into the same direction, not really seeing where the other was going. Then, all of a sudden, I just felt the impact of my fiddle in Brad's face!" He adds, "I popped three strings, we're right before the fiddle solo, and all I could think about was, Is Brad bleeding?! I really didn't know!" Brad picks up the story, "There was no blood, but I felt bad for David, because he did have to play that solo with one string! But, he did a great job!" They finished the rest of the show without missing another beat, all the while never giving away a clue of what had happened. David notes, "If anyone did notice, they were probably thinking, Wow, they rehearsed that one real well!!"

Keeping a busy tour schedule while working on a new album can be challenging for any artist. Multiply that six times and things get dizzying! So, what drives the members of this band to keep going? Patrick says the most important thing is that "we all share the same passion. We're all passionate about music and that's what keeps us going. It feels so good to be out there on the road playing music for a living. We're pretty fortunate to be able to do that. So, even through rough times, we've still stuck together." Danick recognizes the rewards that come after logging in those long hours: "One thing that's really cool is, because we live here [in Nashville] now, I can tell people I bought my house playing my guitar! It's more than a dream come true, really. I can not believe it, because I'm playing this guitar and I bought myself a house with that." At that moment, David ribs him and quips, "Hopefully you won't have to sell your house to pay for your guitar!"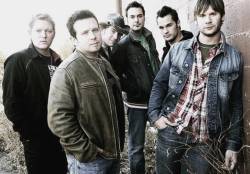 When I set the guys on a task to share little known tidbits about each other, they got a little rowdy!! Brad jumps in first, "I'm going to go with Danick. I've known him for eight years now. The interesting thing about him is that he loves to go to the movies and get a bag of popcorn, put Nibs inside of the popcorn bag, and eat his popcorn and Nibs together. I've never seen that before!" [NOTE: I'm told that Nibs is a form of red licorice.] He passes the tape recorder to David, who offers, "I'm going to pick Patrick; we [recently] bought a house together. What I will say about him is how easy it is to [live with] him. He's very respectful, easy-going, and just a fun person to be around." He adds, "That's also one thing that reflects in the whole band is how much respect we all have for each other." Next up is Danick. "Brad picked me, so I'll pick him. Brad is a neat freak! He likes his things to be clean and ironed." He divulges specific details: "I caught him one day ironing his shirt to go to the gym! I'm like, 'Hey buddy, what are you doing there?' He says, 'I've got to go to the gym.' So, I asked, 'Why are you ironing your shirt?' He told me, 'Yeah, it was wrinkled!' I was thinking, But, you're going to the gym! It was funny!" Moving on to Patrick, "I'll tell something interesting about David." This frets David, who exclaims, "Oh no!" With a grin, Patrick continues, "This is something he doesn't know! So, he just told you we get along pretty good. We actually played together [in other bands] before we joined Emerson Drive." His burst of laughter further worries David. "He'll empty out a box of whatever and leave it on the floor in our house. He doesn't know this, but I do tests to see. He'll leave random stuff on the floor right there by the kitchen, and it could stay there for two weeks!!" Mike patiently waiting for his turn, logically states, "Since they all said something about each other, and I'm the only one left, I might have to say something about myself, right?" He cautions, "This could be scary!" He admits, "I'm probably the one who enjoys doing interviews the least. But, I'm learning to appreciate it. Someday boys, I promise I'm going to be answering questions!" His reasons for laying low are not unfounded. "Sometimes, I'm trying to formulate [an answer to a question] in my brain. Then, a big cloud comes in and I'll lose it and go blank! So then, I pass the microphone to my compadres." His revelations prompt everyone present to share a mountain of laughs! Despite his absence, the guys had no problems filling in for Dale! In fact, they might have had a little too much fun as they dished on their band mate! Brad reveals, "Dale is probably the biggest jokester in the band. We can count on him always making us laugh day after day!" Patrick suggests, "Tell her about his ringer on his phone!" Brad continues, "Oh yeah! He downloads his own ringtones on his cell phone. Well, he inserted a couple ringtones that are the sound of someone [breaking wind]. So, when people call him, if he has it on that setting, it's..." (he makes the tantalizingly hilarious aforementioned sound with his mouth). After recovering from a belly-aching round of laughs, Patrick quips, "They've got to [invent] a phone where you have the smell that comes with it!"

On that note, it's obvious that the guys of Emerson Drive spare no expense when it comes to having fun! I can assure you that a good time was had by all during our interview!