By: Estella Pan
Sonny Burgess is as country and as genuine as they come! I chatted with this singer/songwriter who hails from Cleburne, Texas during the Country Radio Seminar (CRS)-37 about his new album Stronger and found out several reasons that have him smiling a lot these days!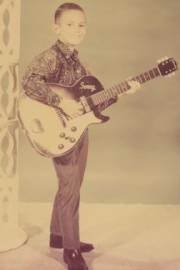 A young Sonny stands poised with his guitar
Singing is something that Sonny has always known he wanted to do for a living. "I just knew at a young age that I wanted to sing. I'd listen to a song on the radio then get my guitar out and try to play and sing it. I watched shows like Hee Haw on TV. I didn't know if I'd be a star, but I wanted to sing for sure." He enjoys country music because "it's always made me tap my foot and listen." Sonny grew up learning the music of fellow Texan Bob Wills, as well as Glen Campbell, Merle Haggard, and George Jones. "Those are the guys that caught my ear early." He describes his own musical style as being "traditional country with an edge, both lyrically and the melodically." Sonny had simple criteria when it came to the song selection process for his current album Stronger. "[My producer, my manager, and I] were looking for songs that fit me lyrically and musically. We were looking for positive songs for people – there's enough negative in the world, so we wanted to record songs that would make people think about values." He adds, "Not to take anything away from my last album because I am very proud of it but just like the title [of my new album] says, it's stronger." [NOTE: Sonny's debut album was titled When in Texas.] Overall, "we captured everything we wanted to capture on this album." He credits the collective efforts of his team – which includes Jeff Teague (his producer), Karen Herbst (his manager), Tom Long (with Sony publishing), and others – in making the album one that he's extremely proud of. He'll be the first tell you that "everything is about a team effort."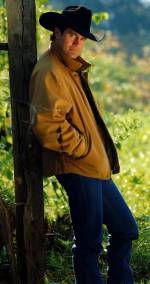 "Jesus and Bartenders" was the kickoff single from Stronger. It was also one of the first songs he heard when he first began working on the album. "When I heard the title, I was thinking, Whoa, I don't know if I'd record this, because any song with 'Jesus' in it needs to be 'right.' This one is right. Leslie Satcher and Larry Cordle are the writers on it." Sonny went straight to the fans in choosing to release the single. "We had played a lot of songs from the album live, and then we started wondering what the first single would be. We'd thought it'd be something uptempo; 'Jesus and Bartenders' is more mid-tempo. But when we'd play it, people would come up after the show and say, 'What was that Jesus and Bartenders song you sang? Man, that was great!' So, we thought maybe we needed to release it as a single."

The video for "Jesus and Bartenders" is currently in rotation on GAC. Sonny shares his experiences in filming the video: "Stephen Shepherd directed it. He's a cool guy! He made it fun for us, especially because I was a nervous wreck! But, the whole crew was so kind and so giving. They were very helpful!" He adds, "This was my first time doing a video, and I'd never pantomimed before. A lot of people don't realize I'm not actually singing in the video." [NOTE: When filming videos, it is common for the artist's recorded track to be running while the artist lip-syncs to it.] Sonny says the trick to mastering this particular art form is just good old-fashioned practice! "I worked for days on that standing in front of the mirror before we actually started filming!" All those rehearsals paid off, because he says, "I'm having people tell me, 'Boy, you sung that good!'"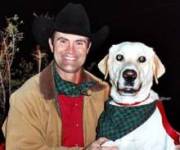 Sonny with his buddy, Tyson
The follow-up single is "The More I'm Around Some People, The More I Like My Dog," a delightful tune that follows a man in his run-ins with various types of people within diverse situations. This song will ring true to many if not everyone, no matter what circumstances you find yourself in. In choosing the new release, Sonny once again entrusted the input from his fans. It is a definite crowd favorite during his live shows and his fans let him know that it's the song they want to hear more! "The More I'm Around Some People, The More I Like My Dog" has been shipped out to radio, so be listening for it on your local radio station!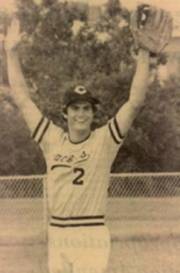 Sonny played baseball for his hometown team!
Sonny says playing baseball and football early in his life helped him develop his ability to pick himself up and push forward during times of hardship. "I think sports taught me to accept adversity and challenges." He recalls one particular gigging experience from a few years ago that was also instrumental in solidifying his strength and endurance for an overly competitive industry. "One time, my band and I played three gigs in one day. It was one of those things that seemed like a good idea at the time!" By the end of the day, however, his thoughts about that brilliant idea had altered slightly. He explains, "We kicked off the first one about ten [in the morning] just rearin' up like bulls. We darn near dropped dead at about 2 AM the next morning finishing the last one!" Sonny has come a long way from doing three gigs a day. But, it's having those very opportunities to play just about "wherever, whenever, and however" that has taught him the value of hard work and persistence and therefore comes away from them feeling no animosities whatsoever. "I feel like I've done it all with a lot of different situations; everything is a learning experience and I'm still learning." And, he's not taking anything for granted either. "Every time I take the stage it's a [great] musical memory! I still love performing and have since I was a kid." He says he feels most fulfilled when he's "helping other people out with what I do. That is much more rewarding than [being paid] any dollar amount."

There's not much to "figure out" when it comes to Sonny and his living philosophy; he is the epitome of what you see is what you get. He is content living each day playing and sharing his brand of country music with people all over the world. "I'm generally very happy even – when I'm asleep." And the reason for that would be? "Life's pretty darn good!" That Texas-sized smile he sports just about says it all!
Sonny's dog Tyson is actively helping his daddy promote the new single "The More I'm Around Some People, The More I Like My Dog." Tyson has even got his own website, where he shares his own bio, photos, and more!! Check out the enjoyable site at:
http://www.TysonDoggy.com
!!
[NOTE: Turn up your speakers, too, for some creative audio features!]