By: Estella Pan
Hey, Eddie and Troy: kick your hillbilly shoes to the curb! Boot scoot on over Kix and Ronnie! Country music's next "Shining Stars" Cook & Glenn have hit the scene! Though newly formed, neither of them is actually new to the industry. That's because, prior to joining forces, Jeff Cook had been a longtime member of Alabama while Mitch Glenn had been working on a solo album and playing with his band in his home state of North Carolina. During the 37th Country Radio Seminar (CRS), I chatted with both men about their respective previous projects as well as what fans can expect from them together as Cook & Glenn.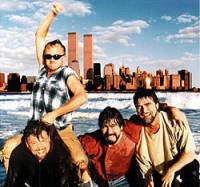 Jeff in his Alabama days
Alabama, named Country Group of the 20th Century by the Recording Industry Association of America (RIAA), is without doubt the most successful country band of all time. The Country Music Hall of Fame members have been sharing their music with fans for nearly four decades. Despite their retirement announcement and finishing their farewell tour, however, Jeff is far from putting music on the back burner. He shares his thoughts about reentering the music business, this time as a duo. "Everything is new. It's new again to me, and it's new to Mitch to start with, so the whole project is very new right now." Mitch adds, "One of the things that intrigues me about Jeff is that he's won so many awards and accomplished so much as an individual and with Alabama. To see the excitement that he still has for the music that we're doing – that is really refreshing to me!" When I asked about Alabama's Livin' Lovin' Rockin' Rollin': The 25th Anniversary Collection 3-disc compilation, Jeff comments, "I'll be real honest with you, I've not heard it at all. I know there's one song on there that wasn't on anything else we did. RCA has not gotten around to sending me my copy yet!"

As a young boy, Mitch grew up listening to Alabama, of which he says were "the first and most influential country band that I listened to." Other musical influences include Garth Brooks, Lynyrd Skynyrd, Marvin Gaye, The Temptations, Bon Jovi, and Poison. He learned to play drums alongside his father, also a drummer, and later picked up the guitar. Mitch remembers, "I would wait for my dad to come home, and we'd pop in a Motown record and play drums. He would get behind the [drum] set and play. Then, it'd be my turn." He shares another memory that helped shape the musician he has become. "Every so often, my dad would come home on Thursday evenings with a record that he'd hand to my brother and I and say, 'Alright, you've got one week!' We'd go to my brother's room, put it on the record player, listening and learning parts. Then a week later on that Thursday night, after supper, Mom and Dad would watch us put on a show. I was probably four or five years, but I remember like it was yesterday!" Those special moments spent with his family had a profound impact on Mitch, both as a singer and entertainer. "I didn't know it then, but I was learning how to entertain." After earning a Bachelor of Science degree in Business in college, he worked in Marketing for eight years with a very successful company before "I dropped everything that I had built and made to try and [pursue music]." He doesn't regret the shift. "I did it for my own satisfaction, because when I get older, I want to know that I gave 100% for everything I wanted to do. [Music] is one of them."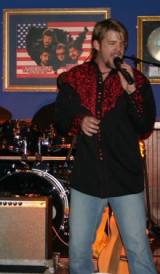 Mitch loves to entertain!!
Being an entertainer is something that Mitch absolutely enjoys. Once he hits the stage, he has an insatiable yearning to feel the music he's singing. "I love to entertain, to move to the music, because that's what I've been doing all my life. On stage, I can't stand still!" In fact, the bigger the stage, the better! "I'm not the one sitting behind the microphone playing guitar and singing. It works for a lot of people, and I admire those who can do that." But, when it's all said and done, Mitch says, "I'm just me, and I don't know how else to be." Mitch has certainly come full circle, musically, these days. "Being a huge Alabama fan growing up, the guy that played the double-neck guitar was very cool to me. I didn't know his name at the time... but guess what? It was Jeff Cook, who's now my duo partner! I'm living my dream right now; I really am!"

The two met through mutual friends in 2004. During one show, Mitch joined Jeff on stage in singing the remake of 'Shining Star' by The Manhattans. Jeff recounts that concert: "[Mitch] sang the lead on the verses, I did the harmonies, and it just went so well! That was the spark right there." When Jeff returned the favor playing at one of Mitch's show, the magic their voices created was undeniable. "We sang 'Shining Star' and threw some other songs in the mix. We noticed the crowd's response and thought there might be something special there. Mitch came up after that show and said, 'I want to be a part of this.' And, I thought about it for 0.2 seconds." Becoming Cook & Glenn, they have signed with a booking agent, and are now concentrating on finishing their first album together.
Given his musical partner's stature of success, I asked Mitch if he ever feels intimidated working with Jeff. "I've always had respect for people who are doing the things that some people only dream about doing." He adds, "By being that way, it has helped me not be intimidated and contribute more to what we're trying to do – instead of just sitting there in a daze." He admits, however, that every once in a while, he does have those moments of sheer admiration for Jeff. "There are a lot of times that things will happen in the studio and I'll be thinking, Man, I'm [doing] this with the guy from Alabama!!" He shares and especially inspired moment that occurred recently: "We were recording a couple weeks ago and trying to come up with something for the intro. Jeff was describing what he heard, and one of us, me or our producer [Kimo Forrest] just said, 'Why don't you just do it?' So, he sits down, plugs in his guitar, and plays a couple licks to go on this intro. That just took me back to when I was young and trying to learn to play Alabama songs. And here he is sitting in front of me! I was definitely in awe!" Jeff puts his success into perspective: "When people ask me how success has changed me. I say, 'Well, I still like to fish – I just do it out of a bigger boat!'"
About the duo's musical style, Jeff reports, "I'm not doing the same music with Cook & Glenn [that I did with Alabama]. We've widened the scope. Even though we're doing some remakes, there's a whole generation of people that has never heard these [songs]. We've had people ask us if we wrote 'China Grove' – they'd never heard the Doobie Brothers do it." He jokingly continues, "I think maybe it's just because they can understand the words a little better!" He admits to having sung "that song with the wrong words for many years, because I didn't know what they were! That was before you could 'Google' the lyrics." He continues, "When I listen to some of [the Cook & Glenn] music, The Eagles come to mind." Mitch, feigning puzzlement, adds, "And the harmonies, for some reason, do sound Alabama-ish. I don't really know why..." This, of course, prompts all parties to crack up! Jeff sums it up, "We have a formula that we've put together here. You take a seasoned entertainer and a newcomer, you have influences of country, mix in a lot of R&B, and even some rock 'n' roll, and you come up with what we like to call fun-try music! It's heavily country, but it's a lot of fun, too!" Another thing that sets Cook & Glenn apart from other bands is the fact that the two often switch in singing lead vocals. Mitch says, "It gives it variety. We just do what we feel like is going to sound the best [with each song]."
Being a part of this interview, it is clear to me that their personalities compliment each other so well, and it's something that Mitch says also "shows up on stage and in our music. It's fun, and it's a very good combination!" Jeff praises his partner. "I think Mitch is a very talented entertainer, obviously, or I wouldn't be hooking up with him to do a duo. I think he has great stage presence. I feel like we have the same muse on music and business. As much as we like the music, there still is a business side that you have to consider. Drawing from his enthusiasm to get into this and my experience in it of hopefully knowing what not to do and what to do, I think he's a really good person to team up with!" Mitch returns his heartfelt compliments, "Jeff has got to be the most talented person that I've ever been around! Harmonize-wise, he hears things that other people – including me! – would never hear. He can play just about everything and anything. To be where he has been and to be the person that he is, he is such a role model. It's been great to be able to play with him." (At this point, Jeff pulls out his billfold and pretends to shove some money into Mitch's hand.)

If you're searching for secrets to attaining longevity in the business, don't look to Jeff to tell you what he thinks they are anytime soon. He relays to me, "Well, I can tell you, but then I'd have to burn your tape!" Now, before you bombard him with messages of disdain, please note that he does have a very feasible reason for this: "I do have some references to things that I think make a difference. But, I don't really want to share them, because at this point, with a new career [about to launch] with my partner Mitch, we don't want to give away those trade secrets!" He will, however, tell you that their philosophy is simple. "We're not trying to suppress anybody, including our band members, because every one of them is very talented. For instance, if he's singing lead and I'm singing one of the harmony parts, we'll get one of band members to sing the third harmony part. Then you still have three people who can still do the 'oohs' and 'aahs'." Ultimately, Mitch says, "We want people to hear what we're doing..." Jeff finishes the thought, "and get involved in the excitement that we feel when we do it."

Music aside, both Mitch and Jeff enjoy fishing. In fact, Jeff has the distinction of being named the Alabama State Fishing Ambassador by the last five governors. He notes, "The current one made it a lifetime appointment." He comments on the said honor, "I really don't know what that means, but it looks really good on my truck!"