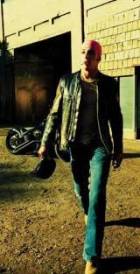 Who is he?
Though he is considered a newcomer to the country scene, Trent Tomlinson has endured enough tribulations to write a lifetime of country songs. The singer/songwriter who hails from Kennett, Missouri, he credits his father for his incessant drive and persistent work ethic. "I learned about the meaning of hard work and what can happen in life when you work as hard as you can." He began piano lessons at a young age, but "Then I realized I couldn't carry a piano around to parties and gigs, so I bought a guitar and started playing that." After a short stint in college, he realized his heart wasn't in anything else except the music. Prospects looked optimistic, as he was signed to a publishing deal soon after his move to Nashville. However, when the company went bankrupt, both his publishing deal and record deal fizzled. Down on his luck but reluctant to give up, Trent headed back home to Missouri. A couple more publishing deals surfaced, but those soon faded as well.
A glimmer of light finally appeared two years ago in the form of Cal IV Entertainment. It was during this time that he says he found himself. "I basically admitted the truth about who I am and what I am, my demons and insecurities - the ones that I run from on a day-to-day basis - and began putting "
Five publishing deals later, Trent has secured a recording contract with Lyric Street Records and made the album he has always wanted to make. Reflective of his life experiences, the songs off Country is My Rock tell tales of life's triumphs and tribulations. His tell-it-like-it-is candor gives his album a refreshing depth that has become lost due to the industry's increasing obsession with perfection and fancy whistles and bells. The debut single is "Drunker Than Me," a hilarious tongue in cheek song about a man who confronts his date about her antics - which, he feels, are interfering with his habits. It is actually based on a true story, according to Trent, who dated a woman once that put him in the same predicament as the man in the song. Things are finally looking up for Trent, and it's about time!
What has Trent been up to?
REQUEST "Just Might Have Her Radio On" - Trent's NEW single at radios NOW!!!! Please continue to REQUEST "Drunker Than Me" and "One Wing in the Fire" at radio and on GAC and CMT!!
Trent says he has an awesome relationship with his fans, including one lady who gives him a new belt buckle every time she sees him. He tells Dial-Global he pays his fans back for their devotion by giving them his time. "I sign everybody's autograph till everybody's gone," he says. "Even after my shows, I still get off the bus and go back in whatever honky tonk or bar we're playing in, and I'll sit there and have a beer with them. I go out in the crowd during my show and stuff like that. Yeah, they're gonna grope you and grab you, but they're not there to hurt you. They just wanna see you and be a part of it. I have really loyal diehard fans and I treat them with the respect that they deserve."
Trent says he's signed everything from cell phones to cigarette packs to even individual cigarettes. So how does he fit his entire name on a cigarette? Trent jokingly boasts, "Man, I've got very precise, pinpoint precision handwriting." He's even signed items that will probably never be displayed. Trent recalls, "A lady took her cell phone apart and I signed her battery inside her cell phone. After I signed it, [she] put the cover back up on it. I don't know. People are crazy."
Although Trent has played at the Grand Ole Opry a few times now, it's something he never takes for granted. He says, "Opry means a lot to me. It's our heritage. It's the mother church of country music and I wanna stay grounded in those roots as much as possible. Fortunately for me, everybody at the Opry just seems to really like what we do. Every time we go there, they've told me that we've always been a class act, from my road manager to my band members. We try to treat people with the utmost respect and the Opry with the respect that it deserves, and they keep inviting us back and it's awesome."
Y'all can CRUISE w/ Trent come November, 2007!!!! Cabins are filling fast, to books YOURS, visit
http://www.travelininc.com/CaribbeanCruise.html
.
Have y'all checked out Trent's NEW website? It was recently re-launched. He now has an official fan club. All info and other Trent news is on his site (link is below)
Trent shares the story behind his current single, "One Wing In The Fire": "This is probably my favorite song on the album. It's about my Daddy. He would sit in the back row at church and be the first one out the door so he wouldn't have to shake everybody's hands when he had laid out the night before. There'd be nights where Mama'd be lying in bed wondering where he's at and praying to God to keep him safe. This song is basically a plea to God to let him in heaven, despite all his shortcomings. He's a real good man, the kind who would change a tire for a stranger and always made sure I never did without."
Did y'all know?!
** Trent says his album, Country Is My Rock, is his life story. "Every song on the record I lived, went through. It's a kick back grab a beer, have a party... but at the same time there is some heartfelt stuff on here. You go through the whole record and it tells a story... it's almost like it's in sequence... if you just listen to it from top to bottom." The album, of course, features "Drunker Than Me."

** Prior to signing with Lyric Street Records, Trent had songs recorded by Blue County, Emerson Drive, and others.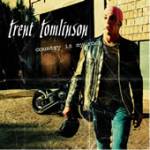 Where can I buy his music?
Trent's debut album Country Is My Rock is available in stores now - it features the wildly popular single "Drunker Than Me"!! Click on the album cover to purchase YOUR copy today!!!!
Does he have a official site?