By: Estella Pan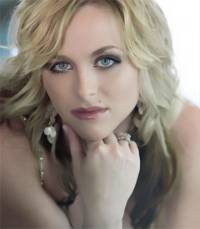 During the 37th Country Radio Seminar, I had the opportunity to chat with Alive Records artist Brandi Valentine, who admitted that she was nervous in attending her first CRS. She seemed to be keeping her bundle of nerves very well contained, however, as we sat and discussed the kickoff single, "She's Got A Way With Men (She Got Away With Mine)," and other songs off her forthcoming debut album Deeper.

As a young girl, Brandi knew that she was going to become a singer. "I've always known that I wanted to sing." Indeed, the singing bug bit early on; therefore, she says, "It was not a big surprise to my parents." In turn, Brandi's family was really supportive of her dreams. "I told my mom at a young age, 'That's what I want to do, Mom; I want grow up to be a singer.' She said to me, 'You can be anything you want, as long as you work for it.'" Brandi reminisces, "I grew up listening to country music my whole life. My mom would sit me in front of the stereo or the record player, and I'd listen for hours with headphones on singing along." Some of those songs she grew to love were by Reba McEntire, Patsy Cline, and Loretta Lynn, of which Brandi says, "Those women are my three favorites!" Outside of the country genre, she admires Aretha Franklin, gushing, "Oh, my gosh! That woman is just a wonderful singer!" She also names Bob Dylan, The Eagles, and Pat Benatar as musical influences.

In listening to "She's Got A Way With Men (She Got Away With Mine)," what is immediately noticeable is Brandi's soulful voice which is unique to the country music genre. She describes her sound as "Motown meets country – it's really different" and explains that the expressiveness in her voice is the accumulation of her life experiences fused with the allure of country music itself. "Country music being what it is, being able to connect with your feelings, making you feel every word. Between that and my life experiences through childhood and my teenage years, I think that's where it came from." She affirms, "I don't want to sound the same as anyone else. I want to sound like me."

With a title like "She's Got A Way With Men (She Got Away With Mine)," you know you're curious about the nature of this attitude-filled tune! [NOTE: It contains the lyric: "She's just an itch that rhymes with witch!"] Brandi shares the gist of the song, "In a nutshell, it's about a girlfriend and boyfriend together. She's not around, so he's scoping things out. Then, here comes [his girlfriend's] best friend who takes her man! The now ex-girlfriend is saying, 'You can have him, because if he went out with you...' she figures she's better off without him anyway!"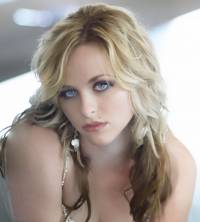 As for her entire album, she says, "There's a big variety. [The songs are] all very different. They're all collection of what I like the most – some are more rockin' country while others are more rhythm and blues. Then, there's a remake of an old Billie Holiday jazz tune that I turned into a Texas swing song!" Talk about taking a 180° turn! I'm guessing it was fun! "Oh yes!" Brandi recounts her recording experience as a whole. "I had a lot of fun, having had the freedom to really express myself in different ways and with different sounds." She chose to name her debut album Deeper, because "of the variety of the songs. They're so different than what is already out now. It's a mixture of my life, my experiences, and my feelings – it goes deeper than just the surface." With her album releasing into stores soon, she admits, "I'm waiting....impatiently. But I'm very excited to get my album out there!"

I asked her to share something interesting about herself that nobody knows yet, to which she responds, "Oh, you would ask me that, wouldn't you?!" Brandi confesses to being "very private and shy. She adds, "Even though I can get up on stage and really have a good time entertaining people." Given the nature of her duties as a performer, constantly having to get up in front of people to sing, I wanted to know if she ever experiences anxiety before taking the stage. "You know, I do get horribly scared!! But once I get up there, I get this adrenaline rush, and by the second song, I'm just fine. By the time I get off the stage, I feel wonderful! Once I hit that stage, it's like I turn into a different person…(she pauses briefly) that's after I get over the butterflies of actually getting on stage!!" As for her secret to overcoming that fluttering feeling in the pit of her stomach, she shares this: "If you want to do it that bad, you just do it! You do it good and you do it right!"

Stated just like a seasoned entertainer! Something tells me Brandi is going to be just fine!