By: Estella Pan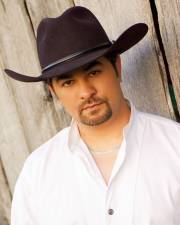 Michael Lee Austin, who just released his debut album, Labor Pains, visited with me during the first day of the ever-eventful Country Radio Seminar (CRS-37) week, as a first-time attendee. I asked if he was enjoying himself. "Today, so far, has blown me away! Getting the chance to meet the people that before today, I've only seen from afar. Forget being an artist – just being a fan is the cool part!"

The North Carolina-raised singer-songwriter grew up listening to country music – "It was the first thing I started listening to" – and appreciates the way "country songs usually tell stories about things that everybody goes through. Whether it is about heartache or maybe it's a new addition to the family with a [newborn] baby. Whatever it may be, there's a story that everybody can relate to." He shares a unique perspective in saying this: "It's kind of like a good time out in the middle of the day when you listen to a great country song."

Though he had occasionally thought about being a recording artist, it wasn't until a friend helped to present an opportunity that Michael Lee actively began pursuing a career down this particular path. "I think it's a dream for many people but for some reason, you think you can't do it. You think, Maybe I'm not good enough to do it. Even to this day, it still goes through my mind. But, a friend of mine had a friend he'd known for years who was putting together work to start a label and asked if I ever thought about recording an album." I told them, "You know, yes I have!"

Michael Lee became the flagship artist signed to the newly launched Alive Records. "We're all learning together in a lot of this. But ultimately, the music came together, and it was a learning experience for me. The process is just amazing!" As for some of the things he's learned, he says, "We've already begun working on the next album, and we know what keys we definitely want the songs to be in... and which ones we need to avoid!"

Having gone through the process of choosing songs for his album, I wanted to know what Michael considers a great song. "It comes down to feeling. You get a strong feeling from the song and then when you add the emotion behind the lyrics you're listening to, it adds to how you feel about that song overall." He adds, "If a person can relay a certain feeling or meaning behind the song to the listener in three minutes – which can be a pretty tough job to do – like Martina McBride. She's really great in relaying emotions in her songs."
The title for his debut album, Labor Pains, came pretty easily. "'Labor Pains' was one of the first songs we chose." He adds, "It was really a labor of love when we were working on it, because it is the first album that I've released. At certain times, it was a 'pain' in order to make it happen – like getting some of the songs just the way we wanted it, days of singing nonstop, from morning to night." Ultimately, however, he says, "We're really happy with the results of how everything turned out!" Michael Lee says about the title track. "It's just a fun song! I don't know that there's a lot of deep meaning behind it. It's just 'Don't tell me about the labor pains/Just show me the baby!'"

When it comes to the music, Michael Lee hopes this of his listeners: "I hope when they listen to my album, they like it, and want to listen to it again and again! Maybe they just need a break from their job or their life – and hopefully, they'll feel a little bit better after listening [to my music] in knowing that maybe they're not alone. If I can make them feel happy after listening to my music, or maybe make them feel a little different about some things, then I would have accomplished my job!"

In conjunction with promoting Labor Pains, Michael Lee and his team have been working on a lot of neat features that can be found online at his official website. [NOTE: The URL for his website appears at the end of this article.] "They can listen to all my songs right on there, and they can sign for a free fan club membership." He also promises that "we're getting ready to do some pretty neat things, [including] contests." Speaking of being online, Michael Lee discloses, "I like to surf the Internet a lot! Since 1996 – that was the first time I jumped online – I have become a 'techno geek,' if you want to put it that way." In fact, he designed his own website! He says, "It's fun for me!"

Brad Paisley, one of Nashville's triple-threats (he's vocally talented, writes great songs, and is one mad guitar picker!), is "a fellow techno geek" who Michael Lee also admires musically. [NOTE: Brad enjoys creating his own animations – a la South Park style – some of which he shares with fans during segments of his live shows.] Michael Lee praises Brad's musicianship, "I think he is definitely the best in Nashville, hands down! I just love all his music; he's just great!"

As for both his short- and long-term goals, Michael Lee reflects on some words of wisdom he acquired recently: "I was staying at a Hilton not too long ago, and if you look inside the desk, there's a book written by Conrad Hilton. It was a pretty neat book, and I had nothing to do, so I started reading it. I guess his father, Gus, had said, Happiness is getting to do what you love. I think that's the true definition of being an artist, where you get paid to do what you love." That said, his "number one goal is longevity. Number two is obviously, you want your career to get better and bigger. Hopefully every album you do is better than the last one." Other than that, it's all about enjoying the various exciting moments that come with being a recording artist. "We just want to have fun. If it's not fun, I know I don't want to do it anymore!"