By: Estella Pan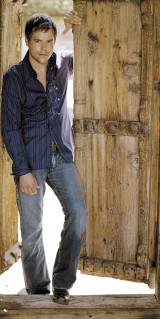 Steve Holy, best known for singing "Good Morning Beautiful," is making a return to radio airwaves with a new single called "Brand New Girlfriend." I caught up with him during the 37th Country Radio Seminar to chat about the single as well as his new album. When I asked what the song was about, Steve quips, "'Brand New Girlfriend' is about three and a half minutes long!" He continues, more seriously, "It's about a guy getting dumped." After being told to give a girl some space, he does the best he can to deal with the situation. And that would be? (Steve sings part of the bluesy intro to the song): "So, I picked up what was left of my pride and I put on my walking shoes/And got up on that high rope (Spoken): And I did what any gentleman would do… " (He pauses dramatically, then launches into), "I got a brand new girlfriend!" From there, the tune switches into an uptempo ditty, as if to reflect his newfound happiness in "playing kissy kissy" and "talking mushy mushy about nothing."

It's very easy to appreciate Steve's unique brand of humor and wit. He explains, "When I take something seriously, I will go overboard on it. But, for the most part, I'm all about having a good time!" He adds, "People probably think I'm Johnny Serious because of all the ballads I've released." That couldn't be further from the truth, however, according to Steve. "I love to be humored and I love to humor – that's me."

I wondered what made him consider a career in the music business in the first place. "It's just something I couldn't get away from. I kept waking up and going, I want to do this. I can do this. Ignorance is bliss and I guess I was just gullible enough to believe that I could pull it off."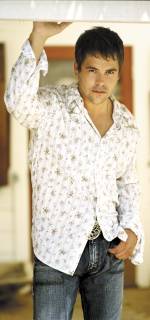 Pull it off he did, though it may have taken him some time to get his feet settled on the ground. You could say that it all started with his unique connection to his Curb/Asylum label mate, LeAnn Rimes. Back in the day, "LeAnn and I used to sing on the Johnnie High Country Music Revue together in Arlington, Texas. I ended up meeting her [former] manager, Lyle Walker, who offered me a contract to record at the Norman Petty Studios in Clovis, New Mexico." Because Steve was already under contract for another project, he couldn't accept, but he did tell Lyle about LeAnn, suggesting, "I have a ten-year-old friend who I sing with at Johnnie High. Lyle said, 'Well, I'm not really interested in a ten-year-old.' But I told him she was exceptional, so he came out to hear my little ten-year-old friend." Steve continues, "He told me, 'When you get out of your contract, I want to do an album with you, but in the meantime, I'm going to do one with this girl.' That album became the LeAnn Rimes: The Early Years album."

It would be a few more years before Steve found himself signing his own contract alongside his good friend LeAnn. Once secured, he began work on his debut album. Wilbur Rimes, LeAnn's father, produced the album entitled Blue Moon, from which singles like "Don't Make Me Beg," "The Hunger," and the titled track garnered Steve a devoted following who have come to call themselves his Holy-ites.

Then came "Good Morning Beautiful." Of course, I couldn't let Steve off the hook before asking about how he happened upon what has become his signature song. He confides, "Even before I got my label deal, that song was around town. There was a gal named Amy Gillis who was working with my manager at the time, pitching songs for him. Amy had pitched the song to Bryan White and said, 'He didn't like it, so he passed on it. I think it'd be a good song for you. Do you want to hear it?'" After answering an emphatic "Absolutely!" he gave it a listen, and his first impression was that "It was exceptional! When I first heard it, I felt like it was going to be hit." He adds, gratefully, "I also thought Bryan should have cut it, but luckily, he didn't!"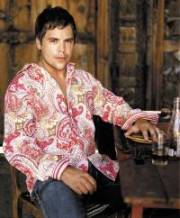 So, when fans recognize him, do they go up to him and sing the song back to him? "Oh yeah!" He proceeds to tell what he considers to be "one of the greatest stories" about the song: "I was in a bar at an airport in Atlanta, and I was talking to this girl. I asked her, 'Well, what do you do?' She said, 'I'm an accountant' and explained where she worked. She asked, 'What do you do?' I said, 'I'm a recording artist. Do you know the song, Good Morning Beautiful? That's my song.' And she gushed, 'Oh, it's my song, too!! I love it!!' She didn't realize that it really was my song – as in, I recorded it."

That girl might be kicking herself right about now, but there's no misunderstanding that fans who know Steve is will go out of their way to show appreciation for their favorite singer. He shares this story about the strangest thing that he has received from a fan: "A lady baked me a cake one time and sent it to my house. I don't know how she got my address, but she sent me this cake by FedEx. It said, 'Good Morning Beautiful' on it..." (He pauses, then continues) "Well, I could tell that's what it originally said! To say the least, it was in rough shape!" He says he didn't end up eating the cake, but hey, it's the thought that counts, right?!

With his new album forthcoming, Steve sheds a little light on what fans can expect to hear on it. "It is a little less retro than the first album. I think I had a little more of my [musical] influences in the first album than on this one, but I'm more 'me' on this album." Though a release date hasn't been set, he assures, "The album is ready; it's been ready for a while." He adds, "I think we'll release it when 'Brand New Girlfriend' hits about #20. That makes all the sense in the world, because by then, you're getting more airplay and exposure, so you have more of a demand." Just a note to all you Holy-ites: If you want to see Steve back on the charts (and let's face it, you do, don't you?!), you'll want to get on your local radio station about spinning "Brand New Girlfriend" – a lot!!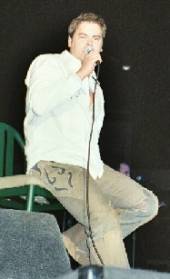 Another fascinating aspect about Steve is his live shows, which have been described as "engaging." About what fans will get from attending one of his concerts, he says, "Probably not what they thought they were going to get! They might think they were going to hear a bunch of ballads. But, my shows are uptempo; it's fun. Music-wise, it's broad – I'll do anything from a ZZ Top cover to a [Roy] Orbison song." Perhaps one thing that keeps fans coming back is the way Steve makes each member of his audience feel as if he were singing to them only. He contends, "It's really hard for me to speak or sing to them without looking right at them, so I guess I just subconsciously do that."

It has been noted that the youngest member of a large family usually ends up being a bit of a ham in order to gain some attention. This was also true for Steve, who is the youngest of eight children. "Yeah, I was the jokester in my family. I was always cutting up. I had a very serious father – he was no-nonsense, all about work – and the older kids always told me I had a way of making him laugh. He didn't show that side very much, but I could get him to crack up!"

It was Steve's turned to crack up when I addressed items off a fact sheet posted on his page within his label's website. It states, "At age five – Fully potty-trained, he made good use of a department store bathroom display." Naturally, I wanted the scoop! (Pun intended.) "Wow, I forgot about that! I'm somewhat embarrassed to admit this but we were in a Sears, and I kept telling my dad that I really needed to go to the bathroom. He kept saying, 'Nah, you're good.' I said, 'No, dad, I gotta go!' And he was like, 'Just wait until we get home!' So, I made dash for the department store toilets and used it, but I don't think they flushed." He informs me that, "I went number two!" His father didn't think too highly of his decision. Steve admits, "I got in trouble for that one – my dad was pretty mad about that!"

I pointed out another interesting tidbit listed on the fact sheet: a pair of Playboy bunny slippers. Steve exclaimed, "That's hilarious!" He proceeds to talk about the said culprit. "Somebody gave me a gift, and they were these black slippers with the Playboy bunny on the tops; they're like house shoes. I wore them for about a two-week run, until I blew them out." Slippers are great, but Playboy ones?! He jokes, "That's way too soft!" For the record, Steve clarifies, "There's no connection as far as my being promiscuous."

So, there you have it! Let's recap what we've learned: Steve's got a "Brand New Girlfriend" and a new album on the way. He's hilariously funny, and you never want to take him completely seriously – he wouldn't want you to, either! As for those Playboy bunny slippers...I leave that up to you for discretion.