By: Estella Pan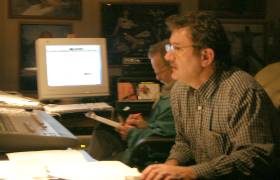 Jerry Cupit (Memarie's dad) at the control board.
Given her familial connections, Memarie could have taken the high road to success. [Her father is Jerry Cupit, who has written songs for and produced numerous artists' albums for over twenty-five years] To her credit, however, this Louisiana-born belle chose to find her way of "making it" in the business through years of hard work and honing her various musical talents. "My first choice has always been music; it's just something I've always wanted to do." However, convincing her father of the fact was another matter altogether. "With him being in the business so long, a lot of people think, You're his daughter, so he's automatically going to work with you." According to Memarie, "It really wasn't that way." She adds, "It took me a couple years to convince to him that this was what I wanted. Even though he'd see me sing ever since I was a little girl, he wanted to know that I was really committed to doing it as a career. I worked on my singing, guitar playing, and songwriting and really proved to him that I was ready to work hard." The end result is that "he, of course, agreed to it." She's not at all bitter about taking the lengthier route, because she realizes in order to attain any longevity in the business, "that's what you've got to do anyway!"
Memarie laying down vocals for her forthcoming album.
Along the way, Memarie found her songs being recorded by George Jones, John Anderson, and Ken Mellons prior to releasing her own project. And in 2000, her self-penned "What If He's Right" staked out at the top of the Country Christian charts for a whopping TEN weeks! Not surprising, she also wrote or co-wrote nine of the eleven tunes off her 2004 self-titled debut album. So, what inspires the songs that she writes? "When I'm writing a song, it's really about everyday life. I can get ideas from pretty much anything and at anytime." In terms of having a favorite place to write, she says, "Usually it's when I'm by myself driving. I don't plan it that way, but it always seems to happen like that." That's exactly how her debut single, "I Need a Change" came into existence. "I was driving down the interstate toward the studio and had that song written in about fifteen minutes." That got me wondering about safety concerns – after all, what is any song worth if you died trying to write it? [How's THAT for a song idea?!] Fortunately, it doesn't seem to pose a problem for Memarie. "I have a recorder now. That's a little safer than trying to write down ideas while I'm driving."

Her new single, "The Hole in Willie's Guitar," is one of the few songs off her forthcoming album (tentatively titled My Way Home) that she did not have a hand in writing. Written by Shane Teeters and Don Pfrimmer, Memarie says, "What attracted me to the song is the fact that it's about having the courage, faith, and guts to get back up when you fall down. Everybody falls down. But, you've got to do it, do it, and do it until you make it happen – especially if it's something you believe in, in your heart." The song also has significance, given her chosen field. "For me, that song represents my career in the music industry. In the song, Willie played his guitar so much that he's got a hole in it! You just do what it takes!" Memarie contends that there are different reasons for why songs appeal to her. "Sometimes, it may be the melody or the groove of the song. Of course, I always listen to the lyrics to make sure [I can relate to them]. But, it could be the hook line of a song that attracts me."
A video for "The Hole in Willie's Guitar" was filmed late last year, with Keech Rainwater in the director's chair.
[NOTE: Keech is the drummer for the multi-platinum group Lonestar]
It is Memarie's third video, and of the latest experience, she raves, "Keech was awesome! I've got to give props to two other guys who works on the video. They are Cam Cornilius from Channel 4 here in Nashville and Bobby Grubic." She excitedly reports, "I recently found out that Ken and Bobby just won Emmys for their work – not for my video, but for other work they did. So, it's pretty cool to have had them work on my video." The clip will soon be sent to GAC, CMT, VH-1 Country, and other video outlets, however, thanks to the uber artist-friendly phenomenon known as MySpace, fans – especially all you men out there!! – don't have to wait to see it. A full-length stream of the video has been posted on Memarie's MySpace page; simply log on to
http://www.myspace.com/MemarieOnline
to watch it. It is through various Internet venues like MySpace that has helped Memarie to continuously expand her fan base, something she finds very helpful. "I just joined [MySpace] about three months ago and since, I've made so many contacts with people in the music industry. It's a great way to have that camaraderie with other artists and with the fans, too! I'm enjoying it!" Memarie will head out on an extensive radio tour starting later this month to promote "The Whole in Willie's Guitar." "I am very excited about it! It is going to be the busiest I have ever been but I am ready for it!"
Music aside, Memarie really enjoys doing interior design work. And yes, she did decorate her entire home that she shares with her husband! Of course, I had to know which has been her favorite project she's done within her home. "I think the bedroom is my favorite that I've decorated. I just finished redecorating it a few months ago." She describes the finished product as having a "modern sleek look. We are kind of switching from the traditional to a more modern look, and our bedroom was the first room I tackled." As for the color palette she used, "It's all black. Then, I have little bits of burnt orange and a deep grape purple. It's different, but I really like it a lot."

Just for fun, I asked if she collects anything. "I'm obsessed with Betty Boop! I've loved her ever since years ago." Turns out, Memarie is very in tune with her inner "Boop-ness." She divulges, "I found this survey on the Internet – this was probably five years ago – where you could find who you'd be if you were a cartoon character. I found out I would be Betty Boop, and I was so excited!" Now, for the rundown of her collected memorabilia on this Boop-a-licious character: "My Jeep is all Betty Boop – I have a tire cover, floormat, and a keychain with her on it. Then, of course, there's my Betty Boop Halloween costume and several t-shirts. I have a set of shot glasses, a wallet, purse, and backpack... and lots more!"