By: Estella Pan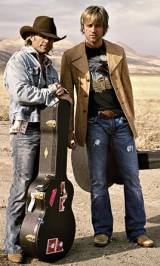 Both Aaron Benward and Scott Reeves of Blue County arrived in Nashville for the opening day of the 37th Country Radio Seminar fresh after participating in this year's Country in the Rockies XII in Crested Butte, Colorado. Scott describes the experience as being "life changing." He continues, "We met a couple families who were affected by cancer. We [helped to] raise upwards of a million-and-a-half dollars in four or five days. It was an incredible time and it changed us!" Aaron's take on the event was this: "What was cool about it was there were artists and songwriters – many who we admire – and it was this immediate family-type of feeling right from the start, because we were all there for the same cause. We've all been affected by cancer and just to be able to give a little bit of our time to try and find a way to kill this disease – we told them, 'Put us down for next year!'" The aforementioned cause is the T.J. Martell Foundation, an organization that has spearheaded continuous research for top-of-the-line treatments. But, the guys found time to have fun, right?! Aaron says, "Our families went with us and [we all] learned how to ski, snowboard… fall on our faces and butt – it was a real treat!" Scott jokes, "We had a Blue butt-bone, not County!"
Pre-BC: Aaron (left) and his dad, Jeoffrey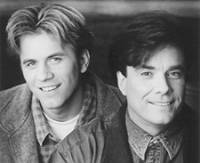 They sang together as Aaron Jeoffrey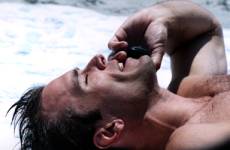 Pre-BC: Scott in Days of Our Lives
Though each grew up on opposite ends of the country, watching the way these two guys interact with the other, you would just as soon guess they were brothers if you didn't know better. Aaron grew up in his home state of Indiana singing gospel music with his father; the father-and-son team toured various parts of the U.S. to share their music. By the time he met Aaron, Los Angeles-raised Scott had packed several commercial spots and other acting gigs, including a ten-year run on Young & Restless, under his belt. [NOTE: Scott was also in Days of Our Lives, where he met Melissa, his co-star and future wife. Melissa continues as "Jennifer" on the daytime drama.] Their paths crossed when they were introduced to each other through mutual friends roughly seven years ago, and according to Scott, "the rest is history." Did they know this particular pairing would work? Scott immediately answers, "We didn't. We had no idea." However, "We're so similar in so many ways, but there are personality differences that enable us to have a perfect marriage, if you will – he's my wife and I'm his wife, basically!" Aaron sets up the scene: "It was a time when we were both transitioning from what we each were doing. We were both trying to figure out what we were going to do next. There's that point in your life where you go, Man, now what?!" I was here in Nashville in the music scene, and I got to thinking, Would there be anything remotely cool about me and Scott singing together? So, I called him up and I asked what he thought about us singing together. He said, 'I'm in!' So, he flew to my home a couple days later." Aaron, having sung with his father, had developed an innate talent for singing harmony. He recalls one specific moment when he realized that they might have stumbled upon something special: "We got out our guitars and started singing on some songs I had been tracking. After we had finished singing this one song, I remember thinking Wow, it seemed like family harmony all over again!" Scott picks up the story: "From a creative and collaborative standpoint, we knew that wouldn't be a problem. The only issue was – what was going to come out when we opened our mouths?!" As it turns out, Curb/Asylum liked what came out of their mouths and signed the duo to their label. Pretty soon, their debut single "Good Little Girls" was released. "That's Cool" and "Summer Song" followed, and since, their county of fans has exponentially multiplied into legions!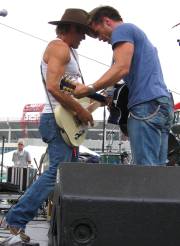 Scott and Aaron giving 110% on stage!
Now, you can't meet these guys and not pick up on how laid back they are. So, I asked if they ever played pranks on each other. Aaron says, "Actually, I don't have to pull pranks on him. If anything's going to go wrong in any situation, it's going to happen to him! I don't have to think or even try too hard." Scott admits, "He just has to wait, because sooner or later, it's gonna happen!" Aaron jovially confirms, "I can just enjoy the experience when they do happen!" Scott contends, "If I don't hurt myself too bad or break anything, I can laugh about it, too!" So, what has been the most entertaining incident that Aaron has observed? "I think the splitting of the jeans on stage, which would contend a couple things: One, they're too tight! Two, it was right in the spot where he had to lower his guitar – from knee to crotch, [it was] wide open! And, it was first song of the show, too!" Scott has an explanation for the said incident. "I tried to pull a Bon Jovi move that didn't work in those jeans!" He did, however, walk away from the experience having learned a couple valuable lessons. "I sure did! Don't wear jeans that tight and don't attempt that move again!"

For those long bus rides in between cities, Aaron says the two opt to fully rest up for the next show. "We try to give 110% every time we sing, so we definitely need to rest to be able to continue that." Scott adds, "We also read our Bibles. Our faith has been a part of who we are, so we focus on that. It keeps us in line."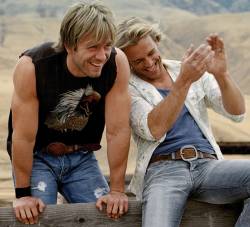 All hope for keeping things in line went out the window, however, when I posed the challenge to share something interesting about each other. Scott was up first. "Gosh, Aaron's got a lot of interesting facets about him!" When he paused to think about how he could word his thought, Aaron issues the warning, "You better word it good!" Scott agrees, "I gotta think really hard, because I don't want to say the wrong thing!" After a few pondering moments, he comes to this conclusion: "You know what? He's a perfect imperfectionist." Turning the tables, Aaron says, "The opposite would be true of him. If he's got something on his mind, he's going to get every resource possible to be the best at what he can be." He confesses, "Scott loves to rehearse – I don't – but he constantly wants to get better and better." As an afterthought, he suggests, "That's great depth and all, but let's go for something a little more interesting for both of us!" Scott jumps right in with, "He has no problem wearing the same workout clothes for like a week in a row!" After a mountain of laughs, Aaron clarifies, "That's not true! About two days in a row – maybe three, if I'm feeling really edgy – but no more than that." With that, all parties explode in laughter again. Recovering, Scott offers heartfelt praise for to his partner-in-crime, "I love that about him! I'm not able to do that, and I wish I could! I've gotten better over time, but I'm still not quite there yet! I want to be able to be content – the way that he's content – with imperfection. I'd like to go out for a day and not wear any deodorant!" All jokes aside, he reflects, "What Aaron has taught me as a person is not to live to please others, but rather to please God; that's really what's important."
As far as live shows go, Scott shares what to expect when one attends a Blue County show. "We want to take people on a journey within an hour and a half or however long we play. I like to think of what touched and affected me when I went to go see a concert or listened to someone else's music. We're both 'people people,' so we want to involve [our audience] as much as possible." He points out that they "have a pretty energetic show, for the most part. We're passionate about what we do and we want to come across as authentic as we possibly can." That same warmth and each of their genuine caring natures also spills over to how they treat their fans. Case in point: flashback to the 2005 CMA Music Festival. After playing their set at the Riverfront Stages concerts, it didn't go unnoticed that – instead of whisking off the premises – both Aaron and Scott stayed for nearly forty minutes chatting with fans, autographing and passing memorabilia back and forth up, over, and even through the holes of the chain-link fence. Melissa was also there signing autographs during this time.

It's not hard to see that Scott and Aaron have the utmost appreciation for their loyal following. And in return, the fans shower the guys endlessly with support... and great gifts! Scott recalls, "The coolest thing was, we got these sweatshirts from two of our biggest fans up in Minnesota." Aaron continues, "That's what I was just thinking. They are these hooded Champion sweatshirts with the letters 'Blue County' embroidered on them. It probably cost them around $200 bucks." Scott confirms, "It would have had to! They made one for each of us and one for each of our wives, too!"

Blue County really has the best of both worlds. On one hand, there are their abilities to harmonize with each other, write meaningful songs, and give engaging live performances. But, when it's all said and done, they also know what is really important, that being: doing right by the Lord above and by their families as brothers, sons, husbands, and fathers. Through it all, both of them hold those individuals who have helped them get where they are in very high regards. Scott sums up their philosophy, "Our fans, I have to say, are some of the most loyal, giving, selfless fans! They are really why we do what we do and we're able to do what we do." Now, that's cool.