By: Estella Pan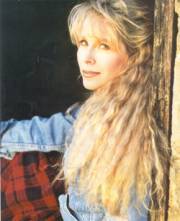 Music has many effects on its listeners – it makes you happy, sad, energized, angry, and lets you experience just about every emotion there is. It can also be healing to the soul. Paulette Carlson recently experienced this very mysterious magnetism of music, and it became the driving force for her return to recording music. The former Highway 101 lead vocalist also released several solo projects before she "pulled off the road" and settled in Montana to be a homemaker and a mother to her daughter Cali, who was, at the time, five years old. [NOTE: Cali is now fourteen years old.] Seemingly out of the blue, music came calling on Paulette in the form of her self-penned "Thank You Vets" – so much so that she owed "a really big responsibility to this piece of music. When a song comes to me like that, I know that I have a special song." She adds, "I've always been a writer; I started writing songs when I was about four. So [even though I was off the road], I continued writing songs and putting them on the shelf – but I just couldn't do it with this one!" Paulette's brother, who is a Vietnam veteran himself, inspired the song. "The day I wrote it, Gary was in the hospital; the war had finally caught up with him, and we thought we were going to lose him that day. I picked up my guitar that evening, sat on my bed, and 'Thank You Vets' just wrote itself in the matter of about ten minutes."
Paulette with a group of "Purple Heart" Vietnam veterans.
Paulette feels an infallible connection with those doing the mountainous duty of serving our country, because "the Vietnam veterans are my generation of fellows. They went off to war when I was in high school. My brother was seventeen when he joined the service. So, I remember what it was all about, and it was very hard on our servicemen. They were basically disenfranchised when they came back." Because of this, she feels that "We, as a nation, need to say 'thank you' to them, because the thank you's never came. I look around and see people organizing homecomings – there are more of these things going on now, and it's wonderful to be a part of that. It's been a long time coming, and I'm glad to see it's finally here." She stresses, "I was not in Vietnam. I could never say that I know what they went through and can feel their pain, because I don't know what they went through. I can only imagine."

Since the inception of "Thank You Vets," Paulette has been invited to sing at various occasions memorializing the fallen and honoring those still serving. She emotionally recalls, "At Operation Homecoming last year in Branson, Missouri, I was given the honor of singing the very first song during the weekend concert – before even the National Anthem. And I sang 'Thank You Vets.' I barely made it through, because I could see all the faces of the guys right in front of me. I get very emotional and I start to cry when I sing it for these guys, because they're very emotional. It's their song."

"Thank You Vets" isn't the first song that seemingly wrote itself for Paulette. She reflects, "On my Christmas album, I had written a song called 'Christmas is For You.' That song came in the middle of the night. I got up, went to the piano, and started writing it. Then, I went to bed, got up the next morning, and finished writing it. 'The Bed You Made For Me' also came very easily." [NOTE: "The Bed You Made For Me" was Highway 101's debut single and one that Paulette says helped define their distinct sound.] When writing songs, she's "very much a melody[-oriented] person. I enjoy writing light-hearted songs with cute lyrics very much. But, songs that really attract me are ones that say something, ones that can touch somebody emotional or where I can just really say it how it is. 'The Bed You Made For Me' was like that. I just said it how it was! I was mad at the fellow; I was just huffin' and it came out a very strong song!"
Click to purchase YOUR copy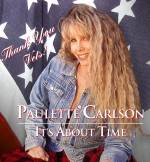 of Paulette's It's About Time CD
Paulette's new album, It's About Time, features twelve tracks – ten of which she wrote, including "Thank You Vets." She describes it as "a very country CD. [On one song], 'I Knew a Good Thing When I Had It,' people have said, That's Highway 101! It sounds like back where I left off, like what I've always done. And then, there are some uptempo ones and a Celtic song." [NOTE: The street date for Paulette's new album is set for May, but fans who want a jumpstart on new music can purchase their copies right off her website.] Basically, what it all comes down to is the realness of the songs that Paulette writes or chooses for her projects. She shares a story about her daughter's favorite song: "Of all the songs on my album, Cali's favorite is a song about a young married couple. He's going off to war and she's staying home. The title is 'She Rides For the Brand.'" You might be wondering what does "ride for the brand" mean?! According to Paulette, "That's an old cowboy saying – whichever outfit you rode for, you were loyal to them. That's what the song is about. He's off to war, she's a mother and a wife, and she loves and supports her husband." Isn't that a little heavy for a fourteen-year-old? "I have a few songs that are country-rock, and I would have thought she would like those. But, 'She Rides For the Brand' is real, and that's her favorite." I guess you can chalk that up to the power of music!