By: Estella Pan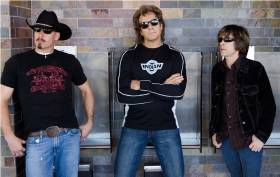 (l to r): Dave, Henry, and Anthony
Timeless classics such as "Goodbye Says It All" and "Every Once in a While" made BlackHawk a fan favorite throughout the 90s. Though momentum slowed when Van Stephenson was diagnosed with melanoma in 1999, fans continued to embrace Henry Paul's distinct vocal phrasing and Dave Robbins' forte in playing ornate passages on the keyboard. After Van's untimely passing in 2001, Henry and Dave took some time to regroup; meanwhile, "Days of America," from their Spirit Dancer album, struck a deep chord with listeners all over the nation. Their newest member, Anthony Crawford, joined Henry and Dave in 2003. Anthony brings to the table his well-rounded musicianship (he has mastered the guitar, banjo, dobro, fiddle, and basically, any stringed instrument you give him!) and his knack for writing great songs (his tunes have been recorded by the Nitty Gritty Dirt Band, Lorrie Morgan, and Kenny Rogers). They recently signed a new deal with Rust Records and with their pooled years of expertise in singing, songwriting, and musicianship spanning over three decades en tow, all three members of BlackHawk are excited about the music they're creating these days! A brand new single hits radio airwaves next month, and a full album will release later this year.
Henry Paul on guitar
Henry, Dave, and Anthony's individual musical influences vary widely, but each has an appreciation for various aspects of country music. For Henry, who prior to the forming of BlackHawk fronted The Outlaws and The Henry Paul Band, it is "the very real character of it, how it mirrors life closely." He likens it to a "John Steinbeck novel of music – it's very graphic, intricate, and detailed lyrically. I love acoustic instruments – acoustic guitars and mandolins. [It was] real and very appealing, musically. It was a mystery; I didn't know how they did it." Henry was influenced by the likes of Flatt & Scruggs, Johnny Cash, Merle Haggard. "The Everly Brothers – that would be a good starting place for me. Artists who released albums after Elvis: Bobby Tillis, Bobby Vinton, …" to which Dave point outs, "There are a lot of Bobbys who have been significant [to music]!" This is true if you think about it – there's Bob Dylan, Bob Marley, Bobby Rydell, and on and on... Continuing his train of thought, Henry Paul excitedly recalls, "I'll tell you a guy who really killed me! Gene Pitney – he would open his mouth and the noise that came out of it would sound like a Fender Strat – I just flipped on that! And then, when the Beatles came out, they had the cool three-part harmony and this cavalier-aggressive guitar-driven style. After a while, I was so consumed by the idea of loving and making music to the point where I wanted to make music."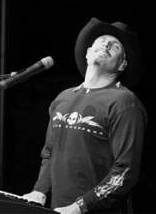 Dave Robbins on keys
Unlike Henry, Dave has gained a gradual appreciation for country music through the years. He admits, "I wasn't exposed to country music a lot growing up; I listened to pop music. But I've learned and grown to appreciate and understand it more. When I was a kid, I wasn't really all that into lyrics. I was into getting hooked by the melodies and the production more than anything else – and being a keyboard player and learning how to play the piano, I've naturally gravitated toward those kind of bands. I listened to a lot of Billy Joel and Elton John. Kansas was a big influence for me – melodies and all these passages" (he mimes playing elaborate passages on the keyboard). There were some southern rock bands that I really liked and gravitated toward as well – Lynyrd Skynyrd and Allman Brothers." Having been a piano major in college, "part of my requirements was being exposed to a lot classical music: Baroque, Romantic period, and 20th century music. I've got the radio in my truck tuned to the Public Radio station, because I love that stuff." (Anthony animatedly sings what would resemble a dramatic classical symphony.) In fact, when Dave made the move to Nashville and began collaborating with songwriters, he admits, "I wasn't a lyric writer! In a writing session, [other writers would say], 'You just play. Play that melody again; that was awesome!' I learned a lot about lyrics and have learned to appreciate great lyrics."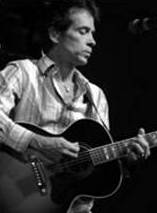 Anthony Crawford on guitar
Finally, there's Anthony who, though he has been around country music all his life (he is from Alabama), has also found appreciation for the genre in a roundabout way. "My early influences would somewhat echo both Henry and Dave's, but I've always seen myself as something removed from this town. I was working with other people from outside the business here, and I think I reluctantly started to embrace [country music]; now I really love it!" He expresses the reasons for his love of this particular genres of music: "What I love about country music is that... there's an element of truth to the acoustic vibrations that come out of the instruments. I have 1948 Gibson J-45 that has been played by someone before me, and I can still pick that instrument up more than any other and know that there's something speaking out of that wood." Dave says, "I love good music – any kind of music," and it's that very open-mindedness to various styles of music that puts "BlackHawk music" in a category of its own.
Speaking of music style, Anthony pinpoints what makes BlackHawk's sound unique: "You get a guy who sings like Henry and you get guys like me and Dave who have the knack for singing harmony to a singer like Henry – that's where the sounds comes from. Although we're not [always] hitting what a lot of other people consider to be country music, what we have is great harmony and exciting rhythm together. That's what I love about it – I love the rhythm of what we're doing!" Henry sums it up: "The three of us share a musical vision, and we love being true to that. We're cool with our own musical and lyrical spin and it comes from so many different places."

For devoted fans eagerly awaiting new music, Anthony shares tidbits about their upcoming release. "If you like BlackHawk, you're gonna get an unwatered-down piece of work that didn't come from outside musicianship. We have a compilation of songs that has taken three years to put together." He contends that "there's really no way to put your finger on it, but there's something mystical about the lyrical content. Although we have harmonies and the melodies are really 'country' – we've got banjos and mandolins in there – there's something that takes you on a journey that's not sandbagging [our music] to a particular time period. It's like certain models of cars that just never seems to get old" – to which Henry quips, "We like to call our music clas-hick!" More seriously, he credits their audience's "ability to discern the difference between 'real' and 'make-believe.' I, personally, put all my faith into their ability to 'get us,' because if you underestimate them, you're short-changing them and yourself. Forget a hit. If you put something good on the table, they're going to find it!" He affirms that "the charts is not what this is about. It's about the three of us making a living making great music that's album-oriented country rock!" Dave adds, "The beautiful thing about this group is, like on the new record, [even though] we do come from so many influences, we don't feel like we've compromised who we are to do something."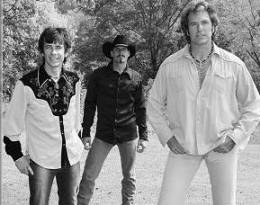 (l to r): Anthony, Dave, and Henry
Which brings it all back to what is the foundation behind BlackHawk's musical existence. Anthony puts things into perspective: "Van, on his last few days on earth, told these guys to keep it going because there's a lot of music left and also to try to help find a cure for cancer – that's what we're doing. We have the Van Stephenson Cancer Research Fund set up in his honor where people can donate to, and the music is alive! If we have a hit at radio, that's great, but it's not why we're out there." Henry adds, "Every night, we talk to our audience about Van's story and people relate to the heartache. The cynicism part of it has been distilled; it's out of our professional and personal lives. Look, I'm no saint, but I want to do something in my life that matters. If all I do is try to do that, that's enough." On that humble note, get ready for BlackHawk to soar to new heights!