By: Estella Pan


Fred Gill (or "Two-Food Fred" as he's known by many) is a rare breed. His website header loudly proclaims the phrase, "SIZE IS MERELY PERCEPTION," and within seconds of meeting him, you will find that it's true. Though he stands just three-foot-two, his charismatic personality is literally larger than life! I caught up with the always-upbeat Seymour, Indiana native during the 37th Country Radio Seminar (CRS). Despite his extremely hectic schedule during the week, every time I saw him, he always had a smile on his face. That's just the way Fred is – then again, he does have more than plenty reasons to smile these days!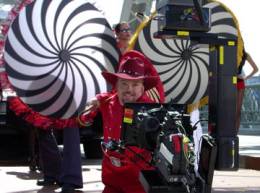 Fred in the "Save a Horse (Ride a Cowboy)" video
In the last couple years, Fred has become a popular and prominent fixture within the MuzikMafia. [In case you were wondering, "MAFIA" stands for Musically Artistic Friends In Alliance] He reflects on how meeting John Rich (one half of Big & Rich) allowed him gradually more involvement with the MuzikMafia: "I met John probably about '98 or '99 here in Nashville during the CMA Music Festival. I was out on the town and ran into him at a local drinking establishment." Having exchanged e-mail addresses and kept in touch, Fred received an e-mail from John in mid-2004, about participating in the then-new duo's video. He agreed with an enthusiastic, "Absolutely! Tell em when and where, and I'm there!" He made the trip to Nashville to film "Save a Horse (Ride a Cowboy)" with Big & Rich and as Fred puts it, "pretty much, the rest is history!" [Fred has also made cameo appearances in the duo's "Comin' to Your City" and "Big Time" videos, plus Gretchen Wilson's "All Jacked Up," Cowboy Troy's "I Play Chicken With the Train" and Cledus T. Judd's "Paycheck Woman."] With the first episode of Nashville Star 4 slated to premiere in a couple weeks, look for Fred is just about to get more TV time – he is has been tapped as the backstage correspondent for the upcoming season of the popular show, which will air on the USA Network.

Even before his MuzikMafia days, Fred had already established a reputation as a thriving entrepreneur. Back in Indiana, he, along with his brother Toby, owns and runs Funkey Monkey, a happening bar, and a real estate development company – or as Fred jokes, "I say 'together,' Toby would say, 'You're in Nashville all the time; I don't know where the together part comes in!'" Of his real estate company, Fred says, "Right now, it's more so a rental business. We own and operate 183 rental properties. But, we've also in the past built rental properties." Then, there's his line of spices, Phat Freddie's Seasonings. He explains what inspired the inception of his happening product: "Funkey Monkey wasn't always a bar. It was a full-service steakhouse at one time. I would go in the afternoons to cook my dinner and mix the various spices. Well, I came up with a couple [mixes] that were pretty good. I went to a local spice company [run by] people who did business with a lot of integrity. I wasn't worried about them stealing it, so I asked if they would mass-produce it." He points out that "they do all my manufacturing for me, so that I don't have to be in my kitchen putting the spices together!"
Fred at CRS-37
As for hobbies, Fred says, "I don't really call it a hobby, because everything I do relates back with what people would call work. But, I love to do video editing. To me, it's not 'work' if it's fun. There are a couple videos on my website and they were written, shot, and cut by me. I really enjoy it! I've spent hours and hours on the computer working on that stuff. The next video I shoot will be 'She Thinks My Tractor's Sexy.'" Shooting will likely begin in early summer, and Fred is promising "all kinds of wild stuff!" However, you'll have to stay tuned to his website for the final cut! So, does this mean Fred will start up yet another company – this time specializing in video production? "I've thought about it. I probably will end up doing that." If it happens, he could potentially help his MuzikMafia buddies out with their videos!

Speaking of his involvement in the music business, Fred recently made his home in Nashville. "I went to a psychic about seven or eight years ago who told me I would meet gentlemen who would change my life forever and that I would move to Tennessee. At the time, I was knee-deep – actually, I'm three-foot tall, so that would be head deep! – in business in Seymour. I was so entrenched that I was like, That'll never happen!! Sure enough, over the last two years, I've gradually been down here more and more to the point where with gas prices, it was really cheaper just to stay here."

When I asked him to share something interesting about himself that nobody would know, he offers a few tidbits: "I don't know how interesting it is, but I'm a real fast text messenger. Also, I listen to a lot of audio books." The reasoning behind this, Fred explains, is, "You can't really read books on the bus – it's bouncy so it's really hard to read on the bus. Plus, you can't really take a lot of books onto the bus. But, I love my iPod – I can put as many [audio] books as I want on there!" Any particular subjects of interest? "I'm really starting to get into people like Benjamin Franklin and Einstein – all you hear about are their successes. But, there's a failure side and willfulness to them that nobody really knows about but that made them who they were – that's really interesting!"