By: Estella Pan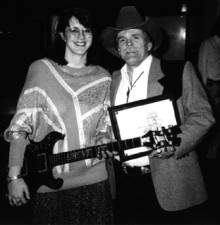 Lisa with Johnny PayCheck in 1992
Lisa Wysocky's love of horses, writing, and country music have afforded her many fulfilling life opportunities. Now, this longtime publicist to country music clients, motivational speaker, author, and mother is sharing those experiences in her third book, Success Within. [NOTE: Lisa's other books are: The Power of Horses and Front of the Class.] When a severe injury (a mare fell on her knee) stinted her promising career showing horses more than twenty years ago, Lisa began groundwork for what would become her own public relations firm, White Horse Enterprises, representing Paul Overstreet, the late Johnny PayCheck, and many other country music recording artists. "I started as a horse trainer, and was fortunate enough to be at the national level, training horses and winning championships for my riders and myself. When I switched to country music, I found that if my artists had a media day, with twenty-two interviews in one day, I really had to motivate them to get up in the morning and go through the day with a smile on their face. So, I would come up with these activities for my riders and my celebrity clients to make it fun. Along the way, they would say, 'I had the best time today! That little thing you had me do was just awesome!'" She continues, "I've been [doing motivational] speaking, off and on, for about ten years to corporate clients and associations, just bits and pieces of what's now become Success Within. So, my agent said, 'You need to write that book.'"

Lisa chose to focus on ideals that would definite true success. "Being around a lot of celebrity clients and people with horses who have a lot of money and watching a few of those people treat others poorly led me to believe that just because you have a lot of money doesn't mean you're a success. If you treat other people like they're the jerk, then really, you're the jerk." That and other principles soon became the basis for Success Within, which includes a collection of exercises she had applied in her life and shared with the people around her for over thirty years. Keeping things simple, short, and concise was key. Lisa shares, "I really wanted to write a book that was very easy to read, because people are really busy. I wanted someone to be able to sit down and, in three pages, they could get the concept of what they were supposed to do for that week." Success Within is structured with fifty-two chapters – each with a different activity – and organized into three sections. But, that doesn't mean you have to read and apply the concepts of the book in order. Lisa explains her reasons for this particular setup, "I wanted to write a book that you could do front-to-back, or that you could open it to page 52 and get something out of it." She continues: "[I've found sometimes that] people aren't ready for self-help books, because their self-esteem is so low. I wanted to include things that would make people feel great about themselves at the beginning of the book. So, the first part of the book is exercises that I've had either my rider or clients over a thirty-year period that just makes you feel great! The second part is a whole different set of exercises, and the third part is about helping others. These exercises that ended up being included are the ones that people would come back and say, 'That was fun' or 'That changed my life in some way!'"
One thing that makes Success Within unique from other self-help books is the fact that Lisa shares some of her own very personal experiences. Was this a scary step to take? "It was a surprise! When I had the first section done, my publisher came down and she asked if she could read the first quarter of the book. She said, 'You're hinting at things in your life; you really have had some interesting [life] experiences and you need to put yourself in the book. This, however, was new for Lisa. "I was trained as a journalist – I worked six years at the Nashville Banner – and journalists keep themselves out of their stories." Though she admits "that was tough for a while," she also found a certain in sharing her experiences: "It was like the floodgates kind of opened, and it was very therapeutic in a lot of ways! I realized that through the experiences I've had in my life and the mistakes I've made, that maybe those can help other people. I think, through realism, to know that I, my son, and my clients have had [very real] problems, we've found a way to make lemonade out of lemons."
Now that the book is available for purchase, what does Lisa hope her readers will get out off Success Within? "I hope they will find the greatest moments of their lives with their families and their friends. [When I was at] the Nashville Banner – I covered three counties, and wrote three stories a week, one from each county. After I'd been in one county for six years, it was kind of difficult to come up with new stories. So, I hit on the senior citizens center, because I thought these are elderly people who have a ton of stories to tell. One thing that I got from it was that these people weren't excited about the jobs they had or the people they knew through their jobs. They were excited that their kids and grandkids were doing well. And, they were excited that they helped somebody built a house after their house burnt down. I thought those are the 'greatest memories' of these senior citizens' lives! We all too often get caught up in things that we forget those great moments." She also hopes that her book will give her readers hope and encouragement. "If you hear stories of somebody who's going through a hard time, then you can say, 'You know, my time isn't so tough, because so-and-so had a much worse time and is now doing well – they got through it.'" When it comes to encouragement, Lisa applies one of the activities mentioned in her book; she explains, "Whenever I'm having a bad day or whenever I'm feeling down, [complimenting others] is the one thing I always do, because it always makes me feel great!"
Success Stories


Click to purchase YOUR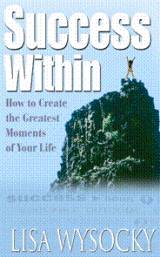 copy of Success Within!!
How exciting is it for you to have written a book and to be hearing great feedback from your readers?
Lisa: Oh, it's amazing! One of the things in my book is the importance of having an Adventure Day. It's basically where you take an hour to go to somewhere you've never been to before. [Success Within] just came out at the end of August. I was at a book convention in November, and two readers came up and said they'd just gotten the book when it had first come out. They took an Adventure Day – they opened up a map of the United States, just picked a spot and decided that's where they were going to go for the weekend. Well, their finger ended up in the Atlantic Ocean. They thought, Well, we can't go to the Atlantic Ocean, but the nearest city is New York City. So, they bought some plane tickets to New York City and had no other reservations anywhere. These women were in the late-fifties, probably. They said, "We didn't know what we were going to do. We just took a taxi to Manhattan, got out, and heard some music coming out of this club." So, they walked in and on stage playing the clarinet was Woody Allen! They said the rest of the trip was fun but it didn't compare to seeing Woody playing the clarinet on stage! Those are the moments that, at a hundred-and-six-years-old, they'll still remember that! I was so glad to be a part of that, that I had encouraged them; stories like that just touch my heart!

Having been a publicist to country music clients, are you a country music fan yourself?
Lisa: Absolutely! I was a fan of country music when I first started showing horses, because during the warm-up times and lunch breaks, that's what they would play! Actually, when I first started [showing horses], I was twelve, and they had a little 45. On the front of it was Johnny Cash's "I Walk the Line" and on the back was Tammy Wynette's "Heartaches By the Number." Those are the only two songs they had and they played them over and over for years – every weekend, I would hear those two songs! Not that those songs weren't great, but when I went to college, I realized there was more to country music, and that I could really expand my horizons. I trained horses from the time I got out of college for the next eight years, professionally. Then, I had an accident, and I couldn't ride at that level anymore. By that time, I was such a fan of country music that the only other thing I wanted to do in life was be part of the country music industry. So, definitely, I'm a fan of country music, and I'm a fan of the artists, the songwriter, the musicians. One thing I've learned is the artists are so much more accessible to the fans than any other genre of music.

What is something interesting about yourself that nobody knows?
Lisa: I'm really very shy. I've gotten much better at it, but I do have bouts of shyness and insecurities about meeting people in certain situations.

How does your shyness affect your public speaking?
Lisa: You know, sometimes, it's easier for me to speak to fifty people than it is to two. I'll pick out one person in the audience who looks really friendly and speak to them. I do my best to put myself at ease, but a lot of times, I'm still a little shy.
Lisa with Nacho, a Haflinger gelding
she works with at Saddle Up!
Tell us a little about Saddle Up! – what the organization does and your involvement with it.
Lisa: Saddle Up! is a therapeutic riding program for disabled children located just south of Nashville. It is affiliated with NARHA (North American Riding for the Handicapped) and is one of over 250 NARHA certified or accredited centers nationwide. Saddle Up! is one of a handful of centers that only serves children; most centers serve both children and adults. I am the Equine Trainer there, and my responsibilities include overseeing the behavior, conditioning and training of our more than twenty horses. I am only there a few hours a week and have help from several dozen trained volunteers. It is very rewarding to see how the horses make such a difference in the lives of these kids; and is my way of using my background and interests, and giving back all at the same time.