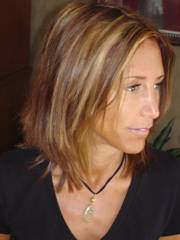 Estella: You've been writing and arranging music for quite some time. When did you consciously know that you wanted to pursue songwriting as a career?
Annie: Maybe when I was sixteen or seventeen. I was [a member of] the Bondinis, which was an accapella group. We sang accapella songs on the sidewalks of New York. We did that in the spring, summer, and early fall. But by winter, we wanted to stay together, so we decided we needed to write our own songs to perform in nightclubs. I always loved writing songs, but I was afraid to do it as a career. It was when I tried other things that I [realized] I should go into songwriting. And, I would have [pursued] it first, but it's scary and the odds are not in your favor. But I had no choice, because my spirit wouldn't let me do anything else!

Estella: Then came several #1 hits!
Annie: Yes. The first one was Diamond Rio, then "This Kiss," then Trisha Yearwood's "The Goes My Baby," Jo Dee Messina's "That's the Way," Tim McGraw's "Unbroken."

Estella: Do you remember the very first song you ever wrote and what it was about?
Annie: No, because I wrote songs from the minute to learned to play the piano. I just didn't know that that's what I was doing. I remember the first song I wrote completely. While I was with the Bondinis, we were talking about becoming an original band, so everyone was told to go home and bring back songs we'd written. Well, I hadn't written anything, so I knew that I better write some things to show them! That's when I wrote "One Your Side."

Estella: What was the first song you ever had recorded by another artist?
Annie: I wrote news and sports show themes, so I had a lot of my stuff on television early on. But, in terms of hearing my songs on the radio, the first song I ever heard of mine on the radio was called "Angel in the Night" by Phil Perry.

Estella: What is it like hearing yourself on the radio?
Annie: When it first happens, it's unbelievable! It's like, "Oh, my gosh, they're playing my song!!" It's one of the great rushes in your life! I never get tired of hearing [my songs] – I'm always just as excited every time I get a new song that's on the radio.

Estella: Is it exciting to have many of your songs become #1 hits?
Annie: When your song hits #1, that's fantastic! But, the truth is that there's not much difference between how much they play a #3 and a #1 song. There are other factors that go into making a song #1 that the songwriter doesn't have that much control. It's interesting with a great song – if [an artist] releases it as the first single of a new album, it would be a #1. But, if he or she releases the same song as the third or fourth single from the album, it might be a #3 charting song. For example, I had "If My Heart Had Wings" by Faith Hill and "If I Fall You're Going Down With Me" by The Dixie Chicks. They were released at the same time, both were songs deep into their albums, and both went to #3. I really believe that had either of them been the first or second singles from their albums, just the momentum of the album being new would have been good enough for them to go #1. Because I certainly consider them as catchy as any song I've ever written. Even though it's a blast having a #1, sometimes it's just as fun having a #2 or #3, because people hear it as much.

Estella: Having gotten started in New York and later moving Los Angeles for a while, what made you decide to move to Nashville?
Annie: There were great, great, great artists here at the time I was thinking about moving! Mary Chapin Carpenter, Patty Loveless, Trisha Yearwood, Lucinda Williams, and Steve Earle were big. There was just a lot of great music coming out of Nashville. It was a combination of wanting to be around that kind of music. Also, I went on a trip that Miles Copeland used to invite writers to in France. When I was there, I met a lot of writers from Nashville, and they were all so fantastic, so fresh, and so much fun that I was very attracted to going down to Nashville right away to write with all of them. The third thing was that – at the same time those two things were happening – in Los Angeles, a lot of the music had become producer-driven, meaning that Babyface was writing a whole album for Whitney Houston. I do music, so there wasn't really a need for me on a Babyface album or a Mariah Carey album where the producer did all the music on. There were fewer and fewer opportunities and it was like a perfect storm – all those three things happened at once. So, I found myself in Nashville, and it's been incredibly good to me!

Estella: What is it about songwriting that you enjoy the most?
Annie: It's very physical and I can express intense emotions in a very short period of time. Let's say you listen to "Ain't No Mountain High Enough," the emotional feelings that you go through listening to that song for however long it is, let's say three minutes. I used to think I wonder why life isn't that exciting?! I was always driven to records, 45s, and any kind of music!

Estella: Who were some of the artists you grew up listening to?
Annie: I grew up listening to The Supremes, who I thought were awesome! When I got older, I listened to James Taylor, Stevie Wonder, and Laura Nyro. I always listened to mammoth amounts of Motown, Urban, and R&B music. But, the first person I connected with, country-wise, was Dolly Parton, because I grew up in New York, and there wasn't a country station. I would only have access through pretty much what was on TV. And, the two country artists I ever remember seeing on TV were Johnny Cash and Dolly. With Johnny Cash, I didn't quite "get" him at age seven or eight. But, I "got" Dolly the first time I saw her.

Estella: In your opinion, what makes a "great song"?
Annie: To me, a great song takes you inside a world – be it a story or a very focused emotion – and keeps you there. It's like when you go see a great movie and the whole time you don't know that you've been sitting for two and a half hours, because your attention never wavered once. A great song is like that, and you become what the song is expressing, because you completely tap into those emotions or stories.

Estella: One of my favorite songs of yours is "Good Time," which you co-wrote with Jessica Andrews, who also recorded it.
Annie: Really?! Thank you for saying that. I know why they song wasn't a bigger hit, in my opinion. The timing of it was when things were getting more conservative. It was also a risky song, because it had many rhythmic changes that I think it was a tough single for country radio. But, I think it's a really, really fun song, and it accomplished what it was trying to do. To me, a playlist that has rules where it can't do this or have that – it is, in the long run, quite harmful for any given genre, because you've boxed yourself in and at the same time discredited your audience.
"This Kiss" is honored by ASCAP!!!!
Faith Hill, Annie, and Beth Nielsen Chapman
Estella: "This Kiss" is a song that you co-wrote and Faith Hill recorded. What inspired it?
Annie: I was sitting on a beach in Malibu with my friend Robin Lerner. I had a little keyboard over my lap; I turned on a beat, and I just started playing a melody. Then, she had this great idea lyrically and then Beth Nielsen Chapman, who "sealed the deal," so to speak. It was us sitting on the beach with this song, looking at beautiful guys walking by. One of us was a divorcee, one was a widow, and one was a hard-working woman – none of us were particularly looking forward to the process of what you go through when you start dating again. But, all of us had guys on our minds and we got into the whole history of our favorite kisses. That song was like "This is what I want and I hope I don't have to go through a lot to get it!"

Estella: There's always wishful thinking, right?
Annie: Right! That song was our ultimate fantasy in wishing thinking!

Estella: Did you have any inkling at the time you wrote it that it would become this huge phenomenon?
Annie: Robin did, and I think Beth thought it could be a hit, but I never did. I can't speak for Beth, but I remember Robin saying, "I think this is the best thing we've ever written!" And, I was like, "Oh really?" I was so oblivious! I knew I loved it, but you never know what people end up loving.

Estella: You could think a song was a hit but then other people have a different opinion about it.
Annie: Exactly! I have a few songs that have never been cut that I think are great songs! So, it's hard for me to say that something is going to be "big" or "not big." Much of it depends on the right demos, the right artists with the right record label at the right times in their careers – [there are] so many variables!

Estella: Plus the fact that it's an ever-changing fast-paced industry.
Annie: That's right! It's a good question as to whether somebody would cut "This Kiss" in today's market; it is very pop. It was Faith's first pop-crossover hit, and we were beyond thrilled! But actually, Bette Midler had called and asked us to record it and she asked us, "Has anyone else asked to record it?" We said, "Faith Hill, but she's a country artist." Well, Bette and Faith were on the same label and [the label] told her, "Sorry, we're going to cross this over for Faith." We were as surprised as anybody!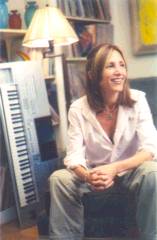 Estella: Do you always write songs on the piano?
Annie: Yes, or any keyboard. I learned to play as soon as I could reach it. I was about three or four years old.

Estella: You've had the opportunity to write with some of the greatest writers like Craig Wiseman, and we talked about Beth Nielsen Chapman earlier. Is there anyone you haven't worked with but would like to?
Annie: I've never written with Kim Richey, Sheryl Crow, Stevie Nicks, or Mariah. Also Madonna and Janet Jackson – they're all great writers! I think Mariah is very underestimated as a writer. I was so extremely proud of her for coming back so huge! And, I wasn't surprised, because she's so talented that is hard to keep somebody like that down. If you look at her history, even though she had those couple years that were tough for her, she's written all her hits! So have Madonna and Janet – these are women that have had incredible careers writing their own songs! I can't impress upon people how hard it is to have constant #1 songs over two and three decades – it's extremely difficult! And, for a writer who is not an artist, it's even tougher. For example, Madonna can write a song and go, "That's my next single" and put it out. Whereas if she had to take her song and pitch it to somebody, she'd be at the mercy of whether that person understood her song and somebody else would decide if and when it would get released. As a writer, you're so thrilled just to get a song recorded. But sometimes, a song comes out sounding more superficial, for example, than you might have written it – and people associate you with what they've heard. But, that's part of the tradeoff for having the privilege of being in the business in the first place. Artists-songwriters have an advantage over writers in terms of how the world ends up hearing a song. But, when you first write the song, there's really no difference at all.

Estella: Over the years, you've written sports themes for TV, movie theme songs, and had #1 hit songs. What has been the coolest experience so far?
Annie: That's almost impossible to answer! It may have been writing with Mary Chapin Carpenter. I had her last hit called "Almost Home" off her Party Dolls and Other Favorites album. It was a pretty thrilling experience for me! Playing "I Can't Make You Love Me" with Bonnie Raitt – I was on the keyboard in Sedona, Arizona. That was petrifyingly fun! Another #1 truly great moment in my career was playing "Midnight Train to Georgia" with Gladys Knight two times - once just me playing and her singing, no other band. That was beyond a dream come true, because there is no finer singer than Gladys Knight!! Getting to work with two heroes was also great - the first being Laura Nyro, the second Bette Midler. All these artists have had such a profound impact on my life, and to either be able to give them something back in return, or just sing with them - there's nothing greater than those kind of moments!

Estella: Are there songs of your that have recently been recorded that fans can listen for?
Annie: I have two songs on Jamie O'Neal's current album – the title cut, "Brave" and "Ready When It Comes." I also wrote "Calling Me" with Craig Wiseman called that Kenny Rogers and Don Henley [NOTE: of The Eagles fame] sang a duet on. I was told it would be released in March of 2006. It's pretty exciting to have an Eagle sing your song!