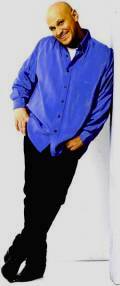 Estella: You've got your first single from the new album releasing soon. What is it about?
Kevin: The song is called "Your Love Reaches Me." I think the title alone describes that no matter where an individual is in his or her life, they are reached by those who love them. Actually, the first time I heard it was through Darla, a girl I met through the Make-A-Wish Foundation. She wished to record with me, and that was one of the songs she picked. This was several years ago, and I've always remembered this song and always wanted to record it. It's got a little bit of history and special meaning to me.

Estella: Are you excited about getting back on the radio?
Kevin: I am, and scared to death!

Estella: Why's that?
Kevin: Well, I think radio has changed a lot, even in five years. It's a lot different, and I think it's a lot harder to get a slot in airplay. It's a little bit intimidating, but I have confidence in the song and everyone at my label [Cupit Records]. We've got what we need to have to take to the fight, so the rest is in their hands. It's a very scary undertaking.

Estella: Are you apprehensive about returning to radio?
Kevin: Yes. I love to make music, and I know I can't ever change that; I will always make music – it's just a part of me. It's not that I don't enjoy [what I do] and have a wonderful time meeting people. But, I don't really like to pick up the Billboard every week to check to see where I'm at [on the chart]. That end of it is tough, and it can kind of get in your head and ruin some of the fun.

Estella: You're currently working on your new album. How will this one be different from your other albums?
Kevin: The craziest thing about it is I'm written half of it, so that in itself makes it a lot of connecting to me – a lot more special. As far as direction goes, I wouldn't consider it anywhere out of line – left or right – to what I've already done. But, I definitely feel like it's much more a part of me, which I think is a priceless thing. Especially in these situations when you can support and really believe what you're saying about it!

Estella: When you began working on your upcoming album, did you have a specific vision of where you wanted to go with it?
Kevin: For me, it's a feeling you get in the process. My technique of contributing to the producing end of it is I like to paint a picture of what I see or feel, so I tell the [session] players that and hopefully, that inspires them to play [the music] the way I see or feel it. Like, if there's a song that I envision different players out in the woods and one starts to play, then another joins in, and slowly all the players come to uniform. That's how I saw it in my head, so that's what I described to them. I think having those visions and pictures in their heads can ultimately come across the way I see and feel a certain song.

Estella: What type of songs can fans expect to hear on it?
Kevin: Part of the excitement of this album is, I think, it's covered every base. Being able to write so much of it, I was able to put a song on there that I wrote for my father, which was really neat. There's a song called "Working Man" that we haven't even finished yet that I think as far as uptempo and fun songs go, it may be the best song we've ever recorded!
Click to buy YOUR copy of "Disney Present Wishes"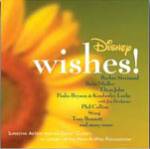 Proceeds to benefit the Make-A-Wish Foundation!!
Estella: The last time we spoke, you mentioned writing a song called "Make a Wish." Will that be on the album as well?
Kevin: It sure is! Not only is it on my upcoming album, but as of May 3, Disney will release Disney Presents Wishes [NOTE: a compilation album]. It's an honor, because all the other artists on there have sold like gazillion records – Elton John, Celine Dion, and Bette Midler! But most importantly, it's neat to be a part of something that is contributing to the Make-A-Wish Foundation, which is obviously close to my heart.

Estella: How does it feel to be included in a project alongside such esteemed artists?
Kevin: That's what is so neat about it is being included with all them! What kind of opened the door to that was me already being in discussion to do a movie about my life. Hopefully, this is the beginning to more relationships with Disney, because I think my story fits well with what they try to accomplish in film and their other products – in terms of a more family-oriented direction. I'd really like to continue to be a part of that.

Estella: Aside from music, you continue to server as an inspirational speaker. When did you start doing that and what prompted you to do so?
Kevin: I've been doing it for a few years now, and I don't really know exactly when I started! It was something I kind of stumbled into accidentally, but at my appearances, people were always asking about my story. I think part of the reason I said "yes" to making appearances as inspirational speaker is hearing [my story] told wrong so many times, it gets on my nerves! Even today, every time I go to an interview or radio station, when they repeat back to me, it's completely whacked – which is normal; it's true with anybody – everything gets confused. That's happened in life since grade one – by the time it gets around school, it's a whole different story! But, the need and the want to tell it accurately is why I wrote my book [Tragedy's Gift] as well as. It's really neat to be in a room – regardless of how many people there are – and they literally listen to every word I say. I perform as well, so it's not like I'm missing or stepping out on anything. To me, it's all part of the same performing desire, so I really enjoy it, and I think people in similar situations that I've been through can benefit from it. It's an amazing experience!

Estella: With your new single and your forthcoming album soon to follow, what are you most excited about?
Kevin: You know, I am excited to be able to physically handle in my hands product! It's frustrating when people continually ask, "Do you have anything new?" Even though I haven't been on the radio for a while, I've still been making music. Being able to say, I have something that you're actually going to be able to buy – because so many times, things work start, only to decline. You'd say, "We have a new album coming out in three months." And, it didn't. So, it's exciting to know that I can tell people with confidence that this time, they are actually going to see something in print, then visually be able to see it and play it and listen to it! I think, also, being a part of Cupit Records. They've been around for a few years already, but they're still growing – and to be a part of that process and to grow together, that in itself, is a unique and exciting experience that creates energy that you may not find at any other label.
Kevin and Traci Sharp's new love...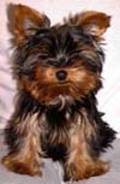 Sir Charles Barkley
Estella: What is something interesting about you that your fans may or may not know about you?
Kevin: I think I've given all my secrets – I guess most recently, I've come to love dogs. My new best friend is a dog – a four-pound Yorkie – most people who've known me wouldn't believe that would ever happen. That's probably the most unique thing to know that I've fallen in love with a dog that actually, I bought for [my wife, Traci]!

Estella: What is your dog's name?
Kevin: Barkley. It's actually Sir Charles Barkley, after the basketball player. You'll have to ask her about that! (points to Traci)
Traci: I thought our little dog needed a big name, so it wouldn't have a complex!