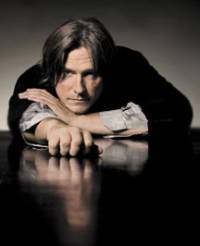 Estella: You have a new album called Let Them Be Little. How is it different from all the other albums you've made?
Billy: This particular album has a lot of the last seven years of my life's journey [on it]. It's a lot more passionate, and it's really reinforced my career as an artist. Family is something that's really important to me – I have two kids, and I've got a fiancée that I'm getting ready to marry in a couple of weeks. There's a song on my album called "This is the Life." Back in the 90s, I thought "the life" would be to be a big star, make a lot of money, and travel all over the world. Once I had kids, I started downsizing and taking time to hang out with them. Now, I find I'm able to have both worlds – I have a wonderful career that allows me to see the world, but I'm also able to have the time to live a "normal" life with my kids; I've found that is the life for me. So, with this album, there's a story behind it, where as some of my other albums were about trying to record the best songs so I could jumpstart my career. Now, it's more about sharing some things that I've been able to learn since I've been out of the spotlight with my music.

Estella: Not having had a single out for a few years, were you at all apprehensive about returning to radio and television?
Billy: I didn't think that country radio and media would let me back in, since I'd already had a good run. But, it was my fans out there who really sent a strong message to radio and television that a lot of them were still interested in new music from me. It was really touching and moving for me, because it just goes to show the loyalty of fans is very strong in country music, maybe stronger than any other format of music.

Estella: When you started working on the current album, did you have a specific direction for it?
Billy: I knew, musically, I had to reinvent myself musically to fit in today's country music format. I knew I wanted to offer radio a different music style than maybe most of my fans have been used to in the past. I got to produce, which is something that I'd never had 100% control over until this album. I think, largely due the fact that I started paying for this album myself before Curb Records got involved, they went ahead and let me finish it as the producer. Energy was a really important part of this album, and "Thank God I'm a Country Boy" was an experiment to be able to do that.

Estella: What made you want to record "Thank God I'm a Country Boy"?
Billy: Lyrically, it epitomized what I'd been doing and how I've been living the last five or six years. I have a farm outside of Nashville and am very thankful that I'm able to raise my kids out in the country, to have that kind of a lifestyle. "Thank God I'm a Country Boy" said everything that I had been feeling about being a parent and being able to move away from the city and the chaos that you sometimes encounter in the city. It was a chance to really sing about where I've been for the last few years as well as remake a classic and pay homage to John Denver, who I feel has had a great impact on music in general.

Estella: Were you intimidated about remaking a classic hit?
Billy: I didn't see it as me being sacrilegious enough to cover a John Denver song. I wanted to commit to doing the song the way that I heard it and the way I thought it would fit at country radio. To the John Denver fan base out there, it may be a little sacrilegious to them. But, I'd met John at the GRAMMYs in the early 90s and got to spend a little time with him – I was a fan! I have to say I was a closet John Denver fan! (laughs) This song was really a way for me to pay tribute to him and to answer the question many people had like, "Where have you been and what have you been doing?" I've been living the lyric of that song.

Estella: Do you have a favorite cut off the new album?
Billy: There are a couple of them. "Race You to the Bottom" is a song that is real different for me. I can relate to it a lot, because I was very career-oriented [when I first started], and some of the things that were in the song [really touched] me – like when I was trying to balance a career and a family. Then, there's another song called "Slow Motion" that I'm really excited about. I'm getting married on May 7 to a beautiful woman. I wrote that song for our wedding, and I think people are starting to adopt it as their wedding song. That's exactly what it is – a really neat wedding song!

Estella: Talk about how you came to record "Let Them Be Little." [NOTE: Billy wrote the song with Lonestar frontman Richie McDonald]

Billy: Lonestar recorded it on their Let's Be Us Again album. But, Richie called me last summer and said, "Hey, it's summertime, and we want to put out "Mr. Mom," because we want an uptempo [song]. So Billy, you've got access to ["Let Them Be Little"]; it's yours if you want it." I obviously took advantage of it!

Estella: And, we're glad you did! The video for it is beautiful!
Billy: Thank you very much!! Those are my kids at the end!

Estella: They're the kids that pull you off the park bench, right?
Billy: Yes, that's Hannah and Eli!

Estella: As a whole, what are you most proud of about your new album?
Billy: I'm most proud of the way these songs were produced, they're all tailor-made for me as an artist. I love bluegrass music and great picking and singing, and I was able to get two worlds to come together on this album. I had a rock 'n' roll drummer, guitar player, and bass player and then I had bluegrass legends Sam Bush and Stuart Duncan on my album. When these two different worlds of musicians came together, something really special happened, and it really encompasses all the influences I've had. It's very timely [in terms of] a lot of the issues that are in the media today; I like taking on those kinds of issues in an entertaining, fun, and passionate way. This album has been a platform for me to spread the word that you don't have to sacrifice your career or your family to do good things. Honestly, I feel like it's my best work, because my hand is all over it! I just think it's a damn good album!! (laughs a hearty laugh) I really wanted it to fit into today's country music, for it to be very energetic, and for it to really be a musical reinvention of who I was in the 90s. And, I think we accomplished that!

Estella: Being in the industry as long as you have been, what is your secret to having an extensive career?
Billy: Would that an expensive or extensive career?! (chuckles) I think the key is great music. For me, it's about taking the time off to really be able to make the best music you can possible make. Sometimes it doesn't happen on the schedule that the industry puts you on – great music takes time, and I strive for that everyday. Not that I've perfected it by any means, but it is what I strive to do.

Estella: In the past, you've done some movies. Do you have plans to do another soon?
Billy: I don't consider myself a very good actor. If we can find something that allows me to incorporate music somehow, then it would make sense for me to do it. Acting is a craft I respect very much; I know it takes a lot of time to perfect it. I've come to the realization that I'm a musician, singer, and songwriter, but I do love television, and it'd be nice to be able to do a little bit of both.

Estella: Has there been an especially memorable moment that stands out about your career?
Billy: Right now has to be the pinnacle of my career, because I'm more in tune. I really listen to what the fans are telling me about how my songs – especially with "Let Them Be Little" – have impacted their lives. What I've done with my musical talent and personal responsibilities is my legacy, and that's something I hope my kids can look back on and be proud of. It isn't so much about awards, how much money or recognition I get. It's really about impacting lives with music and that's something I'm proud to have the privilege to do.