(l to r): Philip Sweet, Karen Fairchild,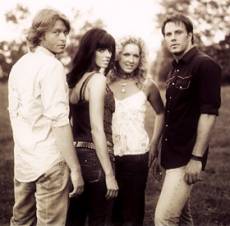 Kimberly Roads, and Jimi Westbrook
Estella: First of all, I want to extend a warm welcome back to you and the rest of Little Big Town! It's been a few years, but you've a new single, video, and album. How does it feel?
Kimberly: Oh, we are so happy to finally be back out here, because we've come up with this music over the last few years, and just could not wait to get it to the fans! We are so happy to be back on the radio, doing shows and interviews, and that the album is being excepted so widely. We're thrilled!!

Estella: What is the story behind choosing "Little Big Town" for your group's name?
Kimberly: We've been together as a band for seven years, and back in the beginning, when we were trying to figure out a name, we wanted something that represented where we came from, that also represented our music and our roots. So, we were tossing around ideas about "town," but nothing really [caught our interest]. One night, when we were sitting in my living room, Karen was holding this CD that she turned it over, and it said, "Little Big Town Publishing." And, when she said that out loud, we all agreed that it was perfect! Well, I happened to know the person who owned Little Big Town Publishing, so I gave him a call to ask about the name. Turns out, he had just sold his publishing company, so he said the name was available and that we could have it!

Estella: Talk about perfect timing!
Kimberly: It WAS, and we all knew it! I mean, when Karen said it out loud, we were all like "Little Big Town – that's perfect!!"

Estella: It's very neat that the four of you have been together for seven years! How did you all meet each other?
Kimberly: Well, Karen and I went to college together, so we've been friends for a long time. Both of us had moved to Nashville and were doing our own thing, but we always kept in touch. One day, we just started brainstorming about doing something together. That was about the time that the Dixie Chicks started coming on the scene, so we didn't want to do an all-girl thing. We knew that there had never been a two-girls-and-two-guys group in country music, so we set out to put that together. Jimi and Karen were friends, so we called him. We sang, the three of us, for a while before we found Philip. It took us a long time to find Philip, but we did finally, and that was seven years ago. We met him in Nashville.

Estella: For people who have not heard your single "Boondocks," what is it about?
Kimberly: That's a song the four of us wrote, and we basically set out to write a song about where we came from. A lot of people were asking, "Who are they?" "What are they about?" So, we wanted to write a song about our roots. We're all so proud of growing up like we did out in the boondocks. So, in the song, a lot of the phrases are where we grew up. Like, I grew up by Old Camp Creek Road, so there's a reference to Old Camp Creek. There was a midnight train that came through right behind our house, and that's in there. Jimi's grandmother had an old tin roof, so we put something about that in there. We are so close to that song; it's our heart.

Estella: What was filming the video like?
Kimberly: Oh, we had a ball! We cut that video at a farm out in Watertown, Tennessee, about 45 minutes outside of Nashville. That day, we had two really, really bad storms, so we had to shut down production a couple of times. The first time we shut down, the pig in the video got really scared, so it tried to run off into the woods. Well, it's pretty hard to wrangle a pig! So, we had to take the lettuce and tomatoes off of all our sandwiches from catering to get the pig to come out of the woods. In part of the video, we don't have shoes on because it was so muddy and wet that we didn't want to ruin our shoes. Just lots of drama! It was funny!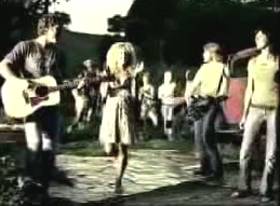 Estella: The fact that you were barefoot – how fitting for the sentiments of the song!
Kimberly: Yeah, it's perfect! We didn't plan that at all, but that's just how it worked out.

Estella: Who was the director on it?
Kimberly: The director was Roger Pistole. He's just brilliant! We loved working with him, and we want to work with him again! What they do at a record label is they'll call video directors and get them to write treatments for the video. So, when his came in and we read it out loud, we unanimously said he has to cut this video! He had the perfect idea, he understands the song, and I think he did a magnificent job!

Estella: At the end of the song, where it starts "You get a line; I'll get a pole…" Was that written into the song or purely ad lib on your parts?
Kimberly: That was our producer [and songwriter Wayne Kirkpatrick]'s idea. As we were writing the song, he said we should put something in a round at the end. So, we came up with that as we were writing the song. We love that part! It's so fun when we do it live because that seems to be the part that everybody sings along with us!

Estella: The four of you often collaborate on writing songs. Do you start throwing around ideas or do you come to the table with them? How does that process work between the four of you?
Kimberly: Sometimes, somebody will come with an idea. Sometimes, we'll be on the road and we'll say, "Hey, we should write a song about such-and-such," and then we'll get together later and try to write it. And sometimes, we'll just get together and say, "Hey, let's try to write a song tomorrow." We have no idea what it'll be about or what it'll sound like, but we'll try to come up with something then. It's kind of different every time. We usually write with the four of us and Wayne. Some think that's a lot of people to collaborate on a song. But, the four of us are so close as friends that it's like we're "one" when we write. There's never any kind of argument over the way things go, because we've been together so long that we know each other so well. And, we know our sound as a band and what we want to say as a band that usually, it's a very easy flow. We love it!

Estella: Going in to record The Road to Here, did you all have a specific direction in mind where you wanted to take the album?
Kimberly: We wanted this album to be rootsier than the last one, and we wanted more of a "live" sound. On our first record, we didn't really capture Little Big Town's "sound" of how we are live. This time, we recorded it the old-fashioned way on 2-inch tapes, so that gave it more of an older sound. So, those are some things we went after. We just wanted it to sound like we do live, with not so much instrumentation.

Estella: Your album title holds some significance in terms of your lives as individuals and as a band. Explain that.
Kimberly: Absolutely! We called it The Road to Here because it's truly about our journey over the last few years. It's been a really rocky road for us, so every song on the record is a story about where we've been and where we are.

Estella: What is your personal favorite track off the album?
Kimberly: Oh gosh, that's hard! I have two favorites! I think my favorite, [sonically], is "Bones." It gets compared a lot to the Crosby, Stills, and Nash "sound." It's just vocals the whole way through – all four of us just singing this spooky kind of song about the seeds that you sow and what comes back to you. My favorite, lyrically, is "Lost." We wrote it after my husband passed away, which was just six months ago, and the emotion in that song is so raw and so real. That's my favorite lyric on the album.

Estella: Is it hard to sing something that's so personal and emotional to you?
Kimberly: Oh yeah! It's extremely difficult! It was difficult for me to record that song. It was very difficult to write that song, but yet, it was also very healing. There were lots of tears as we wrote, recorded, and mixed that song. I couldn't even hardly be in the studio for much of the recording of it, because it was just so, so emotional! And, it still is! I don't listen to it a lot, because it just breaks me apart! We don't sing it in our live show yet, but I'm sure we will soon.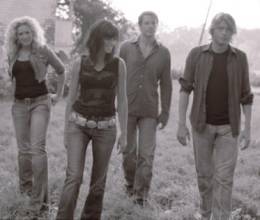 Estella: Do all four of you go in and record the tracks together or do you record your individual vocals separately?
Kimberly: It depends on the song. Most of the time, we record individually, because when we all record around one microphone, sometimes you can't pick out individual voices and textures. But, when we record individually and track it that way, it's easier to pick out individual textures.
Estella: When choosing songs, do you vote to decide which songs make the album?
Kimberly: No. I really think on this record, we all were pretty much unanimous about what songs we wanted to go on there. It's because that's just how much we are "one." We really are a unit, and most of the time, we're all on the same page. We just try to pick the songs that best represent the band and tell the stories that we want to tell. We really have something special – a very special personal bond, so usually, we're all of the same mindset for things like that.
Estella: A recent news piece on your website [
http://www.LittleBigTown.com
] was that you participated in a charity event where you auctioned off Jimi and Philip. Whose idea was that?
Kimberly: That was Karen's and my idea! They were auctioning off a bunch of bachelors that night, and we thought,
Well, we've got the cutest bachelors in the room! Let's see if they'd want to auction themselves off.
They both were willing to do it, and they raised $2,000.00 for it!
Estella: You were personally handpicked by Keith Urban to be his tourmates. Are you excited?
Kimberly: We are
SO
excited about that! We've been in rehearsals for it and we head out with him on November 3.
Estella: What is the Little Big Town live show like?
Kimberly: Our live show is a lot of energy and lots of harmony, of course. We try to communicate verbally with the audience, too, and get them involved.
We have a ball
in our live shows; we really have a lot of fun!
Estella: What is something interesting about yourself that you'd like to share with fans? You also get the unique opportunity to speak on your bandmates' behalf, since they're not here.
Kimberly: Oh, gosh! Ok... I'll start with Jimi; he's our little practical joker – he loves fooling around with us all the time! He has a great sense of humor!
Estella: What has been the funniest or strangest prank he's pulled on you all?
Kimberly: This is where I need help! I can't think of anything specific; he's just always joking around. Jimi does different voice impersonations that are
HILARIOUS
! He and Philip do these two voices together of country rednecks that will crack you up! Philip has a real gift at giving massages. He is really, really good at it! Anytime any of us has a shoulder, back, or neck ache, we get Philip on it. He really is gifted! Karen is a very smart businesswoman; she handles a lot of the business side of things really well. She's a great business sounding board.
Estella: And finally, we come to you!
Kimberly: I guess I am the peacemaker; I try to make everybody happy. I like to cook; so when I can, I make little goodies for everybody. I don't know; it's hard to talk about myself!
Estella: Having your new single doing well and your second album just out, what are you most proud of?
Kimberly: I'm proud out that we have hung in there through all the trials and all the rocky roads. I'm proud that we've stayed together and that we have such a great bond with each other. I'm proud that we're generous with each other, we care about each other, and we take care of each other. I'm really proud of that!