By: Estella Pan


The name "Charlie Daniels" is synonymous for "legendary," and it was a real treat to have a few minutes with the always-straightforward frontman for the band that also bares his name. Read on for commentary on the music business, advice for getting started, country legends-in-the-making Gretchen Wilson and Joe Nichols, and being a "natural musician. Of course, no Charlie Daniels interview would be complete without mentioning his unending support for the troops overseas and various charitable events – we covered both bases here.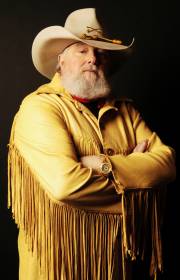 Estella: Your first-ever live DVD releases on November 8. What can fans expect on it and why should they purchase their copies?
Charlie: The basic part of it is a concert that we did the 4th of July in Nashville under very unique circumstances, in that it was also broadcast of Great American Country (GAC). They had eleven cameras on the shoot. One of the deals that we made for the show was that we could use the same cameras and the great sound equipment that they had there to do the performance part of our DVD, which was many cuts above anything we'd done on our own. The sound, the lighting, and the camera work were all very good. I'm very happy with the performance – the band was playing in their hometown for the first time on a 4th of July for a long time, so we were all pretty hyped about that! There's footage on there from Iraq and Volunteer Jams from many years ago. There are other side features on it, too. If you're a CDB fan, you'll love the DVD; if you're not, then you probably won't!

Estella: By the way, I really enjoyed your bluegrass gospel album, Songs From the Longleaf Pines! I must say that I'm used to ballad versions of "How Great Thou Art" so I didn't think that I would like an upbeat version of the hymn. However, your take on it is very refreshing!
Charlie: Thank you very much! I enjoyed making that album; it was fun! I've done "How Great Thou Art" both ways – I did a ballad version on an earlier gospel album. I was like you; when it was mentioned that it was a probable choice for the album, I couldn't very much imagine doing it bluegrass style. But, it actually turned out pretty well! That's one of my favorite songs of all time.

Estella: The 4th Annual Christmas 4 Kids benefit concert is coming up next month. Tell us about your involvement with the organization.
Charlie: It started years ago when some of the drivers who drive buses for the artists got the idea of letting under-privileged kids onto the buses, and giving them some money to shop with. Then, radio stations in Nashville got involved and pretty soon it evolved into this concert event. We've done it several times. It's really a nice event; they always have good talent on it, and they will again this year. We get to see people that we only get to see a time or two a year; you know, artists don't get to see each other very much unless you happen to be working together. But, it's close to Christmas time, people are in a pretty festive mood, and it's just a really nice time of year for a concert – it's a lot of fun to do, too!
Click to purchase YOUR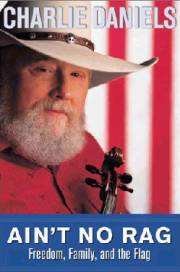 copy of Charlie's book!
Click to purchase YOUR copy
of the CDB's NEW live DVD!!!!
Estella: A popular feature on your official website
[NOTE: http://www.CharlieDaniels.com]
is your Soapbox entries. What prompted you to start the forum?
Charlie: I'm a very opinionated person, and I think everyone in America has a right to be. When we started our website years ago, one of the guys who helped set it up said, "Charlie, why don't you have a column on there where you write whatever you happen to be thinking about?" I thought that was a good idea, so we called it the Soapbox. I started with once a week, and the readership increased on it, so I started doing two columns a week. I've got one on my computer now that I'm writing. They're short, concise pieces that I do – some of it's frivolous, some of it's serious. Whatever is ringing my bell is what I write about. Actually, my book,
Ain't No Rag: Freedom, Family, & the Flag
, is a collection of a lot of the pieces that were on the Soapbox.
Estella: You've been a part of the music business for quite some time. What do you think is the biggest change that has taken place in the industry?
Charlie: The music business, since I first started, has experienced exponential growth in a lot of ways. Back then, most of the time, we played in small concert halls, hospitals, or auditoriums. Then, Elvis and The Beatles came along and expanded the business tremendously; they started drawing crowds that had never been drawn before. Of course, technology has also experienced exponential growth – the sound systems, the recording techniques. It's easier to get around than it was. When I first started, we had a lot of two-lane roads; now, most of the places we go, there are Interstates. As far as the music is concerned, it's changed also – it's branched out; there were not so many genres years ago. What was considered one genre at the time now has baby genres of its own. You've got so many things that go under that umbrella of country, for instance: there's country-bluegrass, country-bubble gum, country-rock – which I guess rap would fall under. There's just a lot more music than there used to be.
Estella: Where do you think it's headed?
Charlie: I don't really know. Though one of things I've noticed over the years is when music goes as far as it can one way, it usually goes back to the basics. When music gets so far out on a limb, there's no place else anybody can think of to take it, so they go back to the basics and start all over. In country music, when it gets as far as it can go in one direction, it'll go back to traditional. When I say "back," I don't mean back to the artists that are traditional but back to a more traditional sound.
Estella: I think it's starting to lean that way again with artists like Joe Nichols on the rise.
Charlie: Absolutely! That happens every few years. Some time back, it was Randy Travis and Clint Black. Now, like you said, Joe Nichols has a very traditional sound; he's a very talented gentleman. I think he's great!
Estella: Do you have any words of wisdom for people just starting out or who want to get in the music business, but don't know how?
Charlie: The first thing I would tell people is that you have to go somewhere where there IS a music industry; you can't stay in your hometown and expect talent scouts to come find you. Another thing is something that is very important. The music business is not what it appears to be from the outside. The performance and the creative part of it is – it's a great joy performing! But, there are a lot of things that are involved; the traveling – I rode some 800 miles to come to a show in Delaware tonight; that's routine for me. But, for some people, the tedium of riding those 800 miles would be a problem. These are things you don't really see. There are a lot of uncertainties when you first start out. You're not working for a company that guarantees you a paycheck every week. Now, we have insurance and 401K plans for our employees; that's fairly rare but certainly not pervasive in the music business. So, you're taking a chance, and it takes a lot of confidence. But, you may not want to go any further than playing the Holiday Inn lounge on Saturday nights, and there's nothing wrong with that! If you like playing in local places and you don't want to go out on a limb, don't go break your heart – it's not worth your while, because you're not going to get anywhere.
Charlie and Gretchen rock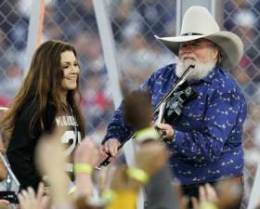 the Super Bowl stage!!
Estella: Gretchen Wilson paid homage to you and your music in her smash single "Redneck Woman." What do you think of her music?
Charlie: I think Gretchen is the most unique female artist who has come along in a long time – most unique across the board, actually! She's not a kid – well, she is to me, but she's not nineteen years old. She's stuck around for a while and insisted on doing things the way she felt like it should be done, and it turned out to be right in so many ways! She's a unique, hard-driving, hard-working, and very savvy artist. More power to her – go for it!

Estella: Your cameo appearance in her "All Jacked Up" video is very entertaining!
Charlie: You'd be surprised how long it took to get [that disappearing shot]! See, that's one of the things I'm talking about. When you're doing a video, you've got to go and go and go and go; it takes a long time to do it! You think about walking up and doing it one time and it's over with, and it's not that way. You could spend the day doing a small amount of stuff. I'm not trying to discourage anyone from the business, but if you can't put up with it, don't try it!

Estella: One of your fans, JL writes "I'd like to know a little more about the commendable stand he has taken for Christ over the last few years."
Charlie: I'm just a Christian; I'm a believer in Jesus Christ and he's my hope of eternal life. No more, no less – that's it. It's something I'm very happy about, and I can't imagine being anything else. That's basically what it boils down to.

Estella: Rick, of the U.S. Army Reserves has a comment for you: "I just wanted to thank Charlie for all his support for the troops. He is a true patriot and an outstanding performer."
Charlie: Well, it's the least I can do; I am a very, very big supporter of the troops, and it's just my way of serving.

Estella: A Southern Rock and Charlie Daniels Band fan from Germany asks, "What is your opinion about the Outlaws reunion and could they be a part of a future Volunteer Jam tour?"
Charlie: I don't really know anything about it, actually. I'm so involved in what I do – I'm always writing, recording, and performing music, and writing Soapboxes that I'm the last person you want to ask about something like that! It takes me 24 hours a day just to be Charlie Daniels!

Estella: That's enough to worry about, right?
Charlie: Yeah, for sure! (he laughs a hearty laugh)

Estella: A fan, Nicole, writes "I'd like to know his thoughts on retirement. I hate to be selfish but I hope it's not to soon, yet I know he deserves time off the road for his enjoyment."
Charlie: Tell her to relax. I have no desire and no intentions of retiring!

Estella: A 9-year-old fan from Michigan would like to know: "How did you get to play the violin so good?"
Charlie: Well, I don't consider myself playing anything good, but the only way you ever get good on any instrument is practicing. Especially with me, I'm not a natural musician; I have to practice to keep my chops up, and it takes me a little longer to learn some songs. But, you just keep playing and playing. You've got to really love it to be able to devote the time you need to get good at it.

Estella: It's surprising to hear that you don't consider yourself a "natural musician." Most people know you for "The Devil Went Down to Georgia" – the fiddling you do in that is top-notch!
Charlie: Well, I'm glad you think so! I really appreciate that!

Estella: You're a recording artist/songwriter who's sold more than 20 million albums worldwide, author, and supporter of our nation's troops and various charities. What is next for you and the Charlie Daniels Band?
Charlie: More of the same! We're working on a new CD that will hopefully be released sometime next year. We're booking shows for next year. That's what we do – we play shows and make records! That's what I want to do, and I thank God I make a living doing it!