Estella: Many fans have come to know you as "Blair" on One Life to Live. How long have you been with the soap opera?
Kassie: I'm in my 12th year, and before that, I was on Guiding Light for about four and a half years. It's amazing; I've had a really good career! I've spent more time being a b*tch on soap operas than I have in real life, so it's good! Life's great!

Estella: Are there any similarities between "Blair" and yourself?
Kassie: "Blair" is a little misunderstood at times. She does bad things and engages in melodrama or whatnot, but there is a "realness" to her that people can relate to. Of course, I can't pull half of that stuff off in real life! But, if I had to throw a drink at somebody's face or pull a gun on somebody, I guess [how I portray "Blair"] is how I would do it myself. I want to make "Blair" real; I don't want to make her a cartoon character or a caricature of a soap opera character. I want to make her every woman's woman, and I think that's why she's identifiable. Most of the time, she does those crazy things, because she's been hurt so deeply. Or for the love of her children and for the love of her man – she'll go to against the wall in great lengths to get back what she feels is entitled her, whether it's money or a man!

Estella: Given your extensive career in television, many people don't realize that singing really isn't all that new to you.
Kassie: Right. Prior to my extensive television, I was really trying to pursue the music. Way before [I was ever "Blair"], I was a singer at Opryland USA.

Estella: You also debuted on the Grand Ole Opry at the age of eighteen, didn't you?
Kassie: I certainly did! And then, I got to sing again with my first album, Naked, I want to say around 2001. But, I did those things before the acting resulted; my first role on daytime was as a singer, so it's kind of worked out. Which one do I like best? It's really hard to say; I've been able to do both, and I'm not going to give up my day job for my music. If something kicks off in a really, really big way, then I've got something to think about. But right now, there's enough on my plate and I can do both!

Estella: That must be nice for you, because as "Blair," you get to sing on the show from time to time.
Kassie: Right! My current contract ends in November, and four years ago, when I signed it, I couldn't get anymore money out of them, so I requested that I get to sing two times a year. I mean, it's not going to cost them any more to let me sing two times a year, right?! But, they've been really good to me about that. We've got an executive producer [Frank Valentini] that "gets" my music, loves country music, so they're allowing it to happen. And, it's made a huge difference! Like, with the release of Naked, it took me about five years to sell 5,000 copies. Since the end of November of 2004, I'd already sold 5,000 copies of No Regrets off my website, which is huge! Just purely based on my One Life to Live TV experience. Every fan doesn't watch every episode; they figure an average soap fan watches one to two days a week, which is not a lot. So, maybe they caught an episode where I didn't sing, so still, some of my fans don't know that I sing. But, if they happen to catch one where I did sing, they log on to http://ABC.com and look up my album, and that's how it works. The song "Sweet Angel of Mine," which was featured in a Mother's Day episode, is the first single that ABC really got a lot of phone calls on. [NOTE: Kassie has signed on to four more years with One Life to Live!]

Estella: You were once a backup singer for Bobby Womack. What was that experience like?
Kassie: That was way in my youth – when I was like 22, 23, 24 years old. I had been in a four-part harmony vocal group prior to that, but my boyfriend at the time was the keyboard player for [Bobby]. I learned a great deal from Bobby; I had that experience of being on the road, and it was hard! Yeah, I like my daytime job better than that nighttime traveling, but it was really, really great! We played over in England, got to play various cool jazz festivals, with icons like Patti LaBelle, Stevie Wonder, The Rolling Stones, B.B. King, Aretha Franklin, The Temptations, the list goes on and on! These were artists that Bobby opened for. I let people think that I'm just starting out in music, but really, I've had a foundation in it. And, I'm keeping it going, because it makes me happy to sing!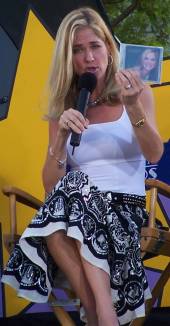 Kassie holds up her CD, No Regrets
Estella: Your latest release is the No Regrets album. What can fans expect to hear on the project?
Kassie: It's a feel-good, country album. It's relates to everybody; it's not music that just the "chicks" want to listen to. Actually, the other day, I pulled it out again, after having put it away for a couple months. As I'm listening, I'm thinking, Gosh, this is kind of good! I am extremely proud of it! But, I get insecure about my music, too. Like, I'll listen and think, The album's great, the artwork's good, the songs are terrific, and the only thing I'd change is the singer! That's just me. I can remember each moment and feelings I felt singing those songs, so it's very personal to me. But, it becomes a business, so you have to step outside of that. So, if it's excepted, then it is. If it's not, that's ok, too.

Estella: What types of songs were you looking for?
Kassie: Liz Morin is a publisher her in Nashville; I met her at the CMA Music Festival last year. I had been thinking it was time for a new album and mentioned that I was starting to look for songs, Well, she sent me eleven songs, and I LOVED nine of them, and that just started the ball rolling! I was looking for strong songs; I wanted songs that were universal. I think a really good country song is like a three-and-a-half-minute soap opera.
Estella: We were talking about your debut album a minute ago. Is Naked still available for purchase?
Kassie: Yes! It's available on my website at
http://www.KassieDePaiva.com
and also on
http://www.Amazon.com
. It's so interesting, because when
No Regrets
first released, for every ten copies of it that sold, I sold a copy of
Naked
. Now, it's every four copies of
No Regrets
CD sold, I sell a copy of
Naked
. In a way, my
Naked
CD has had somewhat of a "comeback"! I think I might do a Christmas album next. We'll see.
Estella: That would be nice; so many people love holiday music!
Kassie: Oh, let me tell you, I've got a stack this high (motions with her hands) of holiday music! From Thanksgiving to Christmas, that's all I listen to. So many people have such great Christmas albums!
Estella: Speaking of artists, who were some that you grew up listening to?
Kassie: I listened to everything growing up! I remember when I was a little girl, it was Donny Osmond and Jackson 5. In high school, it was Fleetwood Mac, Foreigner, The Eagles, Linda Rondstadt – whatever was popular. Then, I got turned on to country a little bit in high school; I had Loretta Lynn's
Greatest Hits
album. I think the fact that I'm from Kentucky, it's just in my voice, so country worked naturally for me.
Estella: For someone who hasn't heard Kassie DePaiva, the singer, how would you describe your musical style?
Kassie: Let's see, who's the greatest singer?! I'm just kidding!! My style is just honest and straight-ahead country. If I had to make a comparison, my style is more Faith Hill, Martina McBride, Trisha Yearwood – that vein of pop-country, power ballad type stuff. Now, I didn't say I sounded like them. But, the writers on my songs did also write a lot of their songs. So, I think it's not so much the style, necessarily, but rather the songs themselves.
Estella: What is something interesting about yourself that fans may or may not know about you?
Kassie: I'm really a homebody, that I enjoy my marriage and my family.
[NOTE: Kassie is married to James DePaiva, her former co-star on One Life to Live.]
They're really important to me. I love to cook, clean the house, and bargain shop – I don't buy anything unless it's on the sale rack.
Estella: Another thing that I think is interesting about you is that you crochet "Happy Hats" to sell on your website! Tell fans a little bit about that.
Kassie: They're just whimsical, festive, and fun. It takes about one to two hours to make per hat. I don't like to sit still and it makes me happy making them. I've become known as the "Hat Hooker" to my fans!
[NOTE: Proceeds from sales of Kassie's "Happy Hats" benefit The League of Hard of Hearing]
Estella: With your
No Regrets
album out, how are you able to balance your time between promoting it and continuing your acting?
Kassie: I just try to take a bunch of deep breaths and realize that there's only so much you can do in a day. I'm a major multi-tasker, and I enjoy the music and acting a great deal. I don't really enjoy the business aspects of both – it sometimes takes the fun out of it for me. I LOVE getting to work and having fun. But, trying to figure out schedules, contracts, and stuff like that stresses me out! Just let me go have fun, continue creating the role of "Blair" and finish scenes; let me sing songs – that stuff's great!