Estella: The first single from the new album is a little different from the songs we've heard from you previously. What drew you to record the song?
Lila: The main thing that drew me to "Go Easy on Me" was the attitude behind it. The people know me really well know my personality and I've been cutting uptempo love songs for so many years – being younger at the time, I just wanted to do something with a little more attitude.

Estella: Will it be a commercial single that fans can buy?
Lila: To my knowledge, Broken Bow Records doesn't sell singles. But, we'll have a record out really soon, so hopefully people will be able to hold out until then.

Estella: How does it feel to be back on the radio after having some time off?
Lila: It's very exciting! After taking almost four years, it's nice to out there, playing new music, and seeing that the fans are still interested, that they're excited for new music and still very supportive. So, I'm happy!

Estella: Have you heard your new single on the radio?
Lila: I have. I actually heard it in L.A. when I was visiting there a couple weeks ago. It wasn't planned or anything. I mean, I had just gotten off a plane into my manager's car. And literally, as soon as I turned on the radio, it came on; it pretty cool! That's not something that you ever get tired of.

Estella: One of your new songs that I really like is the gorgeous ballad "I Can Do This."
Lila: Oh, thank you! It's a great song, and we're pretty sure that will be a single at some point. A really good friend of wrote that song; she just got her publishing deal and this was her first cut. Besides the fact that it's a really great song, it's special because she's my friend. It's just a really well-written song. Both of us are really excited about it! I think people will really enjoy it.

Estella: Another song you cut is "Wild Blue Country" – I just love the groove of that song!
Lila: That song's fun! You know, not cutting a record for almost four years, I really wanted to go back to the country end of things. There are songs that are contemporary, that when people hear it, they'll say it sounds like Lila. But, there are also songs where people will go, "She hasn't cut stuff like this in a long time." And, that's what I wanted to do. I'm really excited about the new album!

Estella: Will you have some of your own songs on there as well?
Lila: You know, I wrote a lot, but by the time I got around to making the record, I felt I had already outgrown the stuff that I had written. Probably on the next album we'll have one or two.

Estella: One of your fans sent in this question: Did you have another job during your time off?
Lila: No, I was just writing. I contemplated getting a job at the GAP, but I figured living in Nashville, that probably wouldn't work out! But, no, I worked on the road and just wrote songs. Working at such a young age, I worked for a lot of years, lived at home, and didn't have bills to pay. I love to shop, but I was never an overspender. I had saved money, so I was alright.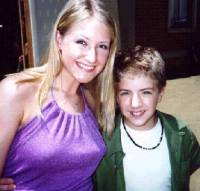 Lila with Billy Gilman
Estella: For many years, you'd been juggling school activities and homework with playing gigs. How does it feel to be able to focus just on your music and career?
Lila: Music was always a focus, but it was always a part of everything else. Growing up with it, that's all I ever knew and once I left all the other stuff behind, it was like, "Ok, so this is a career! This is my job." It definitely changes speeds when you become an adult, too. Even if I had opportunities to do other things, I always want to be doing music. That's where my heart it, and it's what I've always known.
(Billy Gilman sneaks in and surprises Lila with a hug.)
Ooh, who's loving on me? Billy Gilman, who's not a little boy anymore! Hey, Billy!
(Billy says hi and leaves.)
When I first met him, I think I was about eighteen years old and Billy was like eleven. He comes up to me and goes, "Miss McCann. I just want to introduce myself. I'm Billy Gilman." I'm like, "Hey, kid. Nice to meet you!" And he said, "I've been a fan of yours my whole life!" It was so sweet! It was so honest; I mean, he was totally being serious! And, it was weird for me, because I was so young at the time, too. He's a sweetheart.
(Billy Dean walk by.)
Ooh, there's Billy Dean! I ran into him earlier today!
Estella: Cool guy!
Lila: Oh yeah! Here's a story for you! I did a show with him in Orlando. There were like ten acts and they wanted us to do an all-star jam. So, two people were working on something, and two others were working over there on something else. Well, I was sitting next to Blake Shelton, and I'm like "Blake, we need to sing something." And Blake, when he's not joking around, is quiet. He was like, "Man, I'm not good at stuff like this. I don't know what to sing." Well then, the encore started, and the other acts are out there! So, I ran up to Billy [Dean], who's standing up there with his guitar, and I said, "Billy, we've got to go out there and sing something! Everybody else already went out there!" Now, I'm not usually like that, but I mean, we can't just not go out there or go out there and just stand. So, he asked me, "Do you know Bonnie Raitt?" I'm like, "Oh, every song; just give me one!" So, we sang "I Can't Make You Love Me" as a duet. There were like 10,000 people there, but you could have heard a pin drop! It got so quiet. And, I've been talking about it for the last two months!
Estella: Troy, one of your fans, writes: "I am totally in love with you and your music. You are in my Top 5 favorite artists ever! In the past six or seven years, I've turned a lot of other gay men onto you and your music."
Lila: Yeah!
Estella: He continues: "I would like to know, are you aware that you had a gay fan base, and if not, if you ever perform in the Los Angeles area, you will see some of us there!"
Lila: That's fabulous! I was aware that I had a pretty broad fan base, but I guess it's not something I ever really thought about. But, that's awesome! I'm happy for anybody to enjoy my music! In terms of concerts, I know they're trying to get me back to L.A. to do some shows, so if I make it, please do stop buy. And, bring all your friends, so we can go shopping!
Estella: Do you have a favorite career moment?
Lila: Ooh, that's tough! I've been given the opportunity to do a lot of neat things, but I think, for me, probably the most rewarding is the charity work that I do. Especially with one of my charities in L.A. called
My Friend's Place
, and it's a runaway shelter for teens. To be involved in something like that and help out kids that, at a young age, probably had the same dreams I did, and ended up at a place like that. For me to be able to help and hang out with them one-on-one means more to me than a lot of the other stuff that I do.
Estella: You should make "I Can Do This" their theme song.
Lila: Actually I work with another charity work called
Interfaith
, based off of San Diego and Escondido, California. It's a huge organization; it's awesome! They work with families, runaways, single parents, anything – if you need help, they're there! They do a big show every year at the Orchestra Center in Escondido and they used that last year as their theme song. I sang with a children's choir of like sixty kids and an orchestra, and it was very cool!
Estella: What is something interesting about your that fans may or may not know about you?
Lila: I hate to say I'm a boring person, because I'm not. I'm probably just the same as you. I love to shop and love to refurbish old antiques. I'm totally hooked on gardening and cooking – my new thing is cooking. I try to take on a different ethnicity every week. I'm a homebody; I like to be at home. I'm not your average 23-year-old party chick; I like be at home with my dogs, Shugar and Pete.