By: Estella Pan
Early EP included "Dynamite"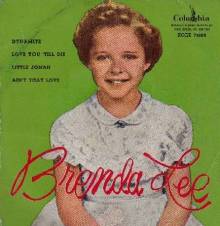 "Little Jonah," and 2 other songs
Every inch of Brenda Lee's 4'9" stature is filled with music. The Little Miss Dynamite who gave us hits like "I'm Sorry" and "Rockin' Around the Christmas Tree" called me from her home. During our heartwarming conversation, we discussed her current project, Gospel Duets With Treasured Friends, life on the road and at home, changes in the music business, among other things.

One of Brenda's most cherished musical memories is of "my mom singing to me as a little girl. That impacted my life musically, I think, more than anything else." She continues, "She always sang me Hank Williams songs – which at the time, I didn't know who Hank Williams was. But, I sure learned later on!" Pretty soon, Brenda was filling her home with her own singing. She remembers, "I started singing when I was three. It's something I've always done. I guess you could say it was a calling; it's always been a part of my life." Her professional music career took off when she was just twelve years old, recording her first hits such as "Little Jonah," and perhaps more notably, "Dynamite." It was from the latter that she acquired her nickname of "Little Miss Dynamite." She recalls, "I had a song in the late 50s called 'Dynamite.' It was huge hit in Europe! When I went over there and promote it on stage on TV shows, I was very energetic and all that. And, the 'Little,' of course, is because I'm short!"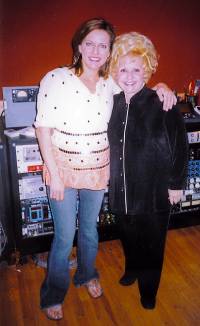 Brenda and Martina McBride in the studio
True to her nickname, Brenda has packed an impressive punch into her a music career spanning over five decades. The first female solo artist to be inducted in both the Country Music AND Rock 'n' Roll Halls of Fame, Brenda grew up singing gospel music – and, it was back to those roots to which she returned when she began putting together her latest album, Gospel Duets With Treasured Friends. She invited some of country music's most distinctive voices – including Kix Brooks and Ronnie Dunn (of Brooks & Dunn), Vince Gill, Emmylou Harris, Alison Krauss, Martina McBride, Dolly Parton, Pam Tillis, and others – to join her on the project. She says the process of choosing which artist would sing which song wasn't in the least bit difficult. "I wrote a list of artists down and next to each artist's name, I wrote down the song that I felt we could do well together. Then I sent the songs to the artists, and lo and behold, those are the songs they chose to do! So, it just worked out well!"

"[Working on this album] was a joy! It was so fulfilling and so wonderful to be able to sing the songs that I grew up with in my youth. I went in and recorded twenty-six songs originally, and of course, there are only eleven songs on this album. So, there may be a Volume 2!" Indeed a musical treat to look for, perhaps in the near future! Brenda admits, "I really had no expectations or an agenda for having this be on the commercial market. It was a labor of love that I wanted to do – for myself, mainly, because these are songs that I love and singing them fills my heart." She hopes it has the same effect on listeners. "I hope they experience the same joy that I had while I was recording it. These are songs that are timeless. They are songs that I think [many people] have grown up with, that have touched their hearts and emotions, and become a fabric of their lives. So, I hope they'll get the same joy out of them that I did."

Brenda attributes her long-running success to the team of people she works with. "I think the creative songwriters that gave me songs is part of it. But, when it's all said and done, the reason I'm still here and able to sing, do projects, and work is because of the people. They are the ones that support my career, buy my records, and come to my shows. You can do all that you want to do, but if the people are not accepting of it, it doesn't matter. It's not going to happen for you." With everything that's happened in and with Brenda's career, she says that there have been so many great opportunities that it would be hard to pinpoint just one favorite career moment. "I enjoy every aspect of [what I do]. I enjoy the studio work, the live performances, TV, traveling overseas to 85 foreign countries, singing in different languages, performing before Heads of State. I could go on and on… I've enjoyed it all! I truly have!"
Brenda on the Grand Ole Opry stage
For anyone who are interested in pursuing a career in the music business, Brenda offers these words of wisdom: "As I would say with any endeavor in life: make sure it's what you want to do and that it's YOUR dream, not somebody else's. It's hard enough when it is your dream. Especially in this industry, there are a lot of mountains, but there are a lot of valleys, too. In anything, you have to be mentally and physically strong." In addition, she suggests finishing school before settling in to any given career. "When young people ask me, I always say: Get your education first. If you're on the outside looking in and it's something you want to do but you've never tried it before, it always looks very glamorous. But, there's a lot of work – and a lot of blood, sweat, and tears that go into it – not only by the person who's doing it, but also by the people who surround them. No one person ever does it all."

It might seem that Brenda has just about tackled everything there is to do. Not so, however, according to this Grand Ole Opry legend, as there are always more dreams to chase and music to make! "I'd like to get in the studio again and do some more projects, because I really what you can create in the studio and the fun that I have. I love that process! I may do something completely different. I love to sing all kinds of music, so I don't what will be next." For starters, how about that Volume 2 Gospel Duets album she mentioned? "The only limits you have are what you place on yourself. And I've always been the kind of artist who likes all the music. So, I've always sang it all and I always will as long as I'm able." With more dreams to chase and music to make, I just had to ask where her seemingly unending supply of energy comes from. "I've always been pretty energetic. We all have slow days sometimes, but mostly, I'm just so thankful for all the blessings that have been bestowed upon me." That said, Brenda does actually have a little secret Energizer Bunny that keeps her going: "I try to do something good for somebody everyday. It may be a small thing, it may be a big thing, but whatever it is, it makes my heart sing! Even if it's just walking up to someone you've never met and saying, "You look nice today! Good to see you!" Or, if it's helping someone in dire need, I think you should strive to do something kind for somebody everyday."

Other than that, Brenda shares the fact that she is "a movie buff. And, I'm a book buff; I read all the time!" In typical Little Miss Dynamite fashion, she quips, "Everybody usually knows just about everything there is to know about me, because if you don't want to know, don't ask me!"
Brenda and Vince Gill in 1992
For your gospel album, you recorded each duet with the other artist singing in the studio with you. Do you have any great stories about singing with your "treasured friend"?
Brenda: Vince Gill is hysterical! He said that I sang in the "man" keys and he sang in the "woman" keys! It was so great being the studio with him, because he's just so funny! It hardly took any time to sing the song, and then we visited for the rest of the time. We don't get to see much of each other because our schedules don't allow it, so that was great! When Dolly came in – you know, she and have been friends since she was eighteen and I was nineteen – I asked her, "Dolly, why do you wear those five-inch heels?" She turned around, looked at me in all seriousness, and said, "Because I can't get six!"
Brenda and Elvis Presley
Kristen asks: How did you feel the first time you graced the Grand Ole Opry stage?
Brenda: Well, that was a momentous occasion, because Elvis Presley and I made our first appearances on the Opry together. But, I had hung around backstage at the Opry for a long time. I was kind of their mascot, hoping that one day they'd let me on. Sure enough, they finally did, and it was a wonderful, wonderful night!

Having been on the road for as long as you have been, what has been the most interesting or just downright strange thing to ever happen to you in your travels?
Brenda: Oh gosh! The road is the road, and as you get older, it gets harder. I think the most interesting thing about being on the road is meeting the people who come out to the shows. Once again, these are the folks who make it possible for me to do what I do. I would say 75% of my fans who I've met have become my dear friends. And, when you learn why they like you and that your music has touched their lives, it really becomes a touching scenario.

What has been the biggest change you've seen in the music industry?
Brenda: There used to be that there was some semblance of a recipe for success, and the main ingredient for the recipe was talent. Sometimes that gets lost in the shuffle, with everything that you can technically do in the studio now. I think artists used to be more accessible, which was great! I think you should be accessible to your fans! Today, it's all about the package – the image – it's all about that more than what I think it should be about. I'm certainly not an authority on it and don't claim to be. I just know that I grew up with a different way that I like better.

What is a typical day for you?
Brenda: I take my grandson to school. I pick up both my grandson and my granddaughter from school, bring them back here, then their mom comes to get them after work. During the time they're in school, I'm down at the office checking my e-mails and doing interviews. I do a lot of work here in Nashville, charity wise. So, I keep busy doing that and just your regular, everyday thing being a wife, mother, and grandmother.
Singing With Treasured Friends


Brenda invited some of her closest friends to join her on her Gospel Duets With Treasured Friends album. "I just tried to choose songs that I'd sung all my life, ones that I knew and loved." In the following piece, she offers thoughts about each song that is included on the project: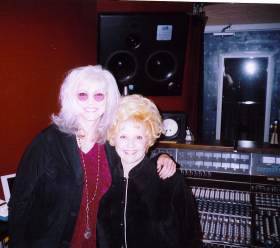 Brenda and Emmylou Harris
"This Ole House" – That's a wonderful song, and I've always loved it. Dolly Parton and I sang it."

"In the Garden" – Alison Krauss and I sang this one. I used to sing that song in church when I was a little girl. That was always one of my mom's favorite songs and I wanted to do that for her. In fact, I did this album for my mom."

"Jesus Love Me" - I sang with Emmylou Harris. That is one I sang to my granddaughter after she was born and growing up. Of course, I sang it all my life, but it became somewhat of a lullaby I'd sing to her before she went to bed at night."

"I Saw the Light" – I grew up cutting my teeth on Hank Williams songs. This is with Vince Gill, and I've always loved that song.

"Have a Little Talk With Jesus" – This is another one I sang growing up. I used to sing that as a child and then I sang it with my girls. I did this song with George Jones.

"Precious Memories" – This has always been one of my all-time favorites gospel songs. I think it's one of the greatest songs ever written and of course I sang that with Pam Tillis.

"Swing Low, Sweet Chariot" – I've grown up with that song, singing it in church. On the album, I sang it with Kix Brooks (of Brooks & Dunn).

"This Little Light of Mine" – This is another one I sang growing up and then sang with my kids and grandkids. I did that one with Charlie Daniels.

"Uncloudy Day" – This is an old gospel song that I love. We sort of put a rockabilly feel to it, which I loved that! I sang it with Martina McBride.

"Where Could I Go But to the Lord" – This has always been a favorite. I loved Elvis Presley's version of it and I wanted to do one as well. This one I sang with Ronnie Dunn (of Brooks & Dunn).

"Oh Happy Day" – Another one of my favorites, I did this with Huey Lewis.