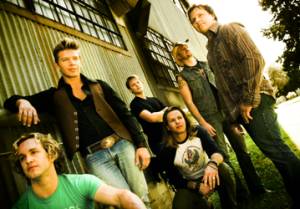 Estella: How did the six of you meet to form the Drew Davis Band?
Roger: We all came to California to pursue music and our dreams. All of us met Drew through various sources – friends of friends, bands and gigs.
Drew: And cousins!
Roger: We were all doing other things, but when we all got together, this band felt right from the start. So, we've stuck it out and here we are!
Drew: Also, once we got together, it was something none of us had ever experienced.
Roger: They're a unique bunch of guys we're with!
Drew: They really are!

Estella: I'm assuming that the band was named after you, Drew!
Roger: Yes, but we're all Drew Davis now; we've all changed our names! [everyone laughs]
Drew: Basically, I started the project and through time, it became a collective effort. And the guys have honored me by letting me keep my name in the band.

Estella: You won the Colgate Country Showdown. How did you hear about it?
Roger: Our drummer, Jaysen Hawks (Jay), got a random e-mail from a friend of his saying he should enter this contest. Jay brings is to the band and says, "You know, this is a way for us to play country in front of people who like country music."
Drew: At the time, we were playing they'd let us play. Our goal was to get e-mails from fans; we wanted e-mail from fans!
Roger: So, we signed up for the contest not knowing how many different levels there were or anything else about it!
Drew: We thought we were going to win some t-shirts and some toothpaste! We just had no idea the severity of it! Roger: Then, we beat out 50,000 other bands.

Estella: That's no joke there; it's for real!
Roger: Yes, it was amazing and we're very fortunate!
Drew: It was a HUGE step for us. For us to win that kind of money, which we've had to live on it – we paid our rent! And it's allowed us to record and do the things six of us have to do, like flying back and forth from L.A. to Nashville. We've been very fortunate! And, all roads have led to here [being at Country Radio Seminar (CRS)]. We just ran into Kassie DePaiva [NOTE: of ABC's One Life to Live fame]. She was the person who handed us the $100,000 check on national television. So, for us to come full circle and be here with people like Kassie, it's pretty ironic – if not miraculous!

Estella: Did you get to meet the host of the show, Billy Ray Cyrus?
Roger: Yes, he is a super sweet guy!
Drew: Iran into him in the studio – he and Jeffrey Steele were working on a project together – and I was doing a vocal. I walked in to do my session and he looked up and said, "Drew Davis! What's up, man?" I was thinking, You remember me, Mr. Cyrus?! He's such a real down-to-earth person and we were so blessed to get to meet him. That's the great thing you find in country music. We live in Los Angeles, so we're around a lot of the rock and pop people, and everyone's got this pretentious attitude out there. But, here [in Nashville], it's all about being sweet and sincere; no matter what, you still put your pants on just like everybody else does. That's the thing that I see that is so true in country music.

Estella: How did you hook up with Jeffrey Steele for your album?
Roger: We were actually on our way back to Nashville, and Jeffrey Steele was sitting right next to us, waiting for the plane to take off! Jay points him out and says, "There's Jeffrey Steele!" So, we started talking to him and by the end of the trip, we were negotiating a record deal, having him produce our album, swapping music!
Drew: Vice President of Windswept Records, Steve Markland, was on the flight, too. It was nuts! A week later, they came out to watch us in Nashville – it was this time last year – and by the end of the week, we had already negotiated a deal! It was pretty amazing! It has been a roller coaster ride!! It's been so exciting!!

Estella: Well, you've got the best of the best working on your album – I mean, you've got Jeffrey Steele working on it! You can't get any better than that!
Roger: You really can't! We're all writers in the band, but you've just got to respect somebody with that much talent and who's just so good at [writing songs].
Drew: And, our single, "Back There All the Time" – talk about a song we all believe in! The minute we heard it, it was a no-brainer; we were recording it! It's one of those feel-good songs.
Roger: One that everybody can relate to it.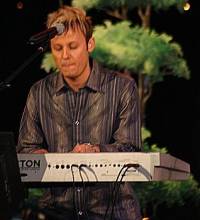 Roger Malinowski on keyboards
Estella: What makes the Drew Davis Band 'sound"?

Roger: Really, it's what our musical influences and backgrounds are, as individuals and the way it comes through as a group. We've got Mo Levone, our bass player, who is a jazz faculty member at University of Southern California, playing bass. Mike Drake has studied jazz, classical, and rock. Loren Ellis is a bluegrass player. I've played in rock, pop, country, and everything in between.
Drew: And polka! By the way, we've got to stop for a moment here! This guy [points to Roger] has been nominated for FIVE Grammys in polka music!

Estella: I was going to ask about that!
Roger: So, back to the question...everyone brings those backgrounds and influences. Part of our sound is one foot firmly planted in the roots of country music, and the other foot is stretched out in the other direction – whether it's bluegrass, rock, pop, or whatever that foot's stretching toward, we're trying to stretch out a little bit. We've got banjo and fiddle, but we've got electric guitars. I play accordian in the show, too. There are elements of all genres in our music.
Drew: Our music has got a rootsy feel to it, but our show has got the energy of a rock show!
Roger: We're just having a great time, and I think it shows! You can tell when people are loving what they do – we do, and it shows!

Estella: With your single about to be released and an album soon to follow, what are you most excited about?
Roger: March 22 the single goes out to radio; that's huge for us! We've been working so long and hard on the music. Everything the band is doing, we are excited about – we're excited about being at CRS, the album, performing – everything.

Estella: Have your heard yourselves on the radio?
Roger: Yes!! We've been played on stations across the country, and it's just weird. I think we were driving through Kansas and we came on the radio with "Back Here All the Time." Everyone just quieted down for a second and let that moment happen; it was really awesome!
Drew: It was a pretty amazing moment! To me, this is like the ultimate dream we've all wanted. I'm constantly like, Someone wake me up! Last year, we were also here, but no one knew who we were!
Roger: We actually had to sneak in! No, we had a few interviews, but that was it.
Drew: This year, we even have badges!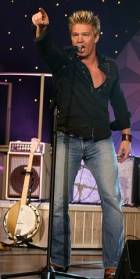 Drew Davis on lead vocals
Estella: I was going to ask you to tell me something interesting about each of you, but only two of you are here!
Roger: Oh, well, that's okay! We'll just fill in for the others! The interesting thing about Mo is that he was a faculty member at USC teaching jazz bass. Mike, our guitar player, has passed the California bar exam; he's a lawyer! Loren has played on countless television shows, plays in a signed bluegrass band with Mo, our bass player. Jaysen – other than being the #1 karaoke singer – he's also a graduate of the Music School in California in percussion and drumming.
Drew: And, he played the part of Beetlejuice at Universal Studios in Hollywood!
Roger: For the interesting thing about me, I have the five Grammy nominations. And then, Drew…
Drew: I don't know if there's anything interesting about me!
Roger: Yes, there is! He's sung at the Academy Awards, the Rosebowl, and the Hollywood Bowl. He's played at some really cool places!

Estella: How did you get to do that?
Drew: I was in a cover band. I had the opportunity to really hone my craft during that time.

Estella: For a "newcomer" band, you all are already so accomplished!
Drew: You know the funny thing is, that wasn't our goal. It was just us doing the things we were doing to get us where we are.
Roger: That's the thing, as individuals, we're strong. But, we're even better as a group! We each bring something to the table.