Estella: How did you react the first time you heard yourself on the radio?
Miranda: Well, I had heard myself on the radio before from my independent album we released here in Texas. But, for "Me and Charlie Talkin'," we were in the middle of nowhere in Arizona when we heard it and it was cool! We stepped into the Crackel Barrel there, and the people there recognized me and were so gracious!

Estella: How did you hook up with renowned video director Trey Fanjoy for your first video?
Miranda: We sent out requests to several directors asking for treatments – or story lines – for how a video should go. We felt that Trey really understood the song, and she liked it, so we decided she was the best person to do it.

Estella: What was experience like filming your very first video?
Miranda: Honestly, I really didn't like it at first, so the first two hours were really stressful for me. I don't consider myself an actress, so it was really strange – I wasn't used to all the different cameras. Plus, when you're filming videos, you're not really singing, so it was like I was lip syncing to myself. I had my real band with me in the video, though, so that gave me a little more comfort. But, I had a little "pep talk" from Trey, and by the end of the day, I was fine. I'm ready to do my second video! I think I'll be more comfortable in that one!

Estella: Have you picked out a follow-up single yet?
Miranda: I'm hoping it will be "Kerosene." It would make a great video!! It's different and edgy, and it's a great time for that in country music right now. I think Gretchen Wilson and Big & Rich really opened the doors for songs like it to be out there.

Estella: In a few weeks, your album will be in stores. What are the thoughts running through your mind right now? Are you excited? Nervous?
Miranda: I'm excited AND nervous! I'm excited because I've had this album done for about a year now, and I want everyone to hear it. But, I'm also scared to death, because I don't know what people will think about it. I've put my heart into this album so of course I want it to be successful. March 15 will be a scary day for me!

Estella: One thing I admire about you was the way you stood up to the people at Sony and said, "This is the kind of songs I write, and if you don't like that, I'd rather not be here." It takes a lot of guts to do that!
Miranda: That's how I really feel. I'd rather just do my own thing than have them change who I am. I've been doing it since I was 17 here in Texas, and I could go back to it. Of course, I was scared, and I'm so glad it didn't come to that.

Estella: Where do you get your wisdom?
Miranda: Well, I don't know if it's wisdom. But, I do feel really strongly about my music and my songwriting. I'm not trying to hide anything. That's what I'd say to people, too – if they believe strongly about their music, don't settle. I guess it comes from knowing who I am as a person and as an artist. It's more confidence; that's what it is. But, it's scary, because what if my album isn't successful?

Estella: What was it like working with Frank Liddell? [NOTE: he's Lee Ann Womack's husband].
Miranda: Amazing! He let me be a huge part of my album. He's all about the music and not about the politics. He and co-producer Mark Wrucke made this album better than what I thought it could be!

Estella: Have you met Lee Ann?
Miranda: Yes, I've met Lee Ann several times; she's so down to earth and sweet! Of course, I've been a fan of hers forever!

Estella: Why did you choose Kerosene as the title?
Miranda: It's an edgy and cool word, and I felt like it really describes the record. And, I don't think anyone has ever named their album that, so that's what I chose.

Estella: What are you most proud of when it comes to your album?
Miranda: I had a hand in everything about it. I wrote or co-wrote 11 of the 12 songs on it, so they're all songs that are close to my heart. I had some things to say and I really felt like I said them in this album.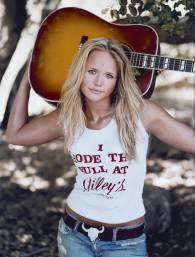 Estella: You've stressed you want to be taken seriously as a singer/songwriter. Do you feel that your age tends to make people look at you differently?
Miranda: It can; like when I was on Nashville Star, I was only 19. My dad and I have written some songs together, and some people said, "Yeah right! Your dad wrote that song and you're just saying you wrote it." I'm 21 now and it's like some people think that the things I write about are impossible for 21-year-olds to have experienced, but it's not really.

Estella: Speaking of writing, you wrote "What About Georgia," about fellow Nashville Star contestant Travis Howard. Do I sense some bitter vengence in that song?!
Miranda: The story behind that song is, he wrote a song about me called "Train Wreck," and it was rather cutting. We're friends, but it was almost like a reality check for me. So, I wrote a song about him. He's 33, moved to L.A. eight years ago and never looked back. I was like, "What about where you came from? Where are your roots?" That's really what the song is about.

Estella: Do you have a favorite track on Kerosene?
Miranda: Probably "Love's Looking For You." I wrote that one for myself. I wasn't looking to have a radio hit or anything; it was exactly the way I felt, so that one's close to my heart.

Estella: What is your favorite part about what you're doing?
Miranda: Music is the only thing that came naturally for me. Everything else I've had to work really hard on – sports, cheerleading – it seemed like it always took a long time for those things to become "easy" to me. But, music was different. From the time I picked up a guitar, I knew it was something that I wanted to do. So, I take even the difficult parts in stride, because I know this is what I'm meant to do.

Estella: Of all the artists that you have performed with or opened for, so far, who has been your favorite?
Miranda: I got to open for George Jones – he was so sweet! That was one of my highlights. I did a show with Blake Shelton recently, and he was so gracious. And, Montgomery Gentry, they were so welcoming and treated us like we were just as important as anybody else. It's can be hard when you're the opening act, because people are there to see the headliner. So, when I have opening acts, I try to listen to them, because I've been there myself.

Estella: I know you adore Merle Haggard. Is there a chance you will get to perform with him in the near future?
Miranda: Meeting Merle and singing with him has been one of my all-time dreams! And, I'll get to do that this July, so I'm really excited about that!

Estella: What has been your favorite place to play and why?
Miranda: Probably the Gypsy Tea Room. They've been very supportive of me ever since I started out. When I was 17, the very first gig I ever had was at that club.

Estella: Many fans have asked how they can get their songs to you. Do you have any suggestions?
Miranda: I don't really know how they can do that, actually. I guess they can go through Tracy Gershon at Sony; she's my A & R person.

Estella: What's it like working with Tracy again, having worked with her before on Nashville Star?
Miranda: Tracy's a great person! She always liked me while I was on Nashville Star, so it's nice to have that support. We've become personal friends now.