4th Annual Chris Young Fan Club Party
Friday, June 9, 2006

By: Estella Pan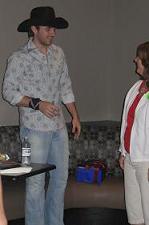 Chris meets w/ fans.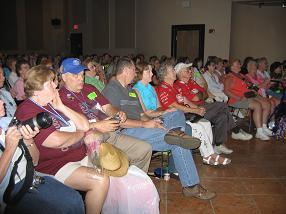 Nearly 300 fans attended Chris' party!
Fan Fair week has become known as "The Biggest Party in Country Music!" during which every corner of Nashville (and several surrounding cities) consists of expansive lines and anxious fans awaiting entrance to the week-long festivities. On that Friday morning, excitement was in the air for this sleep-deprived crowd as they chattered outside the Global Café in anticipation for what was to come. All this fanfare was for Chris Young, the newest Nashville Star winner. Of course, this was no ordinary show; it was Chris' annual fan club party.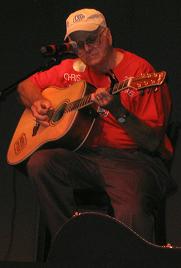 Chris' grandfather takes the stage.

And, fans were a key part in the success of the 4th Annual Chris Young Fan Club Party. Doors opened at 7:50 AM and once in, fans headed upstairs for the opportunity to meet with Chris. With songs from Chris' I Wish I Was Lyin' album playing in the background, fans enjoyed a breakfast of muffins, doughnuts, assorted fruit juices, and coffee, and slowly made their way to the seating area.

Chris' special "opening act" for the early morning performance is also one of his all-time biggest fans!! His grandfather, Richard Yates, beamed with pride as he expressed his happiness for having watched his grandson's dreams come true. He picked his guitar and sang mostly classic country songs; one of them was the first song Chris ever learned to sing! In an especially touching moment, Chris took a quick minute to leap on stage and give his grandfather a hug and kiss before continuing with his meet and greets. A drawing for several one-of-a-kind prizes followed.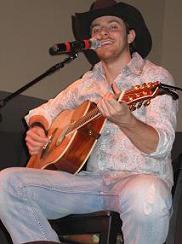 Chris' mother watches from backstage.

Before long, Chris himself stepped onto the stage, strapped on his new Nashville Star guitar, and treated the nearly 300 fans in attendance to a mix of well-known classics (Keith Whitley's "Don't Close Your Eyes" is a popular staple to Chris' shows!), old favorites from his own repertoire [NOTE: Chris has already released THREE albums independently, including a Christmas project!!], as well as a few new tunes. His current single, "Drinkin' Me Lonely," drew one of several standing ovations from the crowd!! Chris' mother, Becky Harris, had tears in her eyes as she watched from backstage and applauded.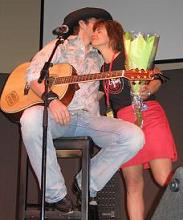 Terri gets roses and a hug from Chris!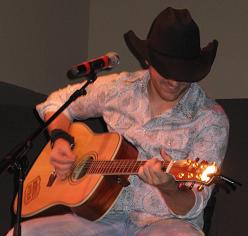 Clearly a man who LOVES his job!!
Taking a break from singing, Chris called Terri Thompson, onto the stage. After thanking her for everything she continues to do to further his career, he presented her with roses. More music was on the way, as Chris sang "Center of My World" and "Small Town, Big Time;" both are from his forthcoming RCA album.
All too soon, the party wrapped. As fans headed out, Chris made his way to the Riverfront Stages for another performance there. Thus continues the nonstop shuffling from show to show, city to city – something that has become all too familiar as of late. But, he's okay with that, especially when it comes to sharing his music and time with his fans. He has said that "[my fans are] what has kept me from [canceling] my fan club party. Every year, it's something people in my fan club look forward to, which I think is really cool! At times, it's been really hard to do, but I continue to do it, because they love it!"

Chris is currently on the 2006 Nashville Star Tour, also featuring Casey Rivers, Nicole Jamrose, and Matt Mason.
Chris Keeps 'Em Coming Back!
During the course of Nashville Star's fourth season run, it was mentioned numerous times that Chris had the most noticeably devoted fans, many of whom have been following his career for five or more years!! It was those fans who tirelessly logged in their votes each week, which ultimately resulted in his victorious win on the show! So, what is it that makes Chris stand out among all the other singers and songwriters currently populating the country music scene? (Other than the fact that he does stand a towering 6' 4.")
Terri & Chris backstage at the Ryman.

Those who've known Chris the longest, however, aren't surprised that his fan base continues to grow every day! Terri Thompson, Chris' longtime friend and president of his fan club, shares, "In addition to his obvious talent, Chris spoils his fans with his welcoming personality and the way he puts every fan at ease. He just melts you!"
DJ Devin gives Chris a congratulatory hug
the night he was named the Nashville Star!!
DJ Devin of San Diego, California, who has known Chris since 2003, shares, "Chris has a special energy and charm that conveys itself to his audience." She adds, "Every show is different because you never know what kind of fun things he will throw in. From doing a backflip to singing into a cell phone of an audience member, you can feel that he really enjoys what he is doing and he pulls you into the party with him!"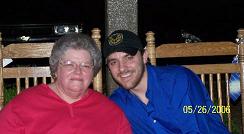 Dale Brazell poses with Chris

Dale Brazell of Columbia, South Carolina, has followed Chris' career for almost four years; he had this to say: "He is so talented, and he has the ability to make every fan feel like they are special to him. He's a very nice, caring young man."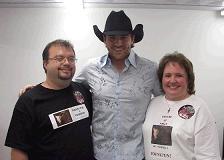 Richard and Angie Holland with Chris

Richard and Angie Holland, of Nashville, Tennessee, say not only were they hooked after hearing Chris' voice but it was "more importantly, his personality and friendliness" that sealed the deal to their support for his musical endeavors. Richard adds, "I have been friends with Chris' fan club manager for several years and she has been trying to get me involved but I just never did. Until I was going to [a Nashville Star taping anyway], that's when I discovered Chris and that I should have listened to her!!"



Tori Wilkinson meets with Chris
Tori Wilkinson of Tampa Area, Florida, became a Chris Young fan by way of another artist. "I first discovered Chris through the Trace Adkins message board. A group of ladies over there were letting us all know that a friend of theirs was trying out of Nashville Star and to keep our eye out for this guy. I went to his website, listened to a couple clips, and it hit me that I was listening to one of the best voices I had ever heard!" She was hooked from the start, immediately joined Chris' fan club, voted for him every week on Nashville Star, then joined his Street Team. Tori says, "I finally got to meet him at a show in Florida this past July and it was an experience that I will never forget." She adds, "His kindness is unsurpassed, as he will stop at next to nothing to make sure he is connecting with his fans. Whether it is leaving comments on fans' myspace pages, personally responding to as many emails as he can, doing countless meet and greets no matter how worn out he is, he still keeps that beautiful smile on his face. What's more is that he honestly has NO CLUE why woman go ga-ga over him!! Chris just has the WHOLE package and it's what is on the inside that makes him so wonderful."
Be sure to circle October 3, 2006 on your calendars – that is the scheduled release date for Chris' highly-anticipated self-titled RCA album!!!!