By: Estella Pan
Tammy was one of several guests at the

Countriest of the Country Benefit Concert
Tammy Cochran put a prominent page of her own life into her deeply personal song, "Angels in Waiting." In return, her fans' overwhelming response to the song made it her first Top Ten hit! As fast as her star was rising, Epic Records/Sony Nashville sliced its roster in half, and Tammy found herself without a record deal. Not one to pack up her dreams in defeat, the Austinburg, Ohio native and now Tennessee resident has continued writing her own music and has, in fact, already completed a new album. I had the opportunity to catch up with Tammy during CMA Music Fest/Fan Fair week, prior to her performance in Countriest of the Country (a star-studded benefit concert organized and hosted by Billy Yates with proceeds going to Christmas for the Children.)

Tammy confirms that "my new album is done. It was produced by Mark Thompson and Anita Cochran." [NOTE: Anita and Tammy are not related but ARE close friends.] She adds, "I wrote every song on it. It's like a songwriter's album, something I've always wanted to do. It's totally different from anything I've ever done." Though work on the album has wrapped, fans waiting for new music from the "Angels in Waiting" and "If You Can" songstress might have to hold on a bit longer, as it has yet to be scheduled for release. The holdup has to do with a slight change in marketing plans. Tammy explains, "Initially, we were looking to market it ourselves through the Internet. Well, word got around town that [I was] working on a new album, and labels wanted to hear it. So, we're in the process, right now, of taking it to different labels." [NOTE: As determined after our interview, Tammy's album is set to release on February 20, 2007.] While the label from which the project releases remains up in the air, Tammy is pretty certain that she prefers "something a little more intimate" this time around. "To be honest, I don't really want a [major] label deal anymore. I just want to be myself and make the music that I love. So, if I find a place where I feel comfortable, fabulous! If I don't, there are lots of other avenues." Ever the optimist, Tammy has come to realize that there isn't just one sure way of getting to where she wants to be. "One of the biggest lessons I've learned is I've got to be myself and I have to make myself happy. I spent a long time making everybody happy, but you can only give so much of yourself before you can't anymore!"

With her album release pending, Tammy can offer this insightful preview of her forthcoming album: "The name of the album is going to be called Where I Am. There's a song called "Where I Am," that's kind of about where I am – imagine that! I wrote it with Verlon Thompson and Tommy Polk and that is probably one of my favorite songs on the album. It's almost a gospel kind of song. There's a song on there about domestic abuse and then there are love songs. There's a song I wrote when I was first falling in love, which lasted ten minutes!! [NOTE: The lovefest not the song!] So of course, there's a heartbreak song, because I was going through that. Another one of my favorites is one I also wrote with Patricia Gray. I was going through this whole Oh my gosh, I'm single and I'm getting older thing. So, it's called "Nobody's Home," and it's about the life of a single woman who goes home to a big house that's empty." As far as musical styles go, Tammy exclaims, "It's all over the map!"

When writing songs, Tammy tends to draw inspiration from real life experiences – though not necessarily always her own. "I always try to write songs that I can somehow relate to, whether it be a movie I saw, something I read in the newspaper, or from personal experience. I don't just pick an idea and go, I'm going to create a story out of thin air!" Knowing that she is "my own worst critic," Tammy got creative with the song selection process and turned to friends. "I relied on a lot of my friends who weren't in the music business, saying, 'Here's a tape of twenty songs; tell me your twelve favorite.' I think that was a nice perspective, because I was a little too close to those songs." She says writing her own songs has its advantages – and she's not talking about receiving royalties! "Country music has gotten to where it's so image-related – [a lot of times,] it seems to be about what you're wearing and how you look. But, [my new album] is a little peek into who I am as a real person, as opposed to 'Tammy Cochran, the country artist.'"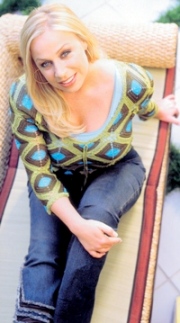 That real person also has some very real concerns; one of them is the reason for her endless dedication to raising awareness for cystic fibrosis (CF). Tammy's older brothers, Alan and Shawn – her only siblings – succumbed to CF at 15 and 22 years of age, respectively. "It's an awful disease where one in thirty people are affected. But, you don't really see it advertised or hear much about it." Tammy wrote "Angels in Waiting" to honor the good times she shared with her brothers and hadn't actually planned on releasing it as a single. However, the inspirationally powerful ballad took its own course toward touching people all over the world with its message of hope. Tammy has since worked closely with the Cystic Fibrosis Foundation (CFF) in continuing to spread the word about the disease. "I think we've helped each out through 'Angels in Waiting.' I've helped them bring awareness to CF and they've helped me because they put me in front of so many people that I wouldn't get the chance to be in front of." Though not having been born with cystic fibrosis herself, the reality of her personal circumstances doesn't escape Tammy, "If I choose to carry a child one day, I know that I carry the cystic fibrosis gene. And, [there's a percentage of people] who have the CF gene but don't know about it. That means, if I find Mr. Right and we decide to have a family, the reality of it is, those aren't very good odds! So, I just think everybody needs to know more about it."

Don't count on Tammy being country music's next "comeback artist," because the fact is, she hasn't so much as left the music, let alone disappeared. Her musical passion and commitment to her craft are still fiercely intact; she has just found other ways in which to utilize them.