Just a reminder: April will roll by, but Blue County will still be around. I will continue to update this page, so check back often! Enjoy!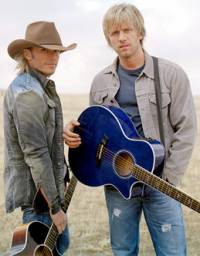 Who are they?
Once in a blue moon, two individuals traveling down very different paths meet, connect musically, and fuse their respective influences to form their own unique sound. Such is the case with one of country music's hottest duos Blue County. Aaron Benward, of Indiana, joined his father on the road for a few years. During that time, Aaron and his father also recorded three albums. Arkansas native Scott Reeves, (who grew up in Los Angeles) got bitten by the music bug after singing with family members. He also began acting, landing several TV commercials as well as recurring roles in the daytime soap operas The Young and the Restless and Days of Our Lives. [NOTE: It was on the set of Days of Our Lives where Scott met his future wife, Melissa Reeves, who also stars in Days; they married in 1998.]
After meeting on the set of a music video, Aaron and Scott became fast friends. They started singing together and have been a duo ever since! Soon after signing with Curb Records, their debut single "Good Little Girls" became a smash hit! Since, they've also released the singles "That's Cool" and "Nothin' But Cowboy Boots" and earned droves of adoring, loyal fans. Their current single is "Summertime."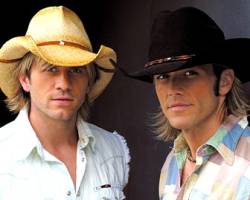 What has Blue County been up to?
REQUEST Blue County's latest single "Summertime" - at radios NOW!! Please continue to REQUEST their other singles at radio and videos on GAC, VH-1 Country, and CMT!!!!
Aaron and Scott will be performing during the upcoming "Country in the Rockies" week!! The festivities are held in Crested Butt, Colorado, and all the fun starts January 28!! Check out:
http://www.citr.org
for more information.
Blue County will be on the Kenny Chesney Cruise in February!! Now, how exciting is that gonna be? Water, sun, and GREAT country music!! To book YOUR cabin, please visit:
http://cruise.kennychesney.com
.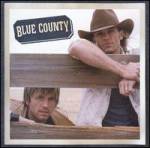 Where can I buy their music?
Purchase YOUR copy of Blue County's self-titled debut album (which includes the smash hit "Good Little Girls," "That's Cool," and "Nothin' But Cowboy Boots"!!) by clicking on the CD cover!!