What do you do when you only want one thing out of life - careerwise? You'd search until you found it! That's exactly what Kelly Lang did; she's been spending quality time honing her craft as a singer/performer and more recently as a songwriter. On the verge of releasing her debut album, country music fans are about to find out: "It's About Time."
Kelly at age 3, already full of
confidence and poise
Meet Kelly:
At 3 years of age, Kelly Lang declared to her mother that she wanted to become a superstar! It was her very own dream and she took it very seriously! She wrote her first song when she was 6 and filmed her first video at 15 (for her single "Lady, Lady)." Not long after her video was released, she made appearances on popular Nashville-based shows: Ralph Emery Morning Show, Crook and Chase, The Statler Brothers Show, Church Street Station, Fantasy, Pickin' In The Paradise. When she was 17, she was told that she was too young to audition for Ed McMahon's Star Search in the Adult Female Singers Category (at the time, they didn't have any junior categories). She returned to audition at 18 years old and made it to the final round three different times on the popular television show. Later, she reunited with Ralph Emery, making guest appearances on his Nashville Now show. She has shared the stage with country greats George Jones, T. G. Sheppard, Lorrie Morgan, Ronnie Milsap, Brenda Lee, and many others.
In her late teens, Kelly married and had two daughters Payton and Kennedy. Though she put music aside to raise her daughters, she never forgot about wanting to record her music. Enduring a divorce set her back some more, but one day, everything fell into place. Kelly says: "I had just had two dear friends pray over me that God would give me direction - and within a few days, I was signing with the label! For me, it was a definite 'divine intervention' - like God was telling me I traveled this far to find I needed to rely totally on Him all along. For the first time, everything seems to be on the same page, at the right time!"
Perhaps it's no surprise that Kelly would eventually be signed to Destiny Row Records. So, after years of preparation, hard work, and prayers, Kelly released her album, aptly titled It's About Time - it's about time the rest of the world found out about Kelly Lang!!


Catching Up With Kelly:
REQUEST "Feels Like Home" - at radios now!! Also, the video has been added into rotation on GAC, so make sure to REQUEST it!!

One of Kelly's newest fans is none other than the very famous model, beauty expert, fashion designer, and successful entrepreneur Cindy Crawford!! In 2004 Crawford, along with renowned French cosmetic surgeon Jean Louis Sebagh, developed a revolutionary "age-maintenance" skin care line called Meaningful Beauty. While surfing the Internet, Kelly discovered this product and decided to give it a try. Within a few weeks after she began using the product, people began commenting on her skin and inquiring about what she used to keep it in such great condition. She received so many comments that she decided to sit down and write a letter to the company to let them know how happy she was with their skin care line.
The name of Crawford's product was inspired by something she dearly value's; a meaningful life. Apparently, the person who received Kelly's letter, visited her website. After seeing her photos, learning more about Kelly and discovering that she is not only a single mom and cancer survivor but also a successful artist, singer and songwriter ... One thing led to another - lo and behold, a camera crew from Crawford's company came to Nashville to shoot a commercial featuring none other than our own meaningful beauty, Kelly Lang!! The commercial is scheduled to air within the next six months, so be watching for it!

Kelly has NEW original paintings posted on your site!! If you're interested in purchasing one or more, click on the Art Gallery section of her official and follow the appropriate links!!

Kelly has been writing music for her new album as well as for one of her close friends, Lorrie Morgan. Kelly, along with Lorrie and Mark Oliverius, have written a song called "Somethin' Fishy Goin' On" that will be included on the upcoming compilation CD - available exclusively through Bass Pro Shops beginning in June. Other artists on the compilation include Merle Haggard, George Jones, Vince Gill, Little Jimmy Dickens, and Bobby Bare.

Kelly has announced that, as of June 7, 2005, she has been cleared of breast cancer!!!! Though her own battle was a success, she continues to speak out about it, in hopes that others will benefit for it.


Pick Up Kelly's CD:
Kelly's debut album It's About Time is available for purchase by clicking on the CD cover to the right - make sure to pick up YOUR copy; it's filled with fantastic music!

Also available are Goodbye Darlin' (A Tribute To Conway Twitty) (Available on DVD and VHS) AND Lullaby Country (cassette only; all songs written and sung by Kelly Lang). Check out Kelly's website to order YOUR copy of each (link is below).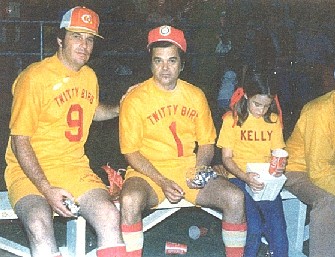 Kelly's father Vernon, Conway Twitty, and Kelly


Did y'all know?!
** Kelly's father, the late Vernon Lang, was Conway Twitty's road manager for 25 years! Kelly says she was inspired to become a singer/performer from watching Conway on stage during his shows.

** After receiving an oil painting kit from her beau T.G. Sheppard, Kelly took up a new hobby! She showcases several pieces of original work in the ART GALLERY section of her official website (link is below)


Recent family portrait
(l to r): Payton, T.G., Kelly, and Kennedy
Visit With Kelly:
Find the latest info, hear clips to Kelly's songs, AND check out her oil painting gallery (all are Kelly's original work) at her official website:
http://www.KellyLang.net
!! (Tell her you heard about her from
STAR Country!
)