By: Estella Pan

Troy Coleman – aka Cowboy Troy – might have a towering presence standing 6' 5", but his jovial disposition and genuinely polite mannerisms are the furthest thing from intimidating. On the day we met, he sported a Texas-sized smile and his signature gold belt buckle that was almost as big as my head! He greeted me warmly with: "Hey, you're the gal from my MySpace page! Once you walked in, I thought I know you from somewhere!" He is correct, for I had posted a comment to his page a couple days preceding our interview. He took a break from his duties on Nashville Star to chat with me about his experiences on the show as well as his forthcoming album, Black in the Saddle.
This former Foot Locker manager from Texas is now make his living creating and sharing music that he likes LOUD! "I always loved listening to music, and I love listening to my music loud. So, I figured why not make music and make it loud?" It was a dream worth pursuing, and the opportunity to do so landed in his lap when he was introduced to John Rich and Big Kenny (Big & Rich). Interested in his unique musical style that blends plenty of fiddles and steel pedal with his assertive raps, Cowboy Troy was invited to share his hick hop music at MuzikMafia jam sessions. When I inquired of the origin for the term, Troy admits he's a little unsure how it was generated. "I don't think I came up with it, but I use it more than anybody, though!" The rest of the world was introduced to Cowboy Troy via his debut single, "I Play Chicken With the Train." The song is featured on his first album titled Locomotive. His hick hop style and engaging stage presence have helped garner him much attention with audiences all across the country as he toured with Big & Rich. He's been on the Tonight Show With Jay Leno, Larry King Live, and Nashville Star, for which he just wrapped his second year as co-host. Troy explains how he got hooked up with the hosting gig. "I was performing with Big & Rich on the season finale show for season 3, and one of the producers of the show made a comment to someone at USA Network. The network contacted my management, who contacted my agent. My agent asked, 'Hey, do you want to do this?' I said, 'Yes!'" He went on to co-host the fourth and fifth seasons of the show.

In between Nashville Star tapings and touring, Cowboy Troy also worked on his second album, which is scheduled for release later this year. He shares the inspiration for the naming of his new album. "It's kind of like the old Gene Autry song, 'Back in the Saddle Again.' Well, I'm Black in the Saddle again!" Troy points out that there are distinct similarities and differences between Black in the Saddle and Locomotive. "Fans can expect to hear a loud, really energetic, aggressive sound in probably 70% of this album. The other 30% is less aggressive, but still aggressive! It's similar to Locomotive in the sense that it's still talking about me, just a different phase of my life. It's real high energy and in-your-face music." He continues, "In certain spots, it's a little bit darker and a little bit more mature. It's not as happy-go-lucky, Hey, how you doing? everybody's having a grand old time [as the first album], because you know, you can't be happy 24/7. But, you get the fiddles and everything like that going, and it's a lot of fun! Parts of it sounds like Motorhead on horseback!" [NOTE: Cowboy Troy shared that he enjoys heavy metal, and Motorhead is a band in that genre of music.] He also oversaw the technical side for the making of his new album. "I co-wrote everything on this new record, same as I did on my first record. The difference this time is I got to also co-produce the record." He sums up Black in the Saddle as being a louder version of Locomotive.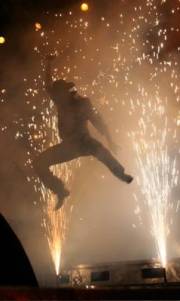 There's lots to take in at a Cowboy Troy show!
Troy is looking forward to touring and bringing his new music to fans. His live shows consist of plenty of high energy. He says, "I'm physically always moving from place to place all over the stage; I don't really stand still too much. I address different parts of the crowds all throughout my shows, so everybody gets to see me up close." Getting to know who his fans are runs high on Troy's list of to-do's, and for everyone wondering if he actually checks his own MySpace page, here's his answer: "I check my page quite a bit." Indeed, he is pretty involved in keeping fans up-to-date via blog entries on MySpace. These updates are titled "Hick-Hop Nonstop," and he writes each entry himself. He also has a running video series called CbTV, which features behind-the-scenes look into the life of Cowboy Troy.
[NOTE: Catch up with Cowboy Troy on his MySpace page at http://www.myspace.com/cowboytroy]
When Troy is off duty from the road, there's nothing like home sweet home. "You know, I'm loud for a living. So, when I'm not working, I'm kind of a quiet guy. I tend to spend a lot of time at home, because I like to be around family all the time. That's probably something my fans wouldn't know about me." He is not one to take success for granted either. "The hard times I had selling shoes have been the most memorable, because it gives me a chance to appreciate the successes that I've had now at this particular point in my life." He shares the main difference it's made in his personal life. "My wife and I had a conversation the other day, and we talked about how thinking back, we were always trying to figure out,
Do we buy this because we need it, or do we pay the light bill?
Or whatever other bill we have before the service gets turned off. Now, we've gotten more comfortable than we were and I think those hard times really allow me to appreciate the good things we have now."
The tables take an intriguing turn when I asked Troy to take over my role as a journalist for a minute and think of a question he'd ask himself. He offered, "I'd ask me: Why didn't you give you when people kept telling you 'No'?" He continues, "My answer to that would be: Just because somebody doesn't like your music or the way you look – I don't think that's a good excuse to give up a dream. It doesn't mean you have to cave in and give in to what other folks are saying. If you really want to do something, and you feel like you are well within your ability and you have the right to do it, then you should get out there and do it!' He seems to have done well on that respect. "Yeah, so far!"
With that, our interview comes to a graceful halt. Cowboy Troy is
Black in the Saddle
, and his new album gallops onto store shelves on June 5. This is my cue to advise you fine folks to hold your horses and
get you some of that!
Cowboy Troy and Jewel co-hosted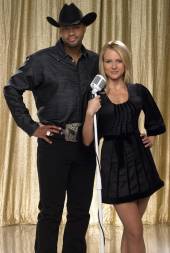 the 5th season of Nashville Star
Tori, from Tampa, Florida writes: Your co-host on Nashville Star this year was Jewel, who was very outspoken about how she disagreed with Anastasia [Brown]. Do you think the judges can sometimes be too harsh or do you think tough love is the best policy?
Cowboy Troy: Well, I think the judges on the show have been quite honest in their opinions, and I think honesty is good for the contestants to grow. The way you deliver that honesty can be interpreted one way or another, and that may be where the difficulty arises between those two. Other than that, I think honesty is probably the best.

Your co-host on the show last year was Wynonna. Is there something interesting about her that fans would be surprised to know?
Cowboy Troy: Wynonna is FUNNY!! She's got jokes!! I'm serious! There was one time where we were standing on stage, the commercials were almost over with, and cameras were about to come on. Well, she said something to me right before – I can't remember what it is now – all I remember is that I was doubled over laughing when we came back live. I just said, "Sorry, y'all, Wy said something funny!" She's got a good sense of humor!

Give us a rundown of a "typical" day in the life of Cowboy Troy.
Cowboy Troy: First thing in the morning, I probably wake up around 7 or 8 o'clock. If I'm around the house, I'll make some coffee, check news and e-mails. By the time my wife wakes up, I ask her what she would like for breakfast, and then I do general things around the house. If there's nothing scheduled work wise, then I go to the gym and work out. If I have work, I'll do whatever it is until it's all done, and then, if I have time, I'll go to the gym.

Brian Lorson asks: What are three words you would use to describe yourself?
Cowboy Troy: Funny, energetic, and caring – I'd say those are the three I'd use.