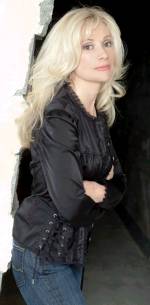 Lane's STAR Cause:
There's no doubt Lane Brody was meant to bring music to many hearts. She began singing at the age of five and wrote her first song at twelve. While still in her teens, a stint singing TV jingles launched her career (McDonalds, 7UP, Kentucky Fried Chicken and Juicy Fruit gum and many more!) That led her to land a role in the hit TV series, TAXI. Then, in ABC's Heart of the City, Lane played the role of country singer Jenny Jamison. In the movie, Lane got to perform three songs, one of which was her own. Not long after, she signed with GRT Records, and her debut single hit #1 in country markets. About this time, industry biggies were beginning to talk - it seems that Lane's success in both the television and music industries hindered many. People wanted to put her in only one category (recording artist OR actress), when clearly, she was capable of both. So, Lane walked away from her highly successful career in search of a way to record the music she loved AND to do it the way she wanted. Lane's latest album, Pieces of Life, is a testament of hard work and listening then following where your heart leads you.
Aside from music, Lane's passion lies with animals. She and her husband Eddie have nine dogs AND a talking starling named Fevronia Star. When she is not in the studio or on stage, you may often find Lane rescuing injured animals off the side of the road - several of her own "babies" were strays who wandered into her yard. She puts much heart into organizing and hosting her Lane Brody Annual Wildlife Benefit Concert, which she started in 2001. Her events have attracted the likes of Vince Gill, Rodney Crowell, Brad Martin, Thom Bresh, Dobie Gray, and others; together. Together, they join forces and voices in helping Walden's Puddle continue to provide care to sick, injured and orphaned native Tennessee wildlife and provide educational experiences to the community, allowing for a greater understanding and appreciation of wildlife.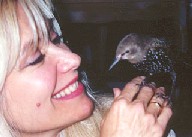 Introducing...Fevronia Star!! She's Lane's adorable talking Starling.
Click the following link to learn more about Fevronia Star:
Mama's Little Baby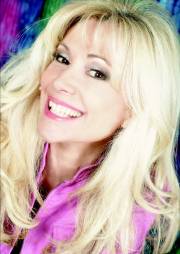 The Latest on Lane:
In support of Walden's Puddle, several artists will be dedicating their time to take part in the
5th Annual Lane Brody Wildlife Benefit Concert.
Randy Owen of Alabama, Dobie Gray, and Blaine Larsen have just been added to the list of performers. Previously announced artists appearing are The Pirates of the Mississippi, Michael Peterson, grammy nominated LynnMarie, and Lane Brody. GAC personality Nan Kelley will emcee the evening.
The event is set for Thursday, March 29 at The Gibson Showcase in Opry Mills, beginning at 7:00PM. All proceeds raised will go to Walden's Puddle, a wildlife rehabilitation center located in Joelton, Tennessee helping abandoned or injured animals.
Lane Brody stated, "I am appreciative of all the performers who continue to support the charity event. Walden's Puddle will take in any where from 400 - 600 abandoned baby animals this Spring. The Lane Brody Wildlife Benefit concert has always been a successful event in helping provide for these animals."
Tickets may be purchased in advance through Walden's Puddle at 615-299-9938 ext. 26. Tickets and packages include; general seating ($40), VIP seating ($100), table of four ($350), table of six ($500), table of eight ($650). All purchases are tax-deductible. A limited number of tickets will be available to night of the event.
Lane's hit song "Over You" from the film
Tender Mercies
was a hit in its own right. But, turns out, it was also used as a theme for a Braziliian soap opera!! Because of this, Lane has aquired many fans from South America. The following video clip is a tribute to Lane from fans in South America:
http://youtube.com/watch?v=elAo9LNuuBw
Lane is currently in the studio putting the finishing touches on her new album
On The Wings of Songs
which is set for an early July release on Records Records. The album title is taken from the title track, which she co-wrote with acclaimed songwriter Kostas, who also sang backup on the song.
"She's not only the best singer in today's review pile, she also has one of the outstanding songs of this or any other year" renowned music critic Robert K Oermann says of the new single "That's Where Love Comes In."
He continues, "A sensationally well written and socially conscious song in the throat of one of our finest singers. If you aren't moved by this message, you're made of stone." A video, filmed by award winning Australian director Ross Wood, has already been uploaded to Lane's website - click on the News page to watch it.
"That's Where Love Comes In," Lane's NEW single has been shipped to radio. The video for it has been added into rotation on CMT and GAC.
3C DIGITAL has been supporting Lane for the past few years with one hour specials and playing her music. Lane was voted in the top 15 artists by their listeners. We want to thank Pat Geary and the staff of 3c and to tell all of you to check out the network. It is one of the best internet radio networks out there. Be sure to "tune in" at:
http://www.3cdigital.com
!!
Did y'all know?!
** Lane's husband is the Eddie Bayers, the award-winning drummer who has seemingly played on EVERYONE's record (and not just w/in the country music genre, either!!) :)

Listen Up:
Lane's Pieces of Life CD features "Unsung Heroes" and "Yellow Rose of Texas" her famous duet w/ Johnny Lee. Pick up YOUR copy by clicking on the CD cover to the left!

Familiar Places contains Lane's rendition of ten well-known standards. The album is available on Lane's official website!!


Catch up with Lane at her official site: