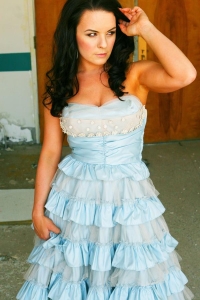 Jenna von Oy has been a familiar face on television for two decades – most notably as Six Le Meure in Blossom, and later, as Stevie Van Lowe in The Parkers. She's also had guest roles in other television series, including Chicago Hope, 7th Heaven, as well as several movies. Though she's been an actor for most of her life, Jenna has also had a burning passion for music for just as long. (She wrote her first song when she was four years old.) After years of leaving music on the back burner, she finally felt ready to give it a go, writing for and recording her debut album, Breathing Room, which was released a couple months ago.

So, why the wait to put together a full album? "I think I was waiting for at least enough perspective as an adult to feel like I had something important to say. I knew I wanted to write everything [for my album]." Jenna continues, "Initially, when I came to Nashville, I looked into everybody else's songs. There are amazing songwriters in this town, so there were certainly songs that I felt that I could relate to it enough to feel them and sing them and mean every word. But, there's something about singing your own words that are close to your heart that I think people feel more attracted, because there's such a raw honesty to it." Jenna credits her friend and fellow singer/songwriter, Cindy Alexander for giving her that extra push she needed to begin her debut music project. Jenna remembers, "At some point, Cindy and I were talking. She said, 'I know that you don't think that you're ready to make an album. But, you are ready.'"

The result is her debut effort, titled Breathing Room. It is a clear breath of fresh air from many of the albums that have been tailored to fit within the mainstream constraints of radio, and Jenna is just fine with that. "I understand that [other albums] might be more mainstream, more radio-worthy, maybe it might appeal to the masses more than my songs do. But, the beauty of writing what you need to say and what's important to you is that one person will come up and tell me that their favorite song is 'Room to Breathe.' Another person will say they relate most to 'I'm Taking It Back.' I think I've had every song on the album told to me already as someone's favorite song." She adds, "It's been so interesting – you can almost pinpoint people are in their life, based on what song means the most to them right now." That's the true value of a song, according to Jenna. "Instead of listening to an album and saying, 'That's going to be the next hit song on the radio,' people are listening to it going, 'That means something to me right now!' That's the beauty of it!" As for musical style, Jenna doesn't place her music within one specific genre. "I describe it as Country. Pop. Soul And then some." She adds, "I've never said my music was country music. I have elements of country in my music, but I also have a lot of other influences in my music as well. I did not grow up listening to country. My favorites are everyone from Billie Holiday to Trisha Yearwood to new artists like Mindy Smith. I listen on a daily basis to Norah Jones, Train, and John Mayer. Jenna gives her best assessment on her own musical style: "My music is a mix of a lot of things, but it's whole-heartedly me."
Because the bulk of her fans still remember her as Six, Jenna is finding herself traveling done an avenue that other actors-turned-musicians have attempted. "I realize that sometimes it's frustrating to see so many actors try and get into music. But, I think you have to make allowances for people who have been doing [music] their entire lives, and are finally working on it now." She contends, "There will always be the nay-sayers who haven't listened to my lyrics, who flashback on my Blossom days and think it's cheesy that I've put an album out. But, I think that if they honestly listened to my music, they would find an appreciation in that I did it independently, that I wrote everything on it, and that I put all of myself into it and put myself on the line to do this."

Every song on Breathing Room was crafted to give listeners a rare glimpse into her personal life. Jenna explains the significance of including "Little Pollywoggy" as the introduction clip to the rest of her album. "The intro to my album is me as a little girl. It was the first recording that my parents made of me singing the first song I ever wrote when I was four. I thought it was hilarious that we put it as the introduction to my album, because that's how long I've been writing music; I copywrote my first song when I was four." She says, "I didn't expect people to think it was some brilliant piece of work; I was four." Breathing Room was recently added to iTunes for digital downloads (it has been named among the staff favorites on their website!), and the album has acquired a collection of listener reviews that run quite the gamut! Admittedly frustrated at one reviewer's dismissal in her choices for the intro and hidden track, she paraphrases, "One person had written, 'I don't know why artists insist on having a child singing on their albums. I could do without the intro and hidden track; the rest of the album is good.'" Jenna says she's happy that said reviewer enjoyed her album, but wishes more listeners would rate her album based on the music itself rather than on her past accomplishments. "It's so funny the things that people don't 'get.' You know, the personal nuances that I think make my album unique are some of the things that certain people don't understand." She muses, "I think that's so funny, because if I didn't have those personal nuances, this wouldn't be an independent album; it would be a mainstream record label album that's completely generic. I love the fact that [my album] isn't generic; that's what I'm proud of."

Perhaps her having been associated with such a charismatic role for so many years is posing a certain difficulty for the general population to see Jenna now pursuing an entirely different career. But, Jenna sees it as her having the opportunity to be cast in yet another role – the only difference is, this time, she's playing herself. "My life has been an open book for so many years, and people feel like they know me so well, because I was a child actor. But, truthfully, they don't know me at all." She adds, "I think they almost want me to stay that silly best friend character who is always cracking jokes. But, I'm not that person all the time. Sure, I think the characters I've played are all a part of me, because I've put pieces of myself into them." And, don't get her wrong, she has thoroughly enjoyed "getting to find a new character's idiosyncrasies and I enjoy playing those roles. But, I'm playing myself, finally, by doing this album, and that is an incredibly difficult role to play sometimes. You really do wear your heart on your sleeve, and it is a huge risk."
"The bottom line is this. I didn't do this album for anybody else but me. I've been waiting a really long time to do this, and it was emotions and other things that I felt needed to be said and I didn't know any other way to express them except in song. There were moments that I laughed at and cried at writing these songs, and I'm proud of every minute and every song that's on my album."
Nay-sayers aside, Jenna is grateful for the positive responses she's gotten about
Breathing Room
. She hopes that listeners "see a piece of themselves in my music and find some sort of understanding in it." She adds, "I hope that my music helps them understand something about themselves than them understanding something about my music. The best compliments I've gotten so far about my album are the people who've said, 'I listened to this or that song, and I cried, because it meant to much to me! It really helps put into words something I've never known how to say.' That's such a beautiful compliment for someone to say 'Thank you for saying what I couldn't.'"
Not surprisingly, Jenna is not the only person in her family with music running through her veins. "My dad is an
amazing
singer! He's never pursued a professional career as a singer, but he sings in the church choir and all of that. He taught himself to play guitar and piano, and I wish I had better luck in those areas myself. He's just incredibly talented and has a beautiful voice!" She shares an especially endearing story: "When we first moved to California, I was so young and my parents were with me. I remember we went to this church and were sitting there, and this guy sitting in front of us turned around and said to my dad, "Wow, you have an incredible voice! Have you ever thought of joining the choir here?" And, it was the first time we'd gone to that church! He's got one of those voices that stand out in a crowd; it's phenomenal!" In addition, Jenna has two brothers and a sister and
all
of them sing as well!
[NOTE: Read on for an especially of how the von Oy siblings turned a melancholy moment into something sweet.]
"My little brother, Tyler – if anyone thinks that my voice is good – if they heard my brother, his voice blows mine away! He sounds like Josh Groban. Incredible!"
Like most artists, Jenna also has an official artist MySpace page and in fact, maintains her own official artist MySpace page; she is known to reply to messages from fans as often as her schedule permits. She says, despite her hectic schedule, she simply couldn't pass up the opportunity to read messages from fans that comes through her page. "I had fully intended to turn over the upkeep of my MySpace page. However, once I put my album out, I realized I missed being able to talk to the fans directly. I think people are so much more interested if they know that they can actually get to me on there and to say 'Hello' to me."
[NOTE: Feel free to drop by Jenna's MySpace page here: http://www.myspace.com/jennavonoy]
There seems to be an unending capacity to Jenna's creativity, and we wish Jenna much luck and success as she continues with her music and also acting pursuits.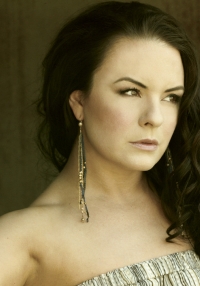 What has been the best advice someone has ever given you as you began working on Breathing Room?
Jenna: Cindy [Alexander] and I were talking about my album, and I mentioned that I wanted to write everything on it. She said, "I think you should, but promise me one thing." And, honestly, this was the one quote that turned me around and made me realize what sort of album I was planning to make. She said, "Promise me you won't write the words that people want to hear; you'll write the words you need to say, that you'll write the things that are closest to your heart and that hurt the most." She said that if you write honestly, people will listen. I truly believe that."

Having invested much time as a television and movie actress, how have those experiences prepared you for what you're now doing in the music business?
Jenna: When you get on stage, there is a certain character that you play. You are, of course, being yourself up there, but I think to a certain extent, there's a persona that you have that reflects the "stage you." I find that I crack more jokes on stage, and I feel like a freer "me" when I'm up there. I think having played all those characters for so many years has prepped me for getting up on stage and knowing how to talk to people and make people laugh. It's taught me how to be an entertainer, in general. Other than that, acting is really all about rejection on so many levels. I've been out for roles where they said I was too short or too fat, or I didn't have big enough boobs. It can be brutal at times. I'm not saying it doesn't affect me, but you learn how deal with that rejection, and turn it around and make it into something positive. That was definitely preparation for me, for the kind of rejection and criticism that comes with putting yourself on the line for music.

Aside from acting and music, you also enjoy painting and photography. Will we get to see some of your paintings?
Jenna: I hope so! Some of the people in my life who are closest to me have been trying to convince me for the last few years to sell my artwork. I'm not quite there yet. I don't like to feel pressured into painting just like I don't like to be pressured into my music. I like to write music when I feel so inclined, and I like to paint when I feel so inclined and inspired. I don't know that I've got enough for a gallery yet. But, I definitely enjoy it, and it's something I'm very passionate about. And, in fact, a couple of my friends had challenged me to do a painting of myself, which I swore that I'd never do, because I felt that it was extremely self-indulgent! But, they challenged me, because they thought that was one more thing that said something about me which could be a part of my album [artwork]. I did the painting, and I'm extremely proud of it. I'm actually more proud of it than I thought I would be, considering that I rolled my eyes half the time I was working on it. But, it didn't really fit the tone of the album, so we didn't end up putting it in there. It was kind of cool, though, and I would love to sell my paintings at some point. I just think I'm not quite there yet – one thing at a time! I won't give half of myself for anything; I jump in headfirst, and I just feel like if you put 100% of your energy into your passion, then you don't have anything left. When I did my album, I couldn't paint for about a year and a half to two years. I felt when I was writing for the album that's where I wanted all of my energy and all of my pain and sarcasm and whatever else – I wanted it to go toward music; I didn't want it to go toward anything else. I didn't really feel like I had the energy to paint. And then, as soon as the album ended, I felt inspired to paint again.
We mentioned that you maintain your own MySpace page. One of the features on that site is the blog section, which you've taken full advantage of.
Jenna: I love writing those blogs! I have that writer side of me that really has to write in order to feel like I've expressed myself properly for the month. So, my blogs give me a little added outlet there. And, I always get a kick out of what people respond back!

Also on your MySpace page, you state that you have this fear of flying. Have you conquered this fear yet?
Jenna: Well, I'm a very "Face Your Fear" kind of girl, so recently, I took a trip by myself for ten days to Napa Valley. One of the things I decided to do while I was out there was go on an open top plane. I thought if anything can get me over my fear of flying, it would be sitting in an open aired plane doing flips and kamikaze dives.

Did it work?
Jenna: You know, it was so beautiful that I cried! Maybe part of the greatness of doing something like that and what it meant to me was the fact that I was trying so hard to battle this fear that I've had so long. I won't lie, it didn't even make a dent in my being terrified of flying in a jet! There's just something about some big lumbering with hundreds of people, it's that strange feeling of I'm getting older and I'm not invincible. I find that I say a prayer before we take off and I say a prayer when we land. I know that it's not really in my hands; I'm sure it's a control issue, more than anything. At least if I'm in a car, I know I'm behind the wheel and I know that whatever happens, I'm in control of it. In an airplane, I'm at the mercy of whoever flying it – and, it's not that I don't trust them; I just don't know them well enough to [that everything will be okay]. I'm trying very hard to breathe, calm myself down, and not be quite so worked up about it, because life's too short to be so worked up about something as simple as getting on an airplane. And, it's something that I do constantly!
Amazing Grace… How Sweet the Sound!


Every song on Jenna's debut album has a deeply personal significance, from the Intro piece right down to the hidden track. This is the story behind the recording of the latter straight from Jenna on how it became the hidden track on Breathing Room:

"At the end of my album, if you listen to the hidden track, I included it [on my album] because it was a very raw moment for us. It was actually the night before our grandmother's funeral. My brothers, sister, and I were all together for the first time in a while – because usually holidays are really the only time we get together. We were all so sad, but that sadness sort of came out in the form of a song, and we started singing "Amazing Grace." We tape-recorded it on the microphone on my parents' computer. It was a very amateur performance and recording. But, it just came out so sweet, and the sweetness of it is in the fact that we were all mourning and we dealt with it by singing. It was the first time we'd all put ourselves down on tape singing together. So, that's the hidden track on my album."