By: Estella Pan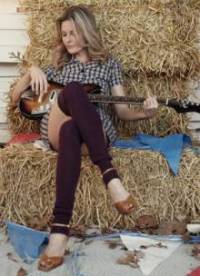 Upon first glance at Elizabeth Cook, many see a pretty face of innocence. However, behind that face lies a complex mind that is spins continuously with numerous facets of eccentricity. This is not a bad thing – in fact, it's rather refreshing! As evidenced in her MySpace blog entries (which consists of often off-the-wall and random thoughts strung together) and the assertive lyrics in her songs – this is one gal who isn't afraid to speak her mind for anyone who will listen.

Even though Elizabeth was raised in a richly musical home, plans to pursue a music career didn't immediately fall into place. "It seemed like something I was learning as I was growing up. When I graduated high school, I decided to go to college and get a degree." While most parents would celebrate their teen's desire to pursue higher education, Elizabeth found her own parents rather puzzled about her decision. "My parents didn't really understand that choice. But, I went anyway and did it, and got a straight job." She laughs, then adds, "I decided that making music was more fun!" From there, she began investing her time riding the roller coaster of the music business. The only thing she was certain of was this: "I love the honesty and integrity in country music, especially in the older songs." Despite comparisons of her style to country's favorite Coal Miner's Daughter, Elizabeth hesitates to place herself in the same realm as her musical hero. "As far as the fact that I'm included in that is not necessarily my choice. It's just how I sound. I've found a certain sound that works for me – which is in the traditional country style of Loretta Lynn – so I get included in this genre."

There is an element of coming full-circle regarding Elizabeth's career. Shortly after she released her self-titled independent debut album (also known as "The Blue Album"), she was invited to be a guest on the Grand Ole Opry. Amid all the buzz surrounding her came an opportunity to secure a major record deal arose. Although her single, "Stupid Things," was well received and her second album, entitled Hey Y'all, included ten songs that Elizabeth wrote or co-wrote (a rare for artists at the time!), corporate shuffling prevented her from finding mainstream commercial success. "There were all these things happening at the time – like mergers and things in the upper levels – that had nothing to do with me." It might have had anything to do with her, but it certainly involved her. "I realize that some people have very good experiences at a major label. It was not for me with that particular label at that particular time." Elizabeth opted to return to an independent label. Thirty Tigers is that label, and one that shares her musical vision. "There's a completely different feeling." She continues, "With an independent label, when you walk in and the head person at the label is walking around barefoot with a beer in his hand, there's just a certain accessibility, in a relaxed, but very, very hardworking and hard-driven atmosphere. And, I love it!"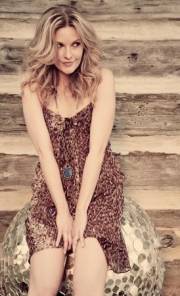 This brings us to the first single from Elizabeth's latest and fourth album. The song title says it all: "Sometimes It Take Balls to Be a Woman." Her insightful observations as well as gutsy deliver on the song connected well with her fans. She shares some of her insight in writing her song. "Anybody that knows me, I guess I have a reputation for being really sassy. It's certainly not out of character that I would write something like that. I didn't co-write a lot on this album, but this particular song I co-wrote with an artist named Melinda Schneider. She was telling me some of her personal and career challenges that only women would understand that perspective. I responded to her, 'Well, sometimes, it takes balls to be a woman!' And she said, 'Wow, let's write that!'" The song came together rather quickly. "We sat down and wrote that song in fifteen minutes! It was very fast. We had worked all day, writing two songs." One of those songs was "Rest Your Weary Mind," which is also included on Elizabeth's latest album. She continues, "Then, we ended the day with this quirky, funny song called "Sometimes It Takes Balls to Be a Woman." Then, I put it away and didn't think about it for several months." Elizabeth did eventually decide to test out the song on her audiences. The overwhelming positive feedback clued her in that she might be on to something! "I didn't even think that I could do the song live, because [the mood of the song is] so hardy! But, I started doing it, and the audience really responded to it. By the time I toured with Nancy Griffith, I had people coming to the merch table wanting to buy it." "I've been surprised how many men love the song, because they have strong mothers, wives, or sisters in their lives that they're not threatened by, women that they love, respect, and appreciate their challenges. It's been surprising and really gratifying!"

Roger Pistole took the song to a whole new level with his outside-of-the-box treatment for the video. [NOTE: Roger's repertoire includes directing Little Big Town's "Boondocks" and Billy Currington's "Must Be Doin' Something Right" videos and many more.] Elizabeth says her choice for director of her video was an easy one. "I've known Roger for a long time; he's somebody I knew I could trust to make a cool video." She adds, "Being so inside the song, I didn't really have with a visual for it, it was more lyrical for me. So, he had the idea of having skateboarders in dresses, putting my band in dresses, and having me sort of standing amongst all this chaos! I thought it was very symbolic, so it was great – a lot of fun!" Fun also comes with a price – or in Elizabeth's case – great liability! Right off the bat, she found herself being pummeled by on-set skateboarders! "Bless their hearts, they were kids – oh they were so cute! There's a shot where I'm standing at the bottom of a ramp that goes up behind me. At one point, this boy tumbled and just slammed right into the back of me! Luckily, he wasn't a big kid." She laughs, recalling the incident, "That happened right away when we first started shooting; it was the first set up. I was really glad we went and got that out of the way!" During the course of shooting, there were several other close calls, though – fortunately – nothing fatal. "If you watch real closely, there's a guy who skates up to me when I'm standing at the top of the ramp. He almost loses it. He was teetering and my eyes get real big! But I keep on singing. There's one instance like that in there." In the end, all parties survived the shoot and put a wrap on her video.
Now that her album is out, she hopes that her fans "feel understood. I hope they hear a song and that helps them understand themselves, understand their experiences better. It's all therapy." At the mention of "road stories," Elizabeth lets out a hearty laugh! "You know, my motto is No two gigs alike! Let me see if I can think of one in particular." Continuing, she offers, "Probably one of the strangest and most moving experiences was playing in Poland. To come from what I've come from, and to think that I would see the parts of this world in the way that I see these different parts of the world – not just as a tourist; it's more intrinsic than that – has been really mind-blowing!" She continues, "In Poland, these people have only been out from behind the iron curtain since the 80s. They're still trying to develop their economy; they barely have roads. I didn't realize that there was a country in Europe that was like that; I'd never seen it with my own eyes. To be in that kind of place where there's this big monument in the middle of town that Stalin donated – to try to make up for his wrongs – I saw what a fierceness those people have in how they have had to fight for their freedom." Her voice trails off clearly emotionally moved as she recalls the experience. "We ended up adding a show at the last minute. They had told us in very broken that it was a motorcycle convention. I expected a Harley-Davidson type thing. But, it was more like this field in the middle of an orchid, middle of nowhere, there's barely roads to even get there; you really feel like you're off the map when you get to a place like that. They hardly had lights or anything else, but they did have a stage set up. It was like Hogan's Heroes – it was a bunch of Gothic-rock looking people with old German-type motorcycle clothes on. We pull up into this field, and there's these two kids standing there. One of them is holding my Hey Y'all album. They spoke no English; I have no idea how they got my record. It was clear they wanted me to sign it, which I did. We couldn't communicate at all, and yet there was this thing we held in common. That was such a wild moment for me!" Unique? Absolutely! But also a touching experience as well as very gratifying, personally, for Elizabeth. "When you work so hard and keep feeling like nothing's happening, then you get into a random place like that and realize that there are two young kids who care so much. Not only did they brave the motorcycle festival to come there, but they were standing there with my record. It was really a moment of, Wow! What I'm doing does matter to some people!"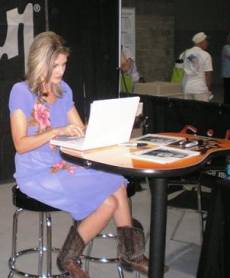 Elizabeth typing up a blog.
Elizabeth cares very much about her fans and tries to keep them up-to-date on everything she's doing – namely through her MySpace page. "I have people maintaining my page, but the blogs are all me. That's my one line of direct communication with my fans. I do check my inbox pretty regularly, too, and reply when I can." When asked why she takes time out of her hectic schedule to ensure that line of communication stays open, her answer is simple: "I'm sure that I don't get to everything. But, what I do is the matter of my heart, and the fact that people reach out to me is also a matter of
their
heart. So, it's important to me that I stay involved on that level with my fans."
[NOTE: You can read Elizabeth's musings at http://www.myspace.com/elizabethcook]
Elizabeth has made the most of her career obstacles and capitalized on being different from everyone else. But, at the end of the day, she remains an everyday American gal who happens to like making music and found a way to make a living out of it.