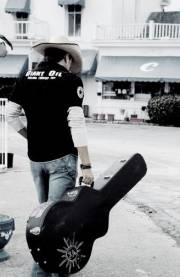 Who is he?
Jason Aldean's debut album is one born out of a lifetime of effort! Growing up, the Georgia native schooled himself to the likes of Merle Haggard, and other country legends. But, it was the group Alabama that sealed the deal for him. Jason says, "I was going to country shows by the time I was in second grade. The first record I remember having was Mountain Music by Alabama. I've still got it. They were always my favorites growing up, and still are. I've seen them in concert 10 or 15 times." He earned his first gig at the VFW hall in his hometown of Macon, and was immediately hooked. By his mid-teens, Jason had already decided that he, himself, wanted to becoming a country music performer. With the help of his father, Jason taught himself how to play guitar.
Setting his eyes on Nashville, he continued playing gigs at various venues and finally moved to Music City in 1998; he was 21. He signed a publishing deal with Warner-Chappell and began honing his songwriting skills. Soon after, he also signed a recording contract. When the latter fizzed, he quickly signed with another label and thought he was on a roll. However, this contract also didn't pan out. Jason, having been given a wake-up call from the "School of Hard Knocks" gave himself an ultimatum. He would try once more, and if it didn't work out, he would accept that a career as a recording artist would not be the path for him to take. Luck was on Jason's side. With the encouragement of his wife Jessica, Jason took a gig at the Wildhorse Saloon, where some hot-shot label executives promised to attend; they never showed. But, one person who did was Lawrence Mathis. He met with Jason to discuss potential career moves and told him "Give me a year to work with you;" Jason said he couldn't - he said he had six months at most. Five weeks after the meeting, Jason found himself signing with Broken Bow Records. Before long, infectious debut single "Hicktown" attracted music industry execs and fans! He kept the wildfires burning with a successful run of singles, including "Why" and "Amarillo Sky."
On the brink of releasing his sophomore album and with "Johnny Cash," the kickoff single being his fastest climbing hit thus far, Jason is proving major staying power in an industry that sees many artists who bow out after a couple charting singles.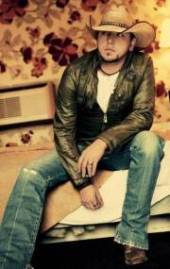 What has Jason been up to?
REQUEST Jason's NEW single "Laughed Until We Cried" - at radios NOW!! The video for it will soon be added into rotation at GAC, VH-1 Country, and CMT, so make sure to REQUEST!!!! Please continue to REQUEST "Hicktown," "Why," and "Johnny Cash"!!

It has been a long haul for Jason, who has been rocking live audiences since age 14 in bars and clubs across the Southeast. Beginning in January 2008, he will kick off his solo Relentless tour in Columbia, MO and will travel to 20 cities in the U.S. and Canada through early March. Tickets are on sale now.
"I have learned a lot from being on the road with Rascal Flatts this year about the kind of arena tour I want to have one day," said Aldean. "But, the first step is to go back to some smaller venues and keep building our fanbase one show at a time. We won't stop playing until everybody in the place is on their feet and having a good time."

CONGRATS to Jason and his wife, Jessica, who welcomed their new daughter into the world on August 20, 2007! Baby Kendyl joins older sister, four-year-old Keeley.

To Jason, Relentless, which is the title of his latest album, could also describe his pursuit of country music stardom. Jason admits he can be quite stubborn, but he believes you have to be in order to succeed in such a competitive business. "I think that if you're one of those people that takes no for an answer and just says, 'Okay, well, I guess I just ain't cut out for it,' you're probably not," he says. "I mean, it was very frustrating, don't get me wrong, but at the same time, I wasn't willing to take no for an answer either. I just felt like if somebody would give me a shot at it then we had something to offer that was gonna hopefully work."
He says you never know if you can succeed until you get the chance to try. "If I got the chance and failed, then I could live with that," he says. "But not ever knowing, that was the part that was really kind of nerve-racking for me."

If the lead single off Jason's second album is any indication of success, the ACM Top New Male Vocalist need not worry about a sophomore slump. The rocking, guitar-driven track titled "Johnny Cash" is the fastest rising single of Aldean's career to date and is igniting a fire with country radio listeners across the country.

CONGRATULATIONS going out to Jason, whose self-titled debut album has officially attained Platinum status, selling one million copies!!!!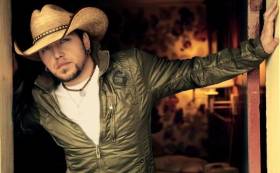 Did y'all know?!
** There's no denying Jason's musical talent! Here's further proof as to why being in the music business fits him perfectly: Jason learned how to play the guitar in a most unusual way! He explains, "When [Dad would] go to work during the day, he would always map me out the guitar chords on notebook paper to show my fingers where to go to play which chords. I just sat there and did that all day while he was at work. When he got home, we'd get out his guitar and play together. So that's kind of how I learned to play. Then it got to where I could just listen to songs and be able to play them after hearing them for about three times. That's when I really started learning a lot of songs."
Where can I buy his music?
Purchase YOUR copy of Jason's self-titled album by clicking on the album cover!! (It includes the Top 15 single "Hicktown"!!)
Does he have an official site?