By: Estella Pan
Aaron promotes his new single at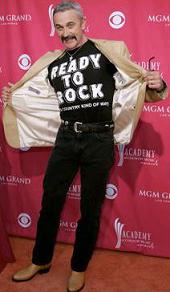 the 2006 ACM Awards in Las Vegas!
Aaron Tippin is more energized now than ever to continue making music - this time, with a few of his own rules en tow. He and I convened during CMA Music Fest/Fan Fair week for what would become one of the most exhilarating conversations I have ever engaged in.

Aaron says he's had the most fun working on his new album than any other of his career. "I basically said, 'This is what we think is great – here it is!'" Set to release on September 5 on Nippit Records (for all you observant readers, yes, that is "Tippin" backwards), Now and Then is "an Aaron Tippin history lesson," according to the man who co-wrote and recorded his current single "Ready to Rock (In a Country Kind of Way)." He says, about the songs on Now and Then: "I've got three new songs. While we were recording them, everyone was saying, 'Man, this stuff is really rockin'. I don't know if anyone's going to know it's you!' But, I said, 'Think about 'Working Man's Ph.D' and 'Kiss This' – they're rockin' songs, too!'" He continues, "What I realized is that there have been a lot of new ears coming on to country music. So, even though they may know 'You've Got to Stand For Something,' 'Blue Angel,' 'Ain't Nothin' Wrong With the Radio,' and 'Kiss This,' they may not know who's singing them." That revelation inspired him to revisit some of those older hits. "I went back and re-cut ten of my favorite hits. Instead of just putting them in with the new songs, there is a little snippet in front of each song about why I wrote it, who I wrote it with, and that kind of thing. [It offers] a little insight about the song that's coming up."

With his current single flying up the charts, Aaron is indubitably elated about the new direction in which his career is heading! "When you listen to the lyrics of 'Ready to Rock (In a Country Kind of Way),' you'll know exactly why I wrote it. It's kind of my song of departure from the standard Nashville way of doing things and getting into my own way of doing things. I'm just real happy about that!" He adds, "Fifteen years, and finally I get to call the shots! Right or wrong, I get to do it like I want to do it – the way I want my music to sound, the way I think Aaron Tippin fans want to hear it, and the songs they want to hear." Having tested his songs on his audiences for years, Aaron would know a thing or more about what his fans enjoy. "Every night, I see how the fans respond to every song in my catalog, and I feel like I know what they want." He is also encouraged by the fact that venues for releasing new music have broadened significantly in recent years. "Nowadays, with the Internet gaining power and strength the way it is, it's very different than it was fifteen years ago, when I first came into this business. [Back then], there were only two outlets: one was radio and the other was television through videos. Now, it's changing and it's changing fast!" He explains the reality of the ever-evolving technology. "Somebody told me the other day that in about two years, new cars won't have CD players in them. So, consequently, all us hillbillies will have to learn how to download music. It's going to come to that, and when it does, it'll break the world wide open to an enormous amount of coverage. It's going to be really great for the music!"

Though he possesses one of the most recognizable voices in country music, Aaron will be the first to admit, "I think of myself first as a songwriter." What is important to him is that he's "written songs that have touched people. Most of my songs are about me, but they're about [the fans], too; it's something that we share." In case you're wondering, the new album is full of his own songs! "All three of the new songs on the album are ones that I wrote. And, there's only one of the older songs that I didn't write or co-write." As for being a singer, he explains, "I don't think I'm a great singer. I might have a unique sound, but I don't think I'm great. I'm not Ronnie Dunn [of Brooks & Dunn] or Joe Diffie – now, those guys are great singers!"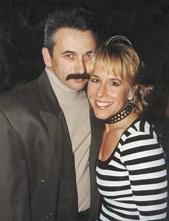 Aaron and Thea
Another one of those great singers is Aaron's wife, Thea, who is a powerhouse vocalist in her own right. [NOTE: Those are her background vocals in "Kiss This." The couple also released a successful duet, "Love Like There's No Tomorrow," and Thea also sings on the Now and Then album.] In 2004, she released her own solo album. I wanted to know if fans could expect future projects from her. "Oh yeah! In fact, she's getting ready to do a gospel album! Anybody who has heard her sing realizes I'm not the singer in this family – she is! I co-produced her first album, but this next one, it's just me." In fact, when it comes to music, Aaron and Thea aren't the only ones working full time in the Tippin household. Their sons, Teddy, 8, and Thomas, 5, are at many shows – if not hanging out backstage or making stage appearance, they're always there in spirit: before each show, a recording plays this introduction over the speakers, "Ladies and Gentleman, the hardest working man in country music, our da-da, Aaron Tippin!" Their proud papa beams, "Teddy and Tom both say it now! The fans love it!"

So, what are Aaron's thoughts about the possibility of his sons following their father's musical footsteps? "I'll be there every step of the way, giving them a lot of advice, passing on the lessons I've learned through my own career, and being as much a part of their career as they'll let me." Not only does Aaron pledge his support to them, he exclaims, "That will be a thrill for me! I've always wanted to be a manager, and that would be a wondering opportunity to work in another avenue of this business." He informs me of a promise he's made to Teddy and Thomas. "Here's one of my promises to them. When they start college, I promised them that I'm going to go to college with them to get my Aeronautical degree that I never got." He shares, "Instead of going to college, I got all my ratings to be an aviator – to be a pilot. In my elder years, I've found out that all my time that I've accumulated as a pilot accounts for credits. With that in mind, when they get ready to go to college, I'm going back!" He chuckles, "That will be fun…to see dad struggle!"

When taking a break from his musical obligations, Aaron devotes time to making wine. "I've been making my own wine for years. It fun, and we've kind of turned it into a family hobby!" He credits Thea's father, who is full-blooded Greek, for introducing him to it. In fact, Aaron developed an appreciation for wine after a family dinner with Thea and her parents. "I had been a beer drinker [for many years]. When we finally got around to visiting Montana, we were sitting at the table and I ordered White Zinfandel. Thea's dad asked, 'Are you ordering for Thea?' He told me, 'Men drink red wine,' so he ordered me a glass of Red Zinfandel. That was it! I haven't had a beer in five or six years, and I could care less." Want proof? He affirms, "If wine's not on the menu, I'll have a Diet Coke." And, here's some wine wisdom from Aaron: "Wine is the only God-given spirit. To make beer is a complicated procedure. Whiskey is very man-made. But, if you took the heel in your boot and stomped a hole into the ground, smashed grapes into it and came back ten days later, there'd be wine in that hole. It's just as natural as it can be!"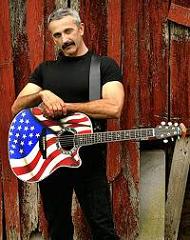 I couldn't conclude our conversation without asking about his support to the men and women who serve our country. Aaron's response attests to his "don't take anything for granted" way of life. He is, simply put, unpretentious and extremely loyal to those who help to better this country. "I can talk about this for days! Rather than going into the patriotism thing, I'll say this: I grew up in the Vietnam War days. I saw a bunch of soldiers, Marines, and sailors that, when they came home, were very much unappreciated for something they didn't really choose to do. They did it because they were assigned to do it and because they had sworn an oath to do it. Even if you disagree with the war, the soldiers are not who you blame for doing their duty." He was able to – and continues, to this day – to put his beliefs into actions. "With the Gulf War, that's where it started with me. I swore to myself that I wasn't going to let those guys come home to a rude welcome – not from me and anybody I could spread the word to about how important it was for military personnel to come home to a welcoming country. I signed on to that and I haven't given up on it. I don't care where they are or what they're doing – or who's in or not in office – it doesn't matter. I'm going to be for the troops as long as they're deployed." It seems fitting that Aaron's first performance would be as one of the entertainers in the USO Tour. "The first show I ever did was in Rijad, in Saudi Arabia. Before I had even released one single or CD in America, I got on a plane with Bob Hope and went to Saudi Arabia." As for the experience, Aaron reminisces, "What a whirlwind for this kid! Landing in Rijad, we let the door down, and there was a motion of camo uniforms." That first visit overseas is permanent a stamp in his mind. "I'd seen military personnel my whole life growing up. But, when they're wearing rifles and that M-16 barrel is sticking up behind their ears, it's the sign of business. I realized, This is a war zone! This is for real! These guys are being shot at everyday. I'll never get over that!" Aaron recalls being in the direct line of danger in a recent trip. "We were in Fallujah last Thanksgiving, and the enemy fired rounds in the camp where we were. And, our artillery fired out at the enemy almost on the hour, every hour of the night. I'd wake up to the 105 going off, firing at the enemy." Arriving home unharmed, he sums up each trip like this: "It's a dangerous thing but a blessed experience! I wouldn't wish danger on any American, but I wish they could all see our heroes in action. I always come back so inspired!"

It's safe to say that Aaron is content with his lifestyle and now, his career. "I feel good about this business again. It hasn't always been like that; there have been some days I just wanted to get out." "Everything at the farm is paid for. So, if it blows up, I'll just get what's left, drag it to the house, and start writing songs. That's what I came here to do anyway!"

Strap on your seatbelts and get ready to soar, because Aaron is "Ready to Rock"! And, I know he'd love it even more if you'd join him on the ride!
Is there any one song from your repertoire that is especially meaningful?
Aaron: "Blue Angel" is a significant song and it's on the Now and Then, too. When I first started loving country music, I listened to Hank Williams, Sr. and Jimmie Rodgers. I was a big fan of yodeling growing up, but I never heard it in modern country music. So when I came to town, I made a pact with myself that if I ever got a record deal, I was going to write a country-blues-yodeling song and put it on the radio. 'Blue Angel' was that song. It was a hit for me, and I'm so thankful for that, because that's one of the things I wanted to do when I came to Nashville."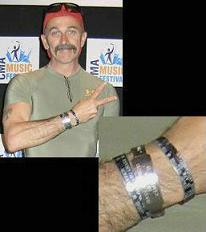 Aaron sports special bracelets.
You are wearing various bracelets on your right hand. Can you explain the significance of each?
Aaron: These were given to me. These are KIAs [killed in action]; they won't be coming back. One of them was from a lady in Arkansas whose son was killed in Iraq. Another came from a National Guard outfit in Ohio. One of their guys was killed when they were serving over there and they gave me this bracelet. [The third] is from another National Guard who served gloriously in Iraq. This is actually the bracelet of one of the wives of one of the soldiers. Now that he's home, she gave it to me to wear. The last one, I've been since just a few months after September 11, 2001. A fan made and gave this to me. It's for me and the rest of the world to remember what happened to us that day.
You made a cameo appearance in Craig Morgan's "Redneck Yacht Club" video. Was the video shoot as fun as the video looked?
Aaron: It was a FUN video shoot! I love Craig! He's my hero! He could have called me out and said, "I've got to burn some brush over here. Would you come and help me?" I'd have said, "Yeah, be right there!" It's guys like him who inspire me to support the troops. Craig Morgan is the real deal! [NOTE: Prior to jumpstarting a career in country music, Craig served eleven years of active duty in the United States Army.] I don't know that all his fans realize that he was an Army Ranger. What those guys are doing overseas, he's been there; he's lived it. I like to call him the Southern Chris LeDoux – he's just tough as nails! But, he always has a smile on his face! You can't call his phone without some silly little message. This week, it's (in a sing-songy voice alternating between high and low pitches) "Hello? Hello? Hello? Hello…Hello…Hello...Hello…" He never says anything else then it goes, "BEEP!" He's nuts!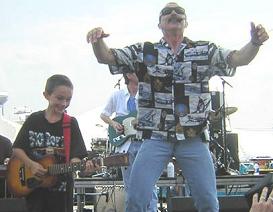 Teddy often rocks the stage w/ Aaron!
You like to involve Teddy and Thomas as much as possible in whatever you're doing. What do they think of what their daddy does?
Aaron: They love it! Teddy is "Mini Me"! My band and I were out on tour in Bakersfield, California. Thea, Teddy, and Thomas were with us. The last song of our show was "Kiss This," and the boys would run out and play their guitars and Thea would sing harmonies on it. This night, instead of coming out and doing that, they dressed Teddy up in a little outfit just like me and put a little moustache on him – it was great!

I would have loved to see the expression on your face when he came out! What a priceless moment!
Aaron: Oh, I just started laughing! I cracked up and couldn't do the song!!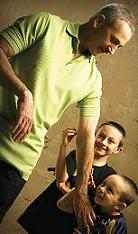 Ted and Tom w/ their daddy!
Will you encourage them to be a part of the music industry?
Aaron: If they want to, yes. If they don't, my feelings won't be hurt, because there have been some very sad days in my life in this business; there are many ups and downs. I was talking to Darryl Worley, Keith Burns and Ira Dean [of Trick Pony], and John Michael Montgomery the other day. We're all hillbilly, country type of guys, raised on three things: everything in our lives, we settled like this (gesturing with his hands the motions of a handshake, implying the closing of a deal),this (hands together in prayer), and this (fists, representing a fighting stance). That was our life. When you come to a town like Nashville and that changes when your career is out of your hands. When you no longer control your life, it's very frustrating. I've seen a lot of people, including myself, go through that; we're so frustrated not to be able to steer our ships. So, I think it's rewarding in the example like I'm doing now where, even if I'm run it under rocks, I'm the one who did it.


Ted, Aaron, Thea, and Charla celebrate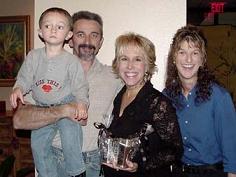 the #1 single "Kiss This" in 2003!!

What is something that fans would find interesting about you?
Aaron: Nothing!

Nothing comes to mind?
Aaron: No, I'm just not very interesting! [NOTE: I would beg to differ considering the fact that he IS a licensed helicopter pilot and thick swing pilot as well as a licensed aircraft mechanic!!] I'll try to think of something unique. Let's see... I've been hit my lightning twice – I don't think many people know that. Really, the most interesting things about me are Thea, Ted, Tom, and [my daughter] Charla.