By: Estella Pan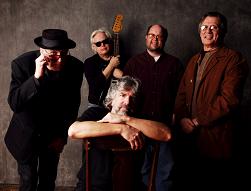 If there's just one thing you take away from this article, let it be this: when it comes to Burrito Deluxe, their music is every bit as scrumptious as their name! Three of its six members – Carlton Moody (guitar, mandolin, and lead vocals), Jeff "Stick" Davis (electric bass and upright bass), and Richard Bell (piano/keyboard) – were on hand to chat with me. [NOTE: Two other members are Walter Egan (electric guitar and harmony vocals) and Brian Owings (drums)]. Our interview took place in a lofty conference room in the BMI Building during CMA Music Fest/Fan Fair 2006.

With their third album releasing soon, I learned that they are a "band that keeps evolving." Carlton explains, "We started with our first album called The Georgia Peach, on which I was the lead singer. Disciples of the Truth is our third album, and we've gone through three different 'phases' with our group, [through which] we've added some people to the group. I met 'Stick' on the second album, The Whole Enchilada, and Richard joined us on the third." The band's name came from "Sneaky" Pete [Kleinow]. [NOTE: Pete was a founding member of the successful Flying Burrito Brothers, along with Gram Parson, Chris Hillman and Chris Ethridge.] Carlton says, "'Sneaky' was the steel player for all three of our albums. When we originally started thinking about recording our third album, he was our main influence. But, we didn't really want to go with [the name] Flying Burrito Brothers, because that had already been done. So, Burrito Deluxe was the name Sneaky came up with."

Shifting gears slightly, we launch into a conversation about their various musical backgrounds. Carlton is up first. "I grew up listening to country music. Both my father and mother always played music around the house. For me, country music comes from the heart. The lyrics are the most important, in my mind. The way it feels – if you deliver a great song right, people get something from it." Richard adds, "I've always found it curious how people try to keep country music and blues music separate. But the thing I really like about country music is it addresses the human conditions of all stratospheres of society, just as blues music does." Making an enlightening point, he continues, "Do you remember when Ray Charles did his album, The Modern Sounds of Country Music? There was this huge outcry when that album came out. But, if you think about, they're so close together." Carlton agrees, "Hank Williams, Sr. was a blues singer. People consider George Jones a country singer, but he's really a blues and soul singer."

This prompts Carlton to give his best shot in describing the sounds of Burrito Deluxe. "We have steel guitars in our music, which you could classify as having a country influence. Then, we have Richard's great piano, keyboard, and accordion skills. Jeff 'Stick' here is a great bass player; funk, soul, blues – he's got it all!! Walter comes from more of a pop-rock area, and I'm a country-bluegrass kind of singer." Jeff continues, "We all come varied backgrounds in music. It's kind of like gears – when we come together, all the parts fit together quite well!" Carlton agrees, "When we put it all together, it's really hard to describe. It's what I like to call country-roots music, similar to Americana music."

As for the new music, Jeff says, "We picked out most of the tunes on it right in this room. And, some fine songs came from the great writers in the band. We had the luxury of time to be able to examine and sift through tunes. Really, it was a real organic experience that unfolded even more in the studio." Carlton adds, "The world is so full of troubles, and people don't really want to hear more of that. And, a lot of country songs are like that. But, we looked at it like, 'Hey, let's do some positive songs with some great messages' and I think the whole album is full of that."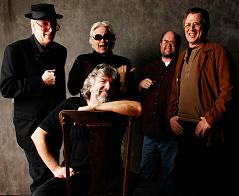 The members of Burrito Deluxe not only enjoy the music they create but each other's company as well. As Richard puts it, "These guys know this, because I tell them about every five minutes, but they're really the best bunch of guys I've ever played with. Everybody is not only a great musician, but they're great people. We are all very good friends with each other and the vibe in the studio when we were recording these songs – it couldn't have been better! Magic happened. Everything just flowed out, and it was very easy. We never sat down and said, 'Let's make this a blues song' or 'let's make this one a rock song.' We just let the songs create themselves."

So, where would these guys like to see their career go? Carlton expresses his thoughts on the subject. "The next thing on my list is to get this album out there. I want to get out [on the road] and play music! What I would love to see happen is for us to do a lot of tours. Right now, we have the possibility of touring in Europe or maybe down to Australia in October and November. If we can put together 2, 3, or 4 great tours a year, that's what I want to see for our future!" Richard pitches in, "One of the most encouraging things about this album is, it – like the other albums – shows the metamorphosis of the band. So the next album will be another step along the road of where we've been."

Their songwriting approaches are as varied as their individual musical influences. Walter, Carlton, and Richard are the writers among the group, with Walter being "probably the most prolific songwriter of all of us and the one that works the hardest on it," according to Carlton. He admits, "I'm sort of the novice songwriter; I don't write five songs a week; I'll write maybe four songs a month. What I'll do when I'm writing lyrics is write some ideas down. Then, I'll start asking questions to myself, like 'Where are you going from here?'" Richard describes his own strategy for writing songs. "Usually the ones that I write, I don't think they come out of me; they seem to pass through me. It's fun. I don't have problems with the musical side of it, but as far as the lyrics go, I find they're a lot like doing crossword puzzles – writing things down and seeing where it all fits together."

Speaking of being "fit," I asked how they thought their group's name fit their musical style. Jeff explains, "Well, to tell the truth, I'm not sure it applies to us as much as it used to, because we're not trying to make a legacy out of The Flying Burrito Brothers or Gram Parsons. We did have "Sneaky" Pete with us. But, Pete, due to health reasons, has been unable to participate much anymore. [NOTE: See below for a health update on "Sneaky" Pete.]

Though their music might not fit into one specific genre, suffice it to say that their songs make up a great big burrito deluxe filled with musical influences from all over the board, meant to be enjoyed and savored. Sounds like their band name is a perfect match for the kind of music they play, after all!!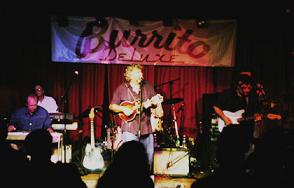 BD at one of their live shows!
You mentioned that your band is always evolving. Do your songs evolve as well, the more you play them?
Carlton: Yes! To give you an example: the second album, once we recorded it, we went out and played several tours. By the end of the tours, we were all looking at each other saying, 'Man, I wish we were back in the studio again recording the same album!' I'm sure that'll happen again with this album!

Jeff: It will indeed! The songs will change and take on a whole another form in its live approach.

Carlton, you're one of the writers in the group. Does the songwriting process come easy to you?
Carlton: There's a song on the album called "Front Row Seats," which I co-wrote with Rob Crosby and Greg Carp. I'm from North Carolina and Rob's from South Carolina. In college, we'd go up to the Appalachian Mountains and have little party with friends. So, the song is about all the things I remember doing while I was in college. In that sense, yes, songwriting is easy, because my songs come from personal experience. I can't just write a bunch of words into a song; I don't feel comfortable with that.

Tell me one thing interesting about one of your band mates, including the members who aren't in this room with us today.
Carlton: Something interesting about Richard that nobody knows is that he really loves red wine. He can't wait to go to Europe, France, especially.

Richard: Stick has one of the greatest collections of pictures and laminates gathered from all over the world!

Jeff: Fortunately, I do have a packrat gene here!!

You're heading over to Europe later this year. What do you like best about going overseas?
Jeff: Carlton was talking about how Richard likes Europe, but all of us do. Playing out of the country is not for everybody. I've been on tour with guys before where – I remember we were landing in Amsterdam, getting ready to do a tour, and the guy next to me said, "I knew I shouldn't have come on this tour!" I was like, "Well gee, it's about a three-week tour; you'll have to get a different attitude!" But, all of us thoroughly enjoy taking our American music styles to other cultures in Switzerland, Holland, and other places. They have their own country bands and they certainly emulate our American styles of music. But, they have an appreciation for American artists bringing our music over to them. They've got long memories over there; it's okay to be a little bit of a "seasoned" musician. When they become your fan, they stay your fan! And all of us appreciate that.
Health Update on "Sneaky" Pete Kleinow:
"Sneaky" Pete Kleinow

"Sneaky" Pete Kleinow, known in the music worlds as a pedal steel guitar wizard, was also a founding member of the Flying Burrito Brothers and award-winning animator. His daughter, Anita Kleinow, updates us on Pete's health situation:

"I want all the fans, musicians and media to know that my father was diagnosed with Alzheimer's about a year ago. It hit him so hard and fast that he is now living in a skilled nursing facility. He would enjoy receiving a card, photo or note from you."

Pete's family requests that there be no phone calls or emails. However, you are welcome to snail mail your cards and letters to:


Sneaky Pete Kleinow
c/o The Oakes
450 Hayes St.
Petaluma, CA 94952